Cognitive Bias
Dunning–Kruger effect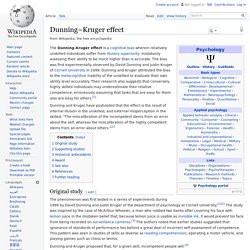 The Dunning–Kruger effect is a cognitive bias in which unskilled individuals suffer from illusory superiority, mistakenly rating their ability much higher than is accurate. This bias is attributed to a metacognitive inability of the unskilled to recognize their ineptitude.[1] Actual competence may weaken self-confidence, as competent individuals may falsely assume that others have an equivalent understanding. David Dunning and Justin Kruger of Cornell University conclude, "the miscalibration of the incompetent stems from an error about the self, whereas the miscalibration of the highly competent stems from an error about others".[2]
How people become monsters ... or heroes |
Madonna–whore complex
In psychoanalytic literature, a Madonna–whore complex is the inability to maintain sexual arousal within a committed, loving relationship.[1] First identified by Sigmund Freud, this psychological complex is said to develop in men who see women as either saintly Madonnas or debased prostitutes. Men with this complex desire a sexual partner who has been degraded (the whore) while they cannot desire the respected partner (the Madonna).[2] Freud wrote: "Where such men love they have no desire and where they desire they cannot love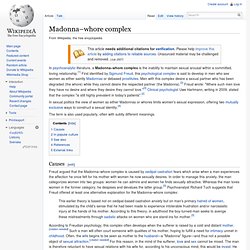 The Forer effect (also called the Barnum effect after P.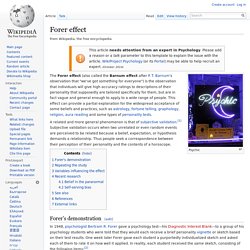 Forer effect
Dunning–Kruger effect