Cognitive Bias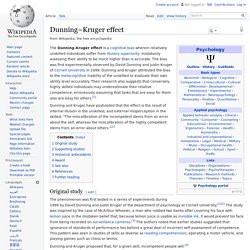 The Dunning–Kruger effect is a cognitive bias in which unskilled individuals suffer from illusory superiority , mistakenly rating their ability much higher than average. This bias is attributed to a metacognitive inability of the unskilled to recognize their mistakes. [ 1 ] Actual competence may weaken self-confidence, as competent individuals may falsely assume that others have an equivalent understanding.
In psychoanalytic literature, a Madonna–whore complex is the inability to maintain sexual arousal within a committed, loving relationship. [ 1 ] First identified by Sigmund Freud , this psychological complex is said to develop in men who see women as either saintly Madonnas or debased prostitutes . Men with this complex desire a sexual partner who has been degraded (the whore) while they cannot desire the respected partner (the Madonna). [ 2 ] Freud wrote: "Where such men love they have no desire and where they desire they cannot love." [ 3 ] Clinical psychologist Uwe Hartmann, writing in 2009, stated that the complex "is still highly prevalent in today's patients". [ 2 ]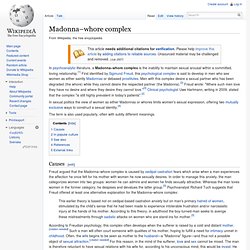 The Forer effect (also called the Barnum effect after P.