Extension
Miriada X. YCAM 山口情報芸術センター - YCAMポータル. Ruralías. Presente la papa.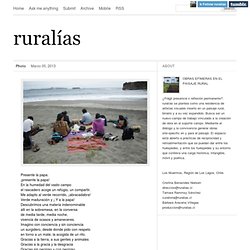 ¡presente la papa! En la humedad del vasto campo el rascadero acoge un refugio, un compartir. Me adapto al verde recorrido, ¡abracadabra! Mesa de Trabajo – RED DE RESIDENCIAS. La Linea Interdisciplinario. Asociacion de Software Libre del Ecuador | Ecuador Libre - Ecuador Soberano. Residencia: « Pujinostro. Residencia Taller Es un programa de residencia artística independiente que recibe a artistas multidisciplinarios en la Quinta "Pujinostro" ubicada en Pujilí, provincia de Cotopaxi, Ecuador.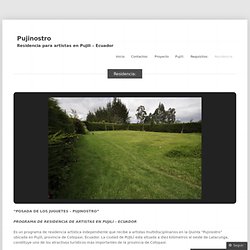 La ciudad de PUJILÍ esta situada a diez kilómetros al oeste de Latacunga, constituye uno de los atractivos turísticos más importantes de la provincia de Cotopaxi. El intercambio es una de las prioridades, el objetivo es el desarrollo de un proyecto artístico para poder compartir conocimientos. Este es un proyecto que proporciona un espacio físico y mental para que los artistas experimenten la vida en el campo de la sierra ecuatoriana, una oportunidad única para la reflexión y la creatividad, además de una participación comunitaria directa.
Diferencialhubmedial.wordpress.com. ArTeK. LaREDada | Miscelánea cultural. Panal de arte. -NO LUGAR- Define - define. Define From define Jump to: navigation, search.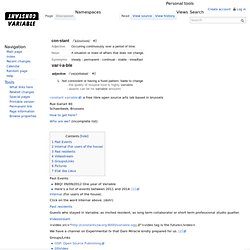 Desisla. Desislaciones. Residencia temporal. Festival Internacional CulturaDigital.Br | 2 a 4 de dezembro - RJ. LabSurLab - Medellín 2011. Arts@CERN | Arts@CERN. Translife 2011: National Art Museum of China. Molior. Nuvem - estação rural de arte e tecnologia. Research iota. Iota's Research Program is two fold: First, to provide the resources necessary for academic inquiry in the form of our study center and online publications.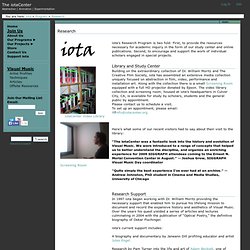 Second, to encourage and support the work of individual scholars engaged in special projects. Library and Study Center Building on the extraordinary collection of Dr. William Moritz and The Creative Film Society, iota has assembled an extensive media collection uniquely focused on abstraction in film, video, performance and installation art. Along with the collection there is a small Screening Room equipped with a full HD projector donated by Epson. Interaction13 | Home. Creative Diary Master | Creative Contexts. RULES - read carefully Description of the Theme: 'Design (for) Emergency' IED calls young creatives to develop ideas and projects describing 'Design (for) Emergency': please apply this concept to the area of studies that you prefer, Fashion, Design, VisualCommunication, Management.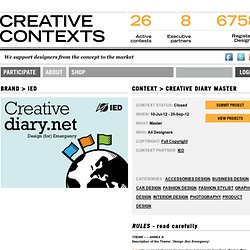 "Emergency" means a serious situation or occurrence that happens unexpectedly and demands immediate action, a condition of urgent need for action or assistance. Our goal is to show how the design can be a useful guide for real emergency situations, how can you exploit design to find solutions for natural disasters/catastrophes, urban and domestic problems, how design can be a significant element for new proposals, in order to improve the world and the life of its inhabitants.
Abierta nueva convocatoria para postular al Programa Global Connection. Start-Up Chile pretende levantar US$5 millones de capital en primer Demo Day Nacional. 11vo Festival Internacional de Video/Arte/Electrónica > VAE11 > PERÚ | AREQUIPA > CUSCO > LIMA < 28 JUNIO – 27 JULIO, 2010. A T A - ALTA TECNOLOGIA ANDINA. Www.escuelab.org | co-elaboración y aprendizaje. Www.cibervision.org. Ljubljana digital media lab - site index. CCEBA - BLOG MEDIALAB. Apuntes para un borrador El Laboratorio del Futuro de Conectar Igualdad, presenta el próximo viernes 28 de Septiembre a las 17.30 horas el taller a cargo de Ignacio Nieto, Licenciado en Artes Visuales y un experto en programación y proyector multimediales.
VER + TALLERES EN RED / MIéRCOLES 01 DE AGOSTO DE 2012 Sitio de Talleres en Red www.cceba.org.ar/redcce/ VER + Fundación CLIC. ASIM´TRIA. Insulares/divergentes. About us | Estado Lateral Media Lab. "Museo Vivo" CCB Santiago del Estero Para el segundo aniversario del Centro Cultural del Bicentenario de Santiago del Estero, realizamos una muestra de Realidad Aumentada, combinando elementos virtuales para la creación de una realidad mixta en tiempo real.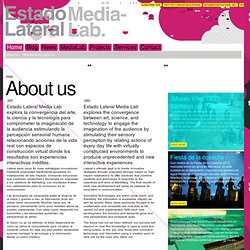 Con la ayuda de la tecnología, la información sobre el mundo real alrededor ... Read more Fiesta de la cosecha. ::: Bienvenido a Medialab Madrid ::: Banquete_nodos y redes pagina web: Desde que Santiago Ramón y Cajal descubriera la estructura y funcionamiento de las redes neuronales hasta las teorías de Manuel Castells sobre la Sociedad Red, el tiempo apenas ha avanzado un siglo.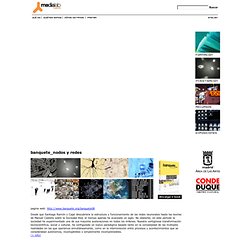 No obstante, en este período la sociedad ha experimentado una de sus mayores aceleraciones en todos los órdenes. Nuestra vertiginosa transformación tecnocientífica, social y cultural, ha configurado un nuevo paradigma basado tanto en la complejidad de las múltiples realidades en las que operamos simultáneamente, como en la interconexión entre procesos y acontecimientos que se consideraban autónomos, incompatibles o simplemente incomprensibles. [+ info] Interactivos? MIT Media Lab. Cultura Libre Universidad de Chile.
Ideame - La plataforma latina de financiamiento colectivo. Centro Cultural de España – Santiago. Artishock | Revista de Arte Contemporáneo. Www.chimbalab.cl. People and Media Lab. Medialab-Prado Madrid. Comunidad Abierta Arte y Tecnologia | Generando espacios para compartir información, conocimiento y experiencia. Videodanza.cl. INTERFACE. Oficinadesonido. Tsonami. Mutek | mutek. ArtNumerica.net - arte y tecnologías. Productora Mutante. Mediateca libre. Destacados | Anilla Cultural MAC Chile. Anilla Cultural | Latinoamérica-Europa. 10 bienal de video y artes mediales. Inicio | Plataforma Cultura Digital.
---