Projects PBL
Wideo example of project summary. 3 Ways To Use Vine In The Project-Based Learning Classroom - Project-based learning (PBL) — an educational approach in which students work together to solve real-world problems — is redefining how many kids learn.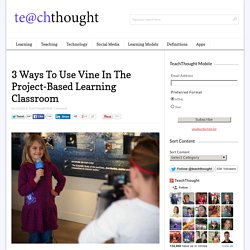 Vine, a social video app purchased by Twitter, is growing in popularity — and fast. What happens when the two collide? Collaboration During Student Project Work. In today's age of information, success hinges on effective application of knowledge to solve problems and create new ideas and information.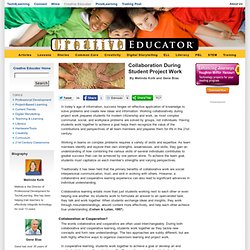 Working collaboratively during project work prepares students for modern citizenship and work, as most complex communal, social, and workplace problems are solved by groups, not individuals. Having students work together to achieve a goal helps them recognize the value of the contributions and perspectives of all team members and prepares them for life in the 21st century. In2Books.com. Global Community - project page. Νέα Παιδεία - Γλώσσα. Memoro: οι αφηγήσεις μου - η ιστορία μας Μια πρόταση για το μάθημα των Ερευνητικών ΕργασιώνΙταλία - Ελλάδα Αφορμή για την παρουσίαση του προγράμματος που ακολουθεί στάθηκε μια ενημερωτική συνάντηση στις 18 Μαΐου 2012, στο Χώρο Τέχνης Βρυσάκι στην Αθήνα.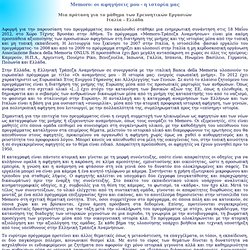 Το πρόγραμμα «Memoro-Τράπεζα Αναμνήσεων» είναι μία ακόμη προσπάθεια αξιοποίησης των προσωπικών αφηγήσεων στη διατήρηση της μνήμης και της ιστορίας μέσα από την τυπική και μη τυπική εκπαίδευση. What Is PBL? Creating a Classroom Museum. About the Activity This activity comes from the curriculum guide Collecting Their Thoughts: Using Museums as Resources for Student Writing.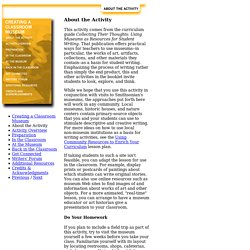 That publication offers practical ways for teachers to use museums--in particular, the works of art, artifacts, collections, and other materials they contain--as a basis for student writing. Sujet TPE. Travaux personnels encadrés. Un article de Wikipédia, l'encyclopédie libre.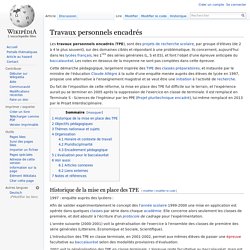 Cette nouvelle démarche pédagogique, largement inspirée des TIPE des classes préparatoires, et instaurée par le ministre de l'éducation Claude Allègre à la suite d'une enquête menée auprès des élèves de lycée en 1997, proposait une alternative à l'enseignement magistral et se voulait être une initiation à l'activité de recherche. Du fait de l'imposition de cette réforme, la mise en place des TPE fut difficile sur le terrain, et l'expérience aurait pu se terminer en 2005 après la suppression de l'exercice en classe de terminale. Wiki.TPE-Lycée. [TPE-Lycée] La production finale se devant être originale, un magazine est un support particulièrement intéressant.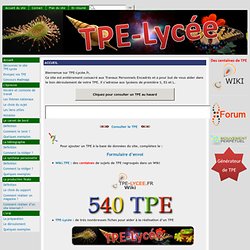 Cet article, en partenariat avec le site Madmagz, a pour but de vous guider dans la création et la publication d'un magazine. Avant de commencer, vous pouvez consulter quelques exemples de (...) Vous avez terminé la rédaction de vos différents articles et votre site est fin prêt à être évalué par vos professeurs. How to create a mobile city guide as class project. Ingredients Google SitesPicasaGoogle Maps One great class project could be to create a mobile tourist guide of their city or town (geography or foreign language class, or in combination).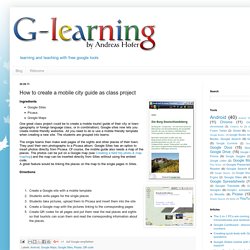 Ερευνητικές εργασίες στο «νέο Λύκειο»: η γαλλική εμπειρία. Το στοιχείο της ερευνητικής εργασίας στη λυκειακή εκπαίδευση αποτελεί τα τελευταία χρόνια συστατικό πολλών ευρωπαϊκών εκπαιδευτικών συστημάτων (χαρακτηριστικά παραδείγματα το βρετανικό και το γαλλικό).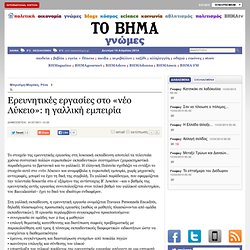 Η ελληνική Πολιτεία σχεδιάζει να εντάξει το στοιχείο αυτό στο «νέο Λύκειο» και αναμφίβολα η ευρωπαϊκή εμπειρία, χωρίς μηχανικές αντιγραφές, μπορεί να έχει τη δική της συμβολή. Το γαλλικό παράδειγμα, που εφαρμόζεται την τελευταία δεκαετία στο α' εξάμηνο της αντίστοιχης Β' Λυκείου –και ο βαθμός της ερευνητικής αυτής εργασίας συνυπολογίζεται στον τελικό βαθμό του γαλλικού απολυτηρίου, του Baccalauréat– έχει το δικό του ιδιαίτερο ενδιαφέρον. Στη γαλλική εκπαίδευση, η ερευνητική εργασία ονομάζεται Travaux Personnels Encadrés, δηλαδή πλαισιωμένες προσωπικές εργασίες (καθώς οι μαθητές πλαισιώνονται από ομάδα εκπαιδευτικών). How to: Inquiry | YouthLearn.
Will you ever just walk into class and ask, "Okay, what do you want to study today?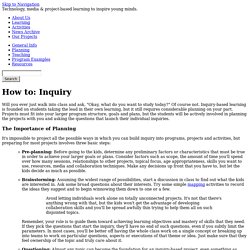 " Of course not. Inquiry-based learning is founded on students taking the lead in their own learning, but it still requires considerable planning on your part. Tools for Teaching - Collaborative Learning: Group Work and Study Teams. Organizing, and learning with, group projects. Cooperative learning series Learning and working in groups involves shared and/or learned values, resources, and ways of doing things.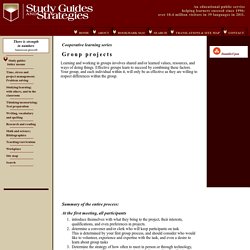 Effective groups learn to succeed by combining these factors. Your group, and each individual within it, will only be as effective as they are willing to respect differences within the group. Summary of the entire process: At the first meeting, all participants. Explore Our Town Project. The Our Town Project is an interdisciplinary collaborative project that asks students to explore their town and the people and places that make it unique. Students begin by using Google Earth to identify various places in their town, such as their schools, their seat of government, the police station, the hospital, the zoo, religious centers, local museums, water treatment plants, and other businesses where their parents work. As students take class field trips to these places, they use GPS units to groundtruth the location and use video cameras to capture images or record interviews. This project is intented for younger students as they learn about their town and how their government works in social studies class.
Ανακοινώσεις - Προκηρύξεις. Digitalschool-admin.minedu.gov.gr/modules/document/file.php/DSGL-A107/Διδακτικό Πακέτο/Επιμόρφωση Εκπαιδευτικών/ΟΔΗΓΟΣ ΕΠΙΜΟΡΦΩΤΗ.pdf. Digitalschool-admin.minedu.gov.gr/modules/document/file.php/DSGL-A107/Διδακτικό Πακέτο/Επιμόρφωση Εκπαιδευτικών/ΟΔΗΓΟΣ ΕΠΙΜΟΡΦΟΥΜΕΝΟΥ.pdf. "Gender, Race, and the Complexities of Science and Technology: A Problem-Based Learning Experiment, Spring 2009"
The Shield of Achilles Project - Kenneth Olden's Posterous. Project-Based Learning Teaching Module. Www.coloradoadulted.org/SS Lessons for Adult Learners/Curriculum Topics/lessontemplate.pdf. Using Project-Based Learning to Teach World Languages. Editor's Note: Today's guest blogger is Don Doehla, French teacher and instructional coach at Vintage High School in Napa, California. Don recently stepped up to become the new facilitator of our World Languages group. He's got some great ideas for teaching world languages, including the use of project-based learning. He shares a few of these tips today.
We hope you'll join him in the World Languages group as well. Resources for Project-Based Learning. Last month we released Projects for all our education wikis. Our intention was to give you a better tool for group work, but, as many of you have pointed out, they're also great for project-based learning. Project-based learning, or PBL, grew out of early 20th century education reform, like the works of John Dewey. Project Based Learning | BIE. Project Based Learning. The Power of Project Learning. By Wayne D'Orio Here's a riddle: Imagine there is a learning technique proven effective through 100 years of use that is now enhanced by the power of today's technology.
Imagine it can excite learners to continue their work well past the parameters of the school day. What is it, and would every school in the country do it? It is project-based learning, and the answer is yes, and no. Project Based Learning Lessons, Templates, PBL Websites for Teachers| LearningReviews.com K-12 Educational Websites. MacNedStudents - Timeline. High school project. Virtualinquiry - Spring 2011 Archives. My PBworks : Home. Υλικό Project. Www.oepek.org/oepek_files/project/1_seminario_epimorfoton.pdf. Proiect Avdhela - Biblioteca Culturii Aromane.
---