Ipad
Ipad apps
Easel iPad App. 10 Ways to Optimize Your iPad for Kids With Special Needs. When we think about ways the iPad has changed the world, our minds usually shoot to publishing, entertainment, or mobile communication.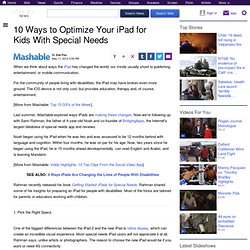 For the community of people living with disabilities, the iPad may have broken even more ground. The iOS device is not only cool, but provides education, therapy and, of course, entertainment. [More from Mashable: Top 10 GIFs of the Week] 103 Interesting Ways to use an iPad in the Classroom. S Essential iPad Apps. 20 Essential iPad Websites. Recommended Free iPad Apps - Handy Tips from TeacherRicks.
GoSoapBox: Hear What Your Students are Thinking | Classroom Response System. iPad Lessons. 5 Awesome Things You Can Do With an IPad and an LCD Projector. iPad Classroom. Ipad Apps. iPad for Education. iPads in education. Create Tutorials in One Click on Tildee ! 40+ Super Secret iPad Features and Shortcuts. We all want to get the very best out of our devices!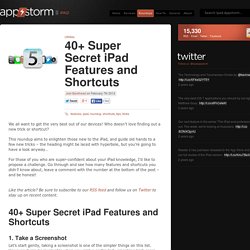 Who doesn't love finding out a new trick or shortcut? This roundup aims to enlighten those new to the iPad, and guide old hands to a few new tricks – the heading might be laced with hyperbole, but you're going to have a look anyway… For those of you who are super-confident about your iPad knowledge, I'd like to propose a challenge. First iPad Encounters. The iPads are finally set up and ready to go into the classrooms!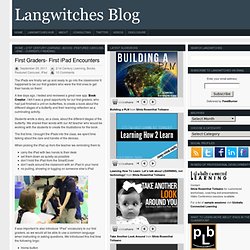 It happened to be our first graders who were the first ones to get their hands on them! A few days ago, I tested and reviewed a great new app: Book Creator. I felt it was a great opportunity for our first graders, who had just finished a unit on butterflies, to create a book about the different stages of a butterfly and their learning reflection as a culminating activity. Students wrote a story, as a class, about the different stages of the butterfly. iPads in Education. Initial iPad Setup. Look to the navigation sidebar to the left for the categories.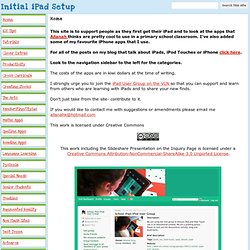 The costs of the apps are in kiwi dollars at the time of writing. I strongly urge you to join the iPad User Group on the VLN so that you can support and learn from others who are learning with iPads and to share your new finds. Don't just take from the site- contribute to it. This work is licensed under Creative Commons This work including the Slideshare Presentation on the Inquiry Page is licensed under a. iPad Tips: Getting Started with the iPad.
Have you just got a shiny new iPad as a holiday gift, or maybe just bought one for yourself?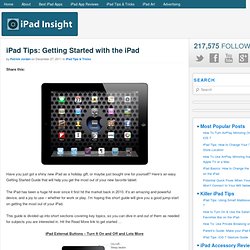 Here's an easy Getting Started Guide that will help you get the most out of your new favorite tablet: The iPad has been a huge hit ever since it first hit the market back in 2010. It's an amazing and powerful device, and a joy to use – whether for work or play. I'm hoping this short guide will give you a good jump-start on getting the most out of your iPad. This guide is divided up into short sections covering key topics, so you can dive in and out of them as needed for subjects you are interested in. Preparation for Implementation. When making the move towards using mobile devices in the classroom, there are a number of practical considerations to bear in mind.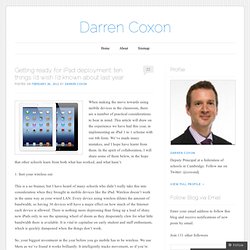 This article will draw on the experience we have had this year, in implementing an iPad 1 to 1 scheme with our 6th form. We've made many mistakes, and I hope have learnt from them. In the spirit of collaboration, I will share some of them below, in the hope that other schools learn from both what has worked, and what hasn't. 1. Sort your wireless out.
---