Kinect - LeaPmotion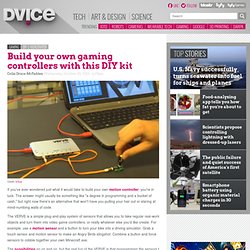 If you've ever wondered just what it would take to build your own motion controller, you're in luck. The answer might usually be something like "a degree in programming and a bucket of cash," but right now there's an alternative that won't have you pulling your hair out or staring at mind-numbing walls of code. The VERVE is a simple plug-and-play system of sensors that allows you to take regular real-world objects and turn them into video game controllers, or really whatever else you'd like create. For example, use a motion sensor and a button to turn your bike into a driving simulator. Grab a touch sensor and motion sensor to make an Angry Birds slingshot. Combine a button and force sensors to cobble together your own Minecraft axe.
Build your own gaming controllers with this DIY kit
Installing and Using the Kinect Sensor (Kinect Windows SDK)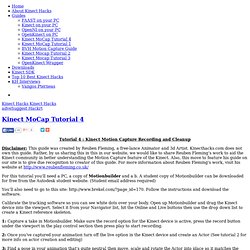 Kinect Motion Capture Tutorial
Tutorial 4 : Kinect Motion Capture Recording and Cleanup Disclaimer: This guide was created by Reuben Fleming, a free-lance Animator and 3d Artist. Kinecthacks.com does not own this guide. Rather, by us sharing this in this in our website, we would like to share Reuben Fleming's work to aid the Kinect community in better understanding the Motion Capture feature of the Kinect. Also, this move to feature his guide on our site is to give due recognition to creator of this guide.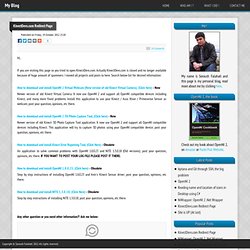 Hi, If you are visiting this page so you tried to open KinectDevs.com. Actually KinectDevs.com is closed and no longer available because of huge amount of spammers. I moved all projects and posts to here.
Kinect Developers • Index page
Coding4Fun Kinect Projects
iPi Soft
Quick Start Guide for Dual Kinect Sensor Configuration - iPiSoft Wiki
'Fabricate Yourself' by Karl D.D. Willis (@KarlDD) allows visitors to print 3d models of themselves #openFrameworks #Kinect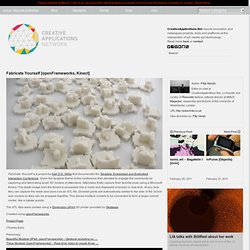 Fabricate Yourself is a project by Karl D.D. Willis that documented the Tangible, Embedded and Embodied Interaction Conference. Given the tangible theme of the conference Karl decided to engage the community by capturing and fabricating small 3D models of attendees.
Search Results for "kinect": SourceForge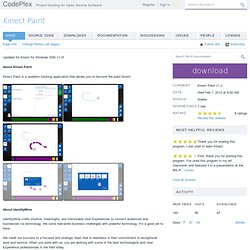 Kinect Paint
Updated for Kinect for Windows SDK v1.0! About Kinect Paint Kinect Paint is a skeleton tracking application that allows you to become the paint brush!
Kinect (codenamed in development as Project Natal) is a line of motion sensing input devices by Microsoft for Xbox 360 and Xbox One video game consoles and Windows PCs. Based around a webcam-style add-on peripheral, it enables users to control and interact with their console/computer without the need for a game controller, through a natural user interface using gestures and spoken commands.[9] The first-generation Kinect was first introduced in November 2010 in an attempt to broaden Xbox 360's audience beyond its typical gamer base.[10] A version for Windows was released on February 1, 2012.[6] Kinect competes with several motion controllers on other home consoles, such as Wii Remote Plus for Wii, PlayStation Move/PlayStation Eye for PlayStation 3, and PlayStation Camera for PlayStation 4. Technology Kinect sensor[9] is a horizontal bar connected to a small base with a motorized pivot and is designed to be positioned lengthwise above or below the video display.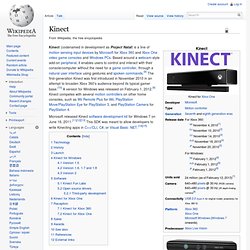 Un article de Wikipédia, l'encyclopédie libre. Kinect, initialement connu sous le nom de code Project Natal[1], est un périphérique destiné à la console de jeux vidéo Xbox 360 permettant de contrôler des jeux vidéo sans utiliser de manette et aussi à Microsoft Windows depuis septembre 2008[2]. Le mot-valise « Kinect » est issu des mots anglais « kinetic » (qu'on peut traduire par « cinétique ») et « connect » (qu'on peut traduire par « connecter »)[3],[1].
Kinect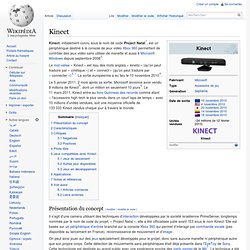 The launch of Xbox Kinect has caused much excitement in the open source community. In the last few weeks, developers have managed to tap into the hardware with impressive results. We've seen applications ranging from gesture-based experiences to 3D imaging. We've taken this exciting opportunity to port our popular DaVinci experience to the Kinect platform. Gestures are used to create objects and control the physics of the environment.
Razorfish + Emerging Experiences - DaVinci Goes Touchless With XBox Kinect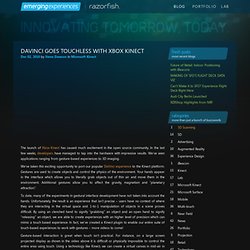 Projects | Coding4Fun
Kinect for Windows Quickstart Series
Kinect Tutorials | Kinect for Windows
The 9 Best Kinect Hacks To Date (VIDEO)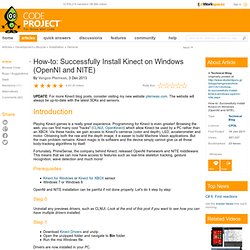 How-to: Successfully Install Kinect on Windows (OpenNI and NITE)
UPDATE: For more Kinect blog posts, consider visiting my new website pterneas.com. The website will always be up-to-date with the latest SDKs and sensors. Playing Kinect games is a really great experience.
Microsoft Kinect for Xbox 360 - Xbox: Project Natal Blog
Puppet Parade is an interactive installation by Emily Gobeille and Theo Watson of Design I/O that allows children to use their arms to puppeteer larger than life creatures projected on the wall in front of them. This dual interactive setup allows children to perform alongside the puppets, blurring the line between the 'audience' and the puppeteers and creating an endlessly playful dialogue between the children in the space and the children puppeteering the creatures. The setup consists of a stage where two puppeteers can control puppets displayed on a large interactive screen. The audience can stand in front of the screen and interact with the puppets directly, making food for them to eat which transforms their appearance or just engaging in a fun dialogue with the puppet, the performer and themselves. There are two kinect cameras mounted on the stage which tracks the arm position of the two puppeteers, mapping their arm position and angle to the body of the puppets.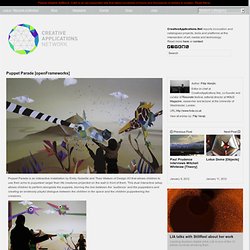 Puppet Parade by Emily Gobeille and Theo Watson of @design_io #openframeworks
The good folks at ZigFu have created a great way for people to set up the things they need in order to start using their Kinect right away. The package will install OpenNI, NITE and Sensor Kinect with just the click of a button. This will definitely come in handy if you're new to the game of have to configure multiple workstations in a short amount of time.
Kai Kostack's Home
NI mate birthday compo deadline extended... It's been a hectic two months here at Delicode - especially with the release of Z Vector at SXSW 2014. All this rush has meant that we didn't have the time to promote the NI mate birthday competition in the … Continue reading Read more Delicode at SXSW 2014 and GDC 2014 After over two years of intense development and an eight month beta period, last week's South by Southwest culminated in the release of our company's second software to date - Z Vector.
NI mate Documentation (last update 22.1.2012) | NI Mate
General Delicode NI mate is a program that uses OpenNI standard compliant devices such as the Microsoft Kinect, the ASUS Xtion and the PrimeSense Carmine to track body movement, converting this motion data into standard OSC or MIDI messages that can be received in any client program. Installation On Windows If you have previously installed SensorKinect, OpenNI or NITE, it's strongly recommended that you either uninstall all of them or update them to the latest versions before installing Delicode NI mate. If you have any other device drivers (like the Kinect for Windows SDK) installed other than SensorKinect you must uninstall these before installing Delicode NI mate.
HOWTO: Kinect + OpenNI/NITE skeleton tracking and gesture recognition in gentoo
Kinect OpenNI-NITE ofxOpenNI Skeleton with openFrameworks on Linux
Using Kinect + OpenNI to Embody an Avatar in Second Life
OctoMap - 3D occupancy mapping
openni_kinect/kinect_accuracy
openni/Contests/ROS 3D/RGBD-6D-SLAM
openni/Contests/ROS 3D/Minority Report Interface
Kinect dans le Blender Game Engine
kinect | Search Results
Bloop: Blender Motion Capture with Kinect
Processing - V // Pixelnerve
Kinect and Processing
Arbeitsgruppe Digitale Medien: Bloop
Kinect
Augmented Reality with Kinect Fusion - Point Cloud Library
Kinect to help the blind 'see' in augmented reality | ImmersiveTech
Nicolas Burrus Homepage - Nicolas Burrus homepage
OpenKinect | Google Groupes
kinect open PC
Kinect Nation
View topic - GlovePIE vs FAAST
View topic - Kinect integration with Glovepie (Download link and sample)
Using Kinect in Glovepie with OSC messages and OpenNi framework
PPJoy 0.83 – Télécharger gratuit
FAAST Video Gallery
The Kinect Accelerator
WIN&I - Precise gesture control | Software Development Kit
Télécharger - Logiciel gratuit Emulation | CommentCaMarche
Download the Developer SDK for the Kinect | Kinect for Windows
WIN&I - Precise gesture control | Software Development Kit
Kinect for Windows – Building the Future - Kinect for Windows Blog
Kinect : mise à jour beta du SDK pour Windows
Microsoft outlines Code Space, looks to include Kinect in conference rooms, PTA meetings (video)
Animal | Jeux Kinect
SkiRangerGame - Home
applications téléchargeables
Kiretu: Kiretu: Kiretu – A Kinect reconstruction tutor
Introducing Kiretu - A Kinect reconstruction tutor - OpenKinect | Google Groupes