Texteffects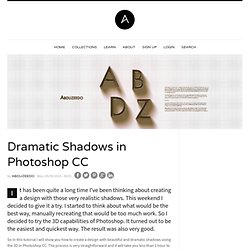 It has been quite a long time I've been thinking about creating a design with those very realistic shadows. This weekend I decided to give it a try. I started to think about what would be the best way, manually recreating that would be too much work. So I decided to try the 3D capabilities of Photoshop.
Dramatic Shadows in Photoshop CC | Abduzeedo Design Inspiration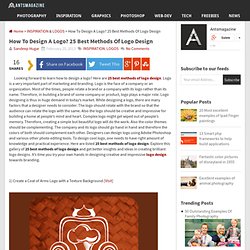 How To Design A Logo? 25 Best Methods Of Logo Design - AntsMagazine.Com
Looking forward to learn how to design a logo? Here are 25 best methods of logo design. Logo is a very important part of marketing and branding. Logo is the face of a company or an organization. Most of the times, people relate a brand or a company with its logo rather than its name. Therefore, in building a brand of some company or product, logo plays a major role.
Polished Stone Text Effect
This tutorial explains how to use multiple Layer Styles, a cool Gradient Inner Glow trick, and simple filters to create a glossy polished stone-like text effect. The Final Result: Notes: * the software used in this tutorial is Adobe Photoshop CS6, but you can use CS3+ versions as well. * you might want to check the Basix Page to see some useful topics on dealing with Photoshop basics, such as loading palettes and some shortcuts.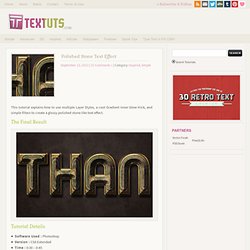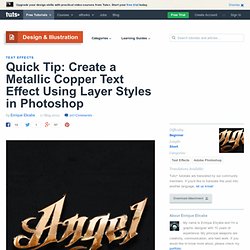 In this tutorial we will explain how to create a metallic copper text effect using layer styles in Photoshop. Let's get started! Tutorial Assets The following assets were used during the production of this tutorial.
Create a Metallic Copper Text Effect Using Layer Styles in Photoshop
In this Awesome★ Photoshop tutorial, i'm going to show you how to create an editable screen shot text effect. You can easily edit the text, you don't need to repeat all steps from scratch, just double click the text layer and change it. This tutorial also has some good applications of Smart Objects.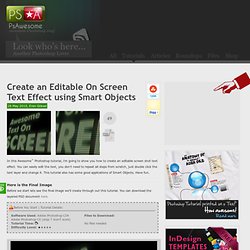 There are a couple of nice "folded" text effect tutorials out there, but this tutorial takes a slightly different approach to the concept. We'll be creating a folded text, and a simple pattern to make it look like it's cut out from a notebook. The letter "O" will be used to illustrate the concept, as it needs a little bit extra work done to it. The Final Result: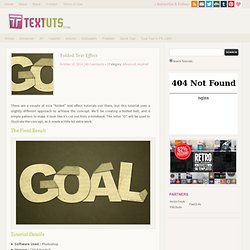 Folded Text Effect Tutorial | textuts.com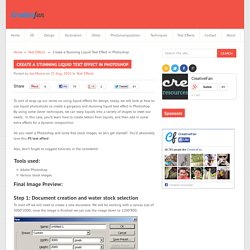 To sort of wrap up our series on using liquid effects for design, today, we will look at how to use liquid photostocks to create a gorgeous and stunning liquid text effect in Photoshop. By using some clever techniques, we can warp liquids into a variety of shapes to meet our needs. In this case, you'll learn how to create letters from liquids, and then add in some extra effects for a dynamic composition. All you need is Photoshop and some free stock images, so let's get started! You'll absolutely love this PS text effect!
Create a Stunning Liquid Text Effect in Photoshop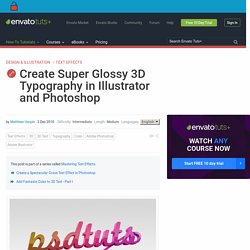 In today's tutorial we will demonstrate how to create super glossy 3D typography using Illustrator and Photoshop. Let's get started! Step 1 Open Illustrator and create a new RGB document, 1000px by 800px, 72 DPI, and write your text in a nice big font. I've used Marketing Script size 234pt.
CreativeBLVD Graphic Design Group Group News
Psdtuts has been around for just over three years. During that time, we've posted a lot of content. We know that the amount of content on our site may be a bit overwhelming to those of you who recently discovered our site. That is why we have decided to periodically resurrect some of our older posts for you all to enjoy. Today, we have decided to bring back a post by Envato founder, Collis Ta'eed, from May 2008, that demonstrates how to create a spectacular grass text effect in Photoshop. Let's get started!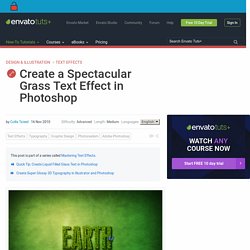 Photoshop/Illustratorでつくるタイポグラフィのチュートリアル -Part20