Photoshop
Get flash to fully experience Pearltrees
created on 19.02.2004, updated-05.07.2005: -Added a tip Removed tables for layout on 05.07.2005 If you've already read my other tutorial you should be familiar with my workspace . You may want to work with your own flag, but just in case you can't find your way in google for a high-res flag, or too lazy to prepare one in eps format that opens up at any resolution (which I had to do in this case), you can grab the Turkish flag we'll be using for this tutorial here .
Many people can use Photoshop, but only a select few can call themselves gurus. Learn all the methods in the 20 tutorials below and you'll be well on your way to joining this elite. Rather than focus on tuts for beginners , intermediates or advanced users , we've simply chosen ones which produce jaw-dropping effects. All of them are easy to follow, although most do require at least some prior knowledge and experience. 1.
Create a Quick and Easy 3D Type Effect Clean and modern 3D type is a cool effect, and it's surprisingly quick and easy to create. With the combination of Photoshop and Illustrator, this effect is can be created in minutes.
The Liquify filter may be one of the most commonly used filters in Photoshop's arsenal. The Liquify filter allows us to distort the pixels in a given image without losing quality. Some designers are a bit intimidated by the Liquify filter, others may use in improperly. Today, we will explain the features of this very powerful filter in detail so you can use it in your work. What is it? From photo retouching, to artistic effects, the Liquify filter is a powerful tool for every Photoshop user.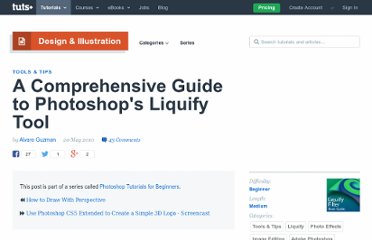 Community Translation Episode available in 9 languages Available Translations: