collections
Get flash to fully experience Pearltrees
With Photoshop text effects you can make most designs stand out and it is not that hard! Typography is defined as the art and technique of arranging type, type design, and modifying type glyph. With Photoshop and the right skills and techniques at your disposal you can push the limits of Typography to the edge.
No matter you want to design a banner or logo, text effect is very important. Why? It is because a beautiful text effect on the banner or logo will attracts the visitor and also delivers a better message. There are tons of Photoshop text tutorials around us, but today we are going to pick the most 40 beautiful Photoshop text effect tutorials for our readers.
There are thousands of Photoshop tutorials out there, but few that are top-notch in terms of instructions, presentation – and of course – outcome. In this post, you'll find 30 beautiful, high-quality Adobe Photoshop tutorials from top tutorial sites and designers like PSDTUTS, PSHERO, and Abduzeedo. 1. Create a Spectacular Grass Text Effect Use the Pen Tool and a lot of patience to create this excellent grass effect. 2.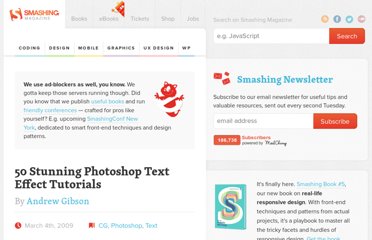 Photoshop's text and layer tools can be used to create some really awesome effects. We've put together a list of 60 of the best tutorials we could find to help you stay up to date on the latest trends and techniques. You'll find some really cool grunge and glass styles (plus a few surprises!) and learn how some of the best designers create their unique effects. Courtesy: LemonDesign
Published in Design , Photoshop Tutorials Last month I published a collection of 45 Photoshop Tutorials for Better Navigation , which quickly became one of the most popular posts on this blog. Due to the response, I spent some time finding more great Photoshop tutorials. Here are 50 of the best tutorials for working with text. You may also be interested in the following collections of Photoshop tutorials: Create a Spectacular Flaming Meteor Effect on Text
This is a collection of my favourite Photoshop text effects that look pretty sweet, I would recommend experimenting with these styles if your looking for some thing a little bit different. Candy Coated Text Smooth Glass Type Slow Shutter Effect The Original slow shutter tut is unavailiable but some one kindly uploaded it… Glassy Text Effect
It seems that text effects have become extremely popular over the last years.