Philippine National Police (PNP)
2,000 fake PNP pensioners' scam busted. Officials have uncovered a potential mother of all scams in the Philippine National Police involving "ghost pensioners" running away with more than P1 billion of the PNP's funds over the past five years.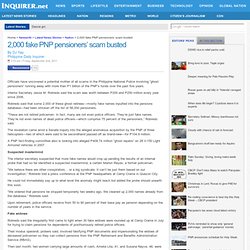 Interior Secretary Jesse M. Robredo said the scam was worth between P200 and P250 million every year since 2006. Robredo said that some 2,000 of these ghost retirees—mostly fake names inputted into the pensions database—had been stricken off the list of 58,000 pensioners. "These are not retired policemen. 27,000 Filipino policemen don't have official guns | World news. MANILA, Philippines (AP) — More than 27,000 Philippine police officers — about a fifth of the national force — do not have government-issued guns, prompting many of them to rely on their own guns to battle criminals and insurgents, officials said Wednesday.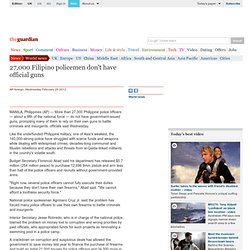 Like the underfunded Philippine military, one of Asia's weakest, the 140,000-strong police have struggled with scarce funds and weapons while dealing with widespread crimes, decades-long communist and Muslim rebellions and attacks and threats from al-Qaida-linked militants in the country's volatile south. Budget Secretary Florencio Abad said his department has released $5.7 million (254 million pesos) to purchase 12,696 9mm pistols and arm less than half of the police officers and recruits without government-provided arms.
"Right now, several police officers cannot fully execute their duties because they don't have their own firearms," Abad said. "We cannot afford a toothless security force. " 175 erring cops dismissed in 6 months - Robredo | The Philippine Star >> News >> Headlines.
---