Ken Robinson
The World We Explore- Sir Ken Robinson Zeitgeist Americas 2012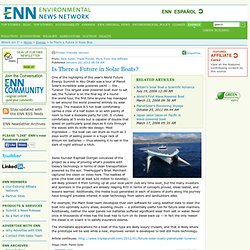 Alternative Energy and Fuel News: Is There a Future in Solar Boats?
One of the highlights of this year's World Future Energy Summit in Abu Dhabi was a tour of Planet Solar's incredible solar powered yacht — the Turanor. The largest solar powered boat ever to set sail, the Turanor is on the final leg of a round-the-world tour, the first time anyone has managed to sail around the world powered entirely by solar energy. The massive 8.5 ton boat comfortably carries a crew of a half dozen or so with plenty of room to host a dockside party for 100.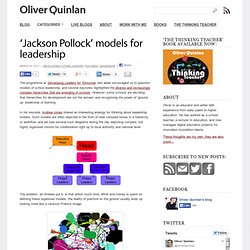 'Jackson Pollock' models for leadership
The programme at 'Developing Leaders for Tomorrow' last week encouraged us to question models of school leadership, and several keynotes highlighted the diverse and increasingly complex hierarchies that are emerging in schools. However, some schools are deciding that hierarchies for development are not the answer, and recognising the power of 'ground up' leadership of learning. In his keynote, Andrew Jones shared an interesting analogy for thinking about leadership models.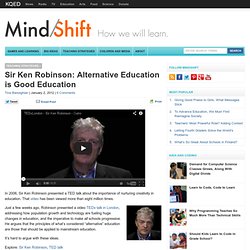 Sir Ken Robinson: Alternative Education is Good Education
Teaching Strategies In 2006, Sir Ken Robinson presented a TED talk about the importance of nurturing creativity in education. That video has been viewed more than eight million times. Just a few weeks ago, Robinson presented a video TEDx talk in London, addressing how population growth and technology are fueling huge changes in education, and the imperative to make all schools progressive. He argues that the principles of what's considered "alternative" education are those that should be applied to mainstream education. It's hard to argue with these ideas.
learning withour frontiers
Behind the TEDTalk 2010 on Vimeo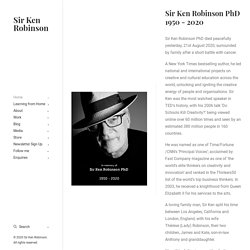 Thank you for visiting my website. If you click on the bio tab, you'll see that I've been doing what I do for a fairly long time! Along the way, I've balanced various roles – as a writer, researcher, adviser, teacher and speaker. I've also been involved in many projects and initiatives around the world – with national and local education systems, and with corporate, cultural and community organizations.
www.nnschools.org/art/ArtsandMinds.pdf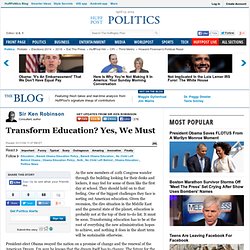 Sir Ken Robinson: Transform Education? Yes, We Must
As the new members of 111th Congress wander through the building looking for their desks and lockers, it may feel for some of them like the first day at school. They should hold on to that feeling. One of the biggest challenges they face is sorting out American education. Given the recession, the dire situation in the Middle East and the general state of the planet, education is probably not at the top of their to-do list. It must be soon. Transforming education has to be at the root of everything the new administration hopes to achieve, and nothing it does in the short term will be sustainable otherwise.
Sir Ken Robinson
www.accenture.com/NR/rdonlyres/7B7C0952-0C11-4A49-8E4E-280F09E5F097/0/Accenture_GCF08_Robinson.pdf
Ken Robinson - unlocking_creativity_-_a_strategy_for_developement.pdf
Ken Robinson - unlocking_creativity__a_creative_region.pdf