BOS
Mid-Atlantic Geomancy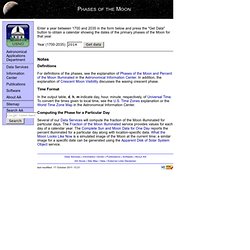 Enter a year between 1700 and 2035 in the form below and press the "Get Data" button to obtain a calendar showing the dates of the primary phases of the Moon for that year. Definitions For definitions of the phases, see the explanation of Phases of the Moon and Percent of the Moon Illuminated in the Astronomical Information Center. In addition, the explanation of Crescent Moon Visibility discusses the waxing crescent phase.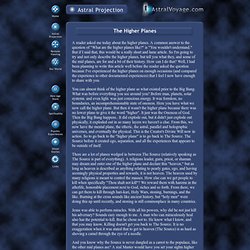 A reader asked me today about the higher planes. A common answer to the question of "What are the higher planes like?" is "You wouldn't understand."
Astral Voyage - Astral Projection - The Higher Planes
druids_panorama.jpg (JPEG Image, 1289x369 pixels) - Scaled (78%)
Astral Voyage - Astral Projection - The Higher Planes
Fantastic information from one of our very lovely students - Starlit Energies ♥ Visualisation, also known as Mental Imagery, Visual Mental Rehearsal, Meditation, Journeying, Mindfulness, and Astral Travel is a technique that has been proven to be extraordinarily successful in producing a specific outcome. Whenever we imagine ourselves performing an action in the absence of physical practice, we are said to be using visual imagery also known as our imagination, our intuition and our astral self. Visualisation techniques have been used with great success in sports since the 1970s apparently, attempting to calm the nerves of those competing/playing, a sort of healing of nervous tension before any sporting occasion.
Kitchen Witch - Craft & Magick ....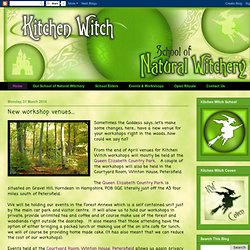 Sefer Ha-Bahir - The Book of Illumination
Attributed to Rabbi Nehunia ben haKana What is the Sefer ha-Bahir? The Bahir is one of the oldest and most important of all Kabbalistic texts. Until the publication of the Zohar, the Bahir was the most influential source of Kabbalistic teachings. It is quoted in virtually every major Kabbalistic work and is cited numerous times by the Ramban in his commentary on the Torah. It is also paraphrased and quoted many times in the Zohar.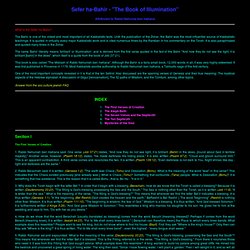 Please enter the award-winning internet encyclopedia of mythology, folklore, and religion. Here you will find everything from A-gskw to Zveda Vechanyaya, with plenty in between. The mythology section is divided to six geographical regions: Africa, Americas, Asia, Europe, Middle East, and Oceania. Each region has many clearly defined subdivisions that will ease your search. The Folklore section contains general folklore, Arthurian legends, and fascinating folktales from many lands. In addition, we feature special interest areas to enhance and refine your research.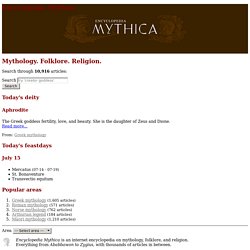 Spirituality for Living from Dragon Intuitive offers insights into science, mysticism, spirituality and consciousness to inspire your seeking. There is brightness and there is darkness and there is that twist of which you know and I speak. Even the one that is most trapped in the physical can be free to stretch the wings and soar in the moonlight. For light and dark are both necessary and we are striving for a place beyond mere words.
Spirituality for Living | We Live Our Ideas | Consciousness, Metaphysics, World Beliefs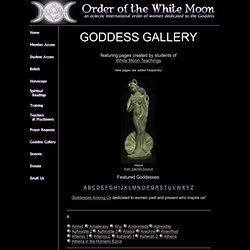 Airmid Amaterasu Anu Andromeda
OWM Goddess Gallery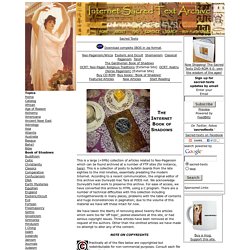 This is a large (+9Mb) collection of articles related to Neo-Paganism which can be found archived at a number of FTP sites (for instance, here). This is a collection of posts to bulletin boards from the late eighties to the mid nineties, essentially predating the modern Internet. According to a recent communication, the original editor of this archive was Durwydd mac Tara at PODS net. We acknowledge Durwydd's hard work to preserve this archive.
When it comes to Magicks and Witch Craft a good set of Correspondences are important, but like all things in magick personal input will help you create a set of correspondence that are personal to you improving your magickal skills. Below is a set of basic correspondences the days of the week, the planets and astrological influences i have also included the planetary hours which can be a little confusing but the easiest way to understand it is the number in the hour column relates to the hour after sunrise in day planet hours and the hour after sunset in night planet hours. Her is an example if you want the hour of mars on a monday and sunrise is 6.45 you can see that mars is in the 4th hour so add 4 hours to sunrise time for the start of the hour of mars (the hour would start at 10.45am) you do the same with night hours using sunset as your starting time.
Witchcraft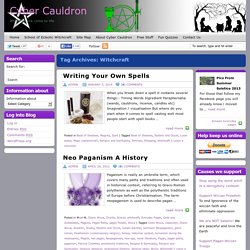 Fabrisia's Boschetto - Home Page
Welcome to my new home on the Web. We all get busy with life and for me its no different. So for a couple years I have been unable to keep this site in working order. Well, the Wheel has turned and I am back!! To those who have been here before, Welcome Back. And to those who are visiting for the first time - Welcome!!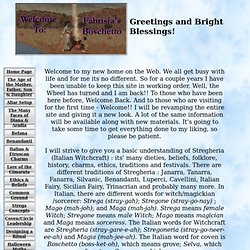 Pagan Calendar - September 2011
This Pagan calendar shows Pagan, Witch, Druid and Heathen festivals, dates and events. Important neo-pagan festivals and religious holidays are included even if research into the origins are sketchy, as they are important in modern paganism. Understanding festivals roots is a good idea, for the fire festivals, research the Coligny calendar and Margaret Murray. For the Celtic tree calendar, research Robert Graves. Sources of information on old pagan festivals and calendar dates include the Coligny calendar, Cormac's Glossary and Bede's writings. Pagan carvings, pictures, artifacts and writings help validate certain events.
Covenant of the Goddess
We have more Gods and Goddesses than you can shake a stick at. Our Mythology Encyclopedia features over 3,700 weird and wonderful Supreme Beings, Demons, Spirits and Fabulous Beasts from all over the world. Explore ancient legends and folklore, and discover Gods of everything from Fertility to Fluff with Godchecker... Mythology Encyclopedia.
Magicka School News Brand New Competition for February and March! Yes, it's another amazing giveaway at Magicka School. Win a fabulous heavy cotton Celtic altar cloth, a pentagram embossed brass bell, a golden triple moon bangle, a crystal ball, purple tarot bag and a bone china mug with fairy and raven design, collectively worth £50.00 ($75 US)!
We believe and teach that everything in the universe is made from the same "star stuff", you as well as a rock. Down at the most infinitesimal level everything is the same. Matter, down to the tiniest particle, is really nothing but clumped energy which pervades everything. The basic energy can be called God or anything else you want, it's all the same. It's really nothing to our senses - yet it is something that's everywhere - only being able to interact with our plane of existence when it clumps together in what we call particles (matter). Anyway - this is a pretty basic explanation of very ancient religions AND modern quantum physics.
Journey To The One
Witcheslore Online Book of Shadows
Menu
Celtic Zodiac Index
Phoenix Rising Academy | Esoteric Studies and Creative Arts
Sitemap
Spiral Goddess Grove - A Goddess Temple
Welcome - PastlivesParanormal&Pagans
Lady of the Earth