PLATFORM
About Us | Open Knowledge Foundation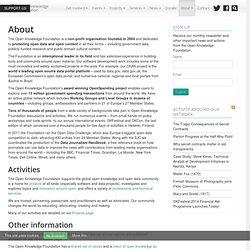 The Open Knowledge Foundation is a non-profit organisation founded in 2004 and dedicated to promoting open data and open content in all their forms – including government data, publicly funded research and public domain cultural content. The Foundation is an international leader in its field and has extensive experience in building tools and community around open material. Our software development work includes some of the most innovative and widely acclaimed projects in the area. For example, our CKAN project is the world's leading open source data portal platform – used by data.gov, data.gov.uk, the European Commission's open data portal, and numerous national, regional and local portals from Austria to Brazil. The Open Knowledge Foundation's award winning OpenSpending project enables users to explore over 13 million government spending transactions from around the world.
Opensourcemania - La piattaforma open source dedicata al mondo Information Tecnology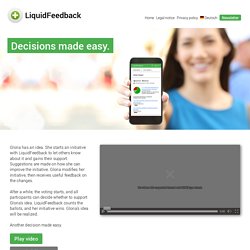 Liquid Democracy Scalability through division of labor The basic idea is a democratic system in which most issues are decided (or strongly suggested to representatives) by direct referendum.
Simple, Small, Secure - WebHuddle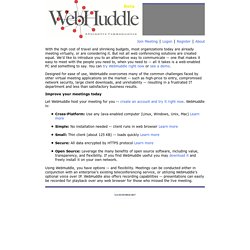 With the high cost of travel and shrinking budgets, most organizations today are already meeting virtually, or are considering it. But not all web conferencing solutions are created equal. We'd like to introduce you to an alternative way to communicate -- one that makes it easy to meet with the people you need to, when you need to -- all it takes is a web-enabled PC and something to say. You can try WebHuddle right now or see a demo.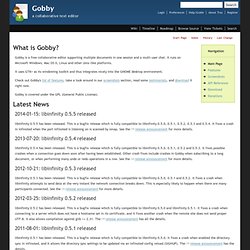 Gobby is a free collaborative editor supporting multiple documents in one session and a multi-user chat. It runs on Microsoft Windows, Mac OS X, Linux and other Unix-like platforms. It uses GTK+ 2.6 as its windowing toolkit and thus integrates nicely into the GNOME desktop environment. Check out Gobby's list of features, take a look around in our screenshots section, read some testimonials, and download it right now.