En anglais
With the proliferation of the internet, innumerable amounts of information are available at your very fingertips. One prime example of this fact is the prevalence of open courseware collections. Universities both large and small, from all around the world, have started to offer their valuable information to the general public in the form of audio, video, and text files. These courses won't earn you a degree specifically, but they can go a long way towards expanding your knowledge. We've scoured the internet to bring you the top 50 university courseware collections. If you're interested in learning more about a particular subject, or seeing if you like what a particular university has to offer in terms of courses, then this is the list for you.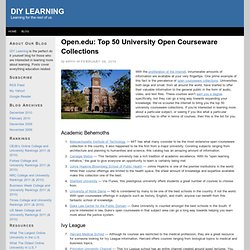 Get free online courses from the world's leading universities – Stanford, Yale, MIT, Harvard, Berkeley, Oxford and more. This collection includes over 875 free courses in the liberal arts and sciences. You can download these audio & video courses (often from iTunes, YouTube, or university web sites) straight to your computer or mp3 player. Over 30,000 hours of free audio & video lectures, await you now. Humanities & Social Sciences Art & Art History Courses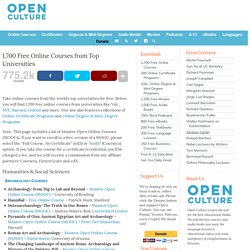 Videos for the following free Harvard courses are made available by the Harvard Extension School's Open Learning Initiative. Featuring Harvard faculty, the noncredit courses are open to the public. You do not need to register to view the lecture videos. China: Traditions and Transformations Peter K. Bol, PhD, Charles H.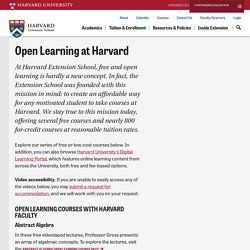 Harvard Computer Science Online Courses
Stanford University - Electrical Engineering Department
For the first time in its history, Stanford is offering some of its most popular engineering classes free of charge to students and educators around the world. Stanford Engineering Everywhere (SEE) expands the Stanford experience to students and educators online. A computer and an Internet connection are all you need. View lecture videos, access reading lists and other course handouts, take quizzes and tests, and communicate with other SEE students, all at your convenience.
Stanford University - CourseWare
Full courses. Short Videos. Free for everyone. Learn the fundamentals of human-computer interaction and design thinking, with an emphasis on mobile web applications.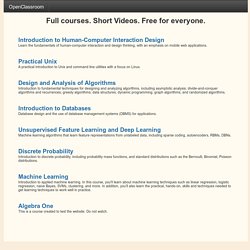 Academic Earth believes everyone deserves access to a world-class education, which is why we continue to offer a comprehensive collection of free online college courses from the world's top universities. And now, we take learning outside the classroom with our original series of thought-provoking videos, designed to spark your intellectual curiosity and start a conversation. Watch, learn, share, debate. After all, only through questioning the world around us, can we come to better understand it.