En anglais
Open.edu: Top 50 University Open Courseware Collections | DIY Learning. With the proliferation of the internet, innumerable amounts of information are available at your very fingertips.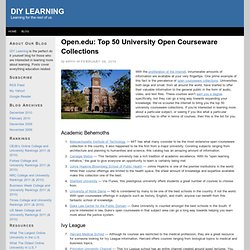 One prime example of this fact is the prevalence of open courseware collections. Universities both large and small, from all around the world, have started to offer their valuable information to the general public in the form of audio, video, and text files. These courses won't earn you a degree specifically, but they can go a long way towards expanding your knowledge. We've scoured the internet to bring you the top 50 university courseware collections. If you're interested in learning more about a particular subject, or seeing if you like what a particular university has to offer in terms of courses, then this is the list for you.
450 Free Online Courses from Top Universities. Try Audible Now & Get a FREE Audiobook!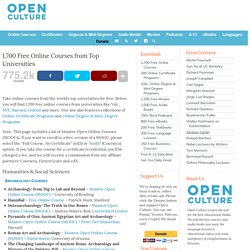 Get free online courses from the world's leading universities – Stanford, Yale, MIT, Harvard, Berkeley, Oxford and more. You can download these audio & video courses (often from iTunes, YouTube, or university web sites) straight to your computer or mp3 player. Over 30,000 hours of free audio & video lectures, await you now. Humanities & Social Sciences Art & Art History Courses. Harvard University - Extension School. Videos for the following free Harvard courses are made available by the Harvard Extension School's Open Learning Initiative.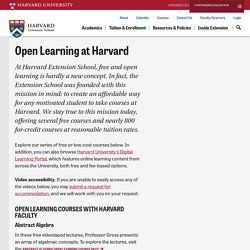 Featuring Harvard faculty, the noncredit courses are open to the public. You do not need to register to view the lecture videos. China: Traditions and Transformations Peter K. Bol, PhD, Charles H. Harvard Medical School - Open Courses. Harvard Computer Science Online Courses. Open Yale Courses. Stanford University - Electrical Engineering Department. Stanford University - Engineering Everywhere (SEE)
Stanford University - CourseWare. Stanford University - Open Classroom. Full courses.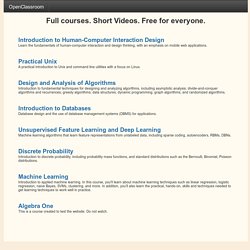 Short Videos. Free for everyone. Learn the fundamentals of human-computer interaction and design thinking, with an emphasis on mobile web applications. UC Berkeley Video and Podcasts for Courses & Events. MIT - OpenCourseWare. Academic Earth - Online Courses. Princeton Stanford and others - Coursera. Udacity - Free Classes. Awesome Instructors. Inspiring Community.
---