Open knowledge
It's always an honor to be invited to join a head of state to tackle global problems. But it's rare that anything comes of it. Last February I was surprised to receive an invitation from the Royal Government of Bhutan to join His Excellency, Jigmi Thinley, the Bhutanese Prime Minister and more than 600 leaders from civil society, business, governments, academic institutions and global experts for a high-level meeting at the United Nations on happiness and well-being. On April 2, as I arrived in New York, it was clear that the Bhutanese are competent, far more than typical UN functionaries. They excel at hospitality and I believe they're serious about making the concept of Gross National Happiness (GNH) amount to something.
Reframing The Global Economy To Include Happiness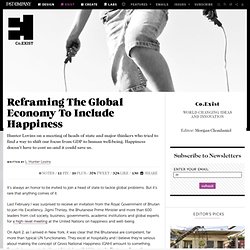 Some of us enjoy taking our cues from a boss in an office. Others like Chris Guillebeau, author of The $100 Startup: Reinvent the Way You Make a Living, Do What You Love, and Create a New Future, published on May 8th, favor a different approach. The 34-year-old high school drop out--he did manage to squeeze out a master's in International Studies--just wasn't a great employee.
Learn From Unconventional Entrepreneurs: Help Others And Do What You Love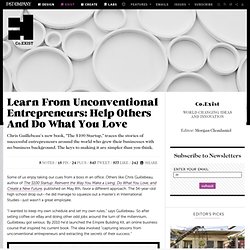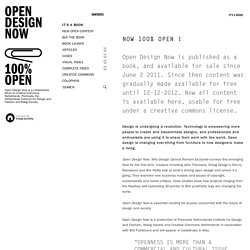 It's a book Open Design Now is published as a book, and available for sale since June 2 2011. Since then content was gradually made available for free until 12-12-2012. Now all content is available here, usable for free under a creative commons license. Design is undergoing a revolution. Technology is empowering more people to create and disseminate designs, and professionals and enthusiasts are using it to share their work with the world.
BCI-biomimicry - Resources
In my meanderings yesterday, I happened across this interesting post on Noah Brier's blog. Here he mentioned "the strength of weak ties" in relation to social media (and a link to a PDF). I was fascinated immediately by the title and wanted to learn more.
The Strength of Social Media's Weak Ties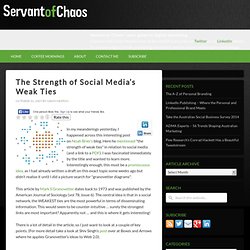 RR 18
eBRC Research Report 18 Business Ecosystem - a Conceptual Model of an Organization Population from the Perspectives of Complexity and Evolution Mirva Peltoniemi This report investigates the modelling of an organisation population of which knowledge-intensive service organisations form an important part. A conceptual model of the behaviour and development of an organisation population is constructed based on three overlapping theoretical bases, namely complexity, evolutionary economics and business ecosystem. This research is conducted in an explorative manner as a literature review and conceptual analysis.
Finalmente la casa editrice Adelphi, che già in passato si è dimostrata particolarmente sensibile ai temi proposti dal cosmologo Barrow (è possibile trovare nel catlogo Adelphi altri suoi titoli dal "sapore" più o meno antropico come , e ), affronta l'impresa che di sicuro ha un forte valore storico. Infatti la sua pubblicazione costituisce uno degli ultimi, ma forse ancora possibili, casi di culturale che, in quanto tale, guida l'ardito lettore attraverso tutti gli aspetti più importanti del nostro sapere rivisitati alla luce di questo principio. Un'operazione senz'altro onesta in quanto, se di paradigma si tratta, deve comunque risultare applicabile all'astrofisica, alla biologia, alla meccanica quantistica, per citare solo alcuni degli ambiti con i quali si sono misurati gli autori fra le pagine del libro, nel tentativo di mostrare la consistenza di una visione del mondo che tenta di restituire all'uomo una posizione centrale nel progetto cosmico.
Il principio antropico - torinoscienza.it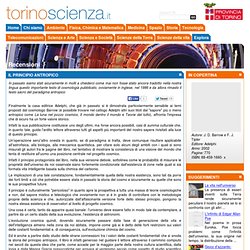 These Drones Will Save Your Life By Cormac Eubanks - January 17, 2014 The word "drone" usually conjures up negative images of invisible eyes in the sky and shadowy, unknown forces. As frog designers, we are natural optimists who see these unmanned aerial vehicles as an opportunity to improve people's lives – and possibly even save them.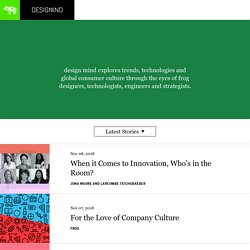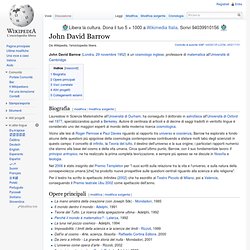 Da Wikipedia, l'enciclopedia libera. John David Barrow (Londra, 29 novembre 1952) è un cosmologo inglese, professore di matematica all'Università di Cambridge. Biografia[modifica | modifica sorgente] Nel 2006 è stato insignito del Premio Templeton per "i suoi scritti sulla relazione tra la vita e l'universo, e sulla natura della consapevolezza umana [che] ha prodotto nuove prospettive sulle questioni centrali riguardo alla scienza e alla religione".
John David Barrow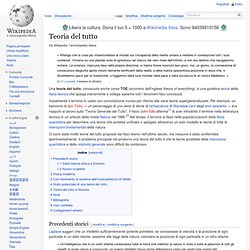 Da Wikipedia, l'enciclopedia libera. Una teoria del tutto, conosciuta anche come TOE (acronimo dell'inglese theory of everything), è una ipotetica teoria della fisica teorica che spiega interamente e collega assieme tutti i fenomeni fisici conosciuti. Ci sono state molte teorie del tutto proposte dai fisici teorici nell'ultimo secolo, ma nessuna è stata confermata sperimentalmente.
Teoria del tutto
A FEW years back a very interesting controversy raged between several scientists of reputation. Some of these held that spontaneous generation was a fact in nature, whilst others proved the contrary; to the effect that, as far as experiments went, there was found to be biogenesis, or generation of life from previously existing life, and never the production of any form of life from non-living matter. An erroneous assumption was made in the first instance that heat, equal to the boiling point of water, destroyed all life organisms; but by taking hermetically sealed vessels containing infusions, and subjecting them to such or a greater degree of heat, it was shown that living organisms did appear even after the application of so much heat.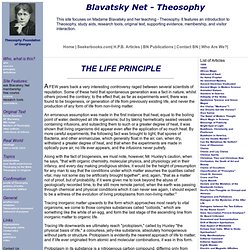 Theosophy article: "The Life Principle" by Blavatsky
In astrophysics and cosmology, the anthropic principle (from Greek anthropos, meaning "human") is the philosophical consideration that observations of the physical Universe must be compatible with the conscious life that observes it. Some proponents of the anthropic principle reason that it explains why the Universe has the age and the fundamental physical constants necessary to accommodate conscious life. As a result, they believe it is unremarkable that the universe's fundamental constants happen to fall within the narrow range thought to be compatible with life.[1][2] The strong anthropic principle (SAP) as explained by Barrow and Tipler (see variants) states that this is all the case because the Universe is compelled, in some sense, for conscious life to eventually emerge.
Why Curation?
...In nature, organisms evolve best within diverse groups of interconnected specie and likewise, in business an organisation's ability to innovate improves with collaboration amongst a diverse stakeholder group. While economies of scale may bring the benefits of lower unit cost of production, economies of scope bring benefits of increased synergies through greater connections, hence improved innovation. Balancing the benefits of economies of scale with the benefits of economies of scope is crucial for the survival of the firm of the future.
change&innovation
7 Questions to Assess Your Business Model Design
Ultimately, customers are the only relevant judges of your business model. However, even before you test your model in the market, you can assess its design with 7 questions that go well beyond the conventional focus on products and market segments. First things first. In order to assess your business model you should sketch it out on the Business Model Canvas outlined in the video below. If you want to know more about the Canvas and how to use it you can read Business Model Generation of which 70 pages are available for free on our website.
Connect. Inspire. Transform. | Business Innovation Factory
BCI-biomimicry - About us
Future-proofing needs collaboration, innovation, education and inspiration | Guardian Sustainable Business
Make no mistake, the transformation from a firm of the past to a firm of the future is challenging, especially while operating amid of a perfect storm of social, economic and environmental volatility. Successful transformation requires courage, not fear. The more we understand and explore our own business environments and wider business ecosystems (as well as our own inner motives and values) the more we find pathways for success – learning through doing, growth through experience, success through failure.
Projects | Open Knowledge Foundation
Icosystem combines expertise in human behavior & decision-making with simulation and optimization techniques inspired by complexity science and biology to build predictive analytics solutions. These software simulations reflect the complex network of connections that make up real systems and make it possible to see emergent patterns and anticipate the impact of unexpected events. Companies and government agencies worldwide use Icosystem's predictive analytics to turn data into decisions about financial savings, faster time to market, more efficient use of resources, better products, and increased operational efficiency.
Predictive Analytics Using Agent-based Modeling | Icosystem
Topologia
Smart Swarm by Peter Miller – 10 Lessons
Pervasive Entertainment Times
The nature of technology: what it is ... - Google Libri
Il Nostro Approccio | The Natural Step
Fractal Navigator
The Evolution of Consiousness
Knowing Knowledge - Google Libri
Borrowed Knowledge: Chaos Theory and the Challenge of Learning across Disciplines, Kellert
Finding flow: the psychology of ...