Musik Onlinemagazine
Bei den Aufnahmen zu ihrem neuen Album "Sick And Tired Of Being Sick And Tired" haben auch stets die Kamera mitlaufen lassen. Das Ergebnis dieser Aufnahmen präsentieren sie uns nun als Video-Serie. » mehr Neuigkeiten von , , , , , , , , , und . » mehr Im neuen Video der Münster-Punker geht es bunt zu: Der vom Bandfreund arrangierte Kurzfilm zeigt neben vielen Farbwechseln und Kaleidoskop-Optik vor allem kunstvolle Bilder, die auch von einem Surrealisten stammen könnten. » mehr Gleich zwei neue Veröffentlichungen kündigten auf ihrer Facebook-Seite an. Im April oder Mai erscheint ein Live-Album, außerdem schreibt die Postrock-Band aus Texas gerade fleißig an den Songs für ihr drittes Studioalbum. » mehr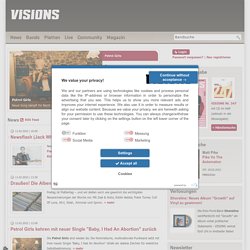 http://www.metal-hammer.de/incoming/article524483.ece/ALTERNATES/w620/1.png http://www.musikexpress.de/news/meldungen/article522941/der-neue-musikexpress-mit-ja-panik-warpaint-und-hotlist-2014-jetzt-am-kiosk-und-im-app-store.html http://www.metal-hammer.de/incoming/article524922.ece/ALTERNATES/w620/2542_szd_16_hr.jpg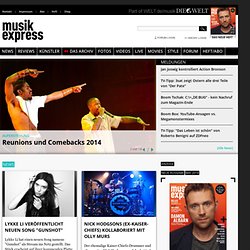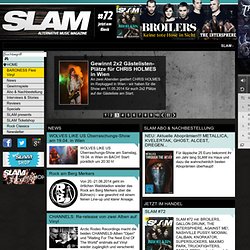 News Den ganzen April über sind die vier Herren aus North Carolina in unseren Gefilden unterwegs, um unter anderem ihr aktuelles Album "Blood Drive" darzubieten. Im Vorfeld der Veröffentlichung ihres Albumdebüts in unseren Breiten sind die Jungs aus Kanada im Rahmen von zwei Terminen auch in Deutschland zu sehen - präsentiert von SLAM! Aufgrund der verschobenen Album-Veröffentlichung fallen bis auf zwei Gigs alle Deutschland-Tourtermine der Schweden aus.
SLAM alternative music magazine - das Musikmagazin im Web
Listomania
Music News - PopCrush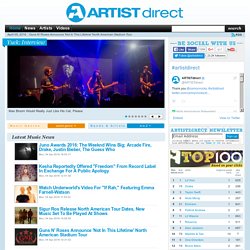 Interview: Kirk Hammett of MetallicaKirk Hammett tells us all about his Fear FestEviL February 6-8 in San Francisco in this exclusive interview... Exclusive Song Premiere: Moonshine BanditsARTISTdirect has teamed up with Moonshine Bandits to exclusively premiere the song "Burn" featuring Big B. Feature: Top 10 Adam Jones Tool RiffsIn honor of Adam Jones's birthday, we countdown the Top 10 Tool riffs! Interview: ScoeScoe discusses Tha Influence and so much more in this exclusive interview...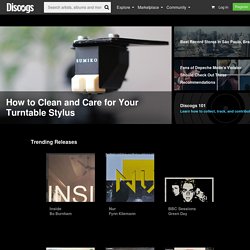 <div class="alert_message warning"><div class="set_to_page_width"><i class="icon icon-exclamation-triangle icon-large"></i><strong>Please enable Javascript to take full advantage of our site features.</strong></div></div> Discover new music. Track your collection and wantlist.
Raveline Magazin
Kategorie: Musikzeitschrift
Kategorie: Musikzeitschrift (Deutschland)
Kategorie: Musikfachzeitschrift (Deutschland)