Musik Onlinemagazine
Bei den Aufnahmen zu ihrem neuen Album "Sick And Tired Of Being Sick And Tired" haben auch stets die Kamera mitlaufen lassen. Das Ergebnis dieser Aufnahmen präsentieren sie uns nun als Video-Serie. » mehr Neuigkeiten von , , , , , , , , , und . » mehr Im neuen Video der Münster-Punker geht es bunt zu: Der vom Bandfreund arrangierte Kurzfilm zeigt neben vielen Farbwechseln und Kaleidoskop-Optik vor allem kunstvolle Bilder, die auch von einem Surrealisten stammen könnten. » mehr Gleich zwei neue Veröffentlichungen kündigten auf ihrer Facebook-Seite an. Im April oder Mai erscheint ein Live-Album, außerdem schreibt die Postrock-Band aus Texas gerade fleißig an den Songs für ihr drittes Studioalbum. » mehr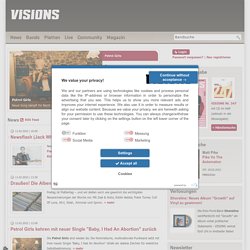 http://www.musikexpress.de/incoming/article565867.ece/ALTERNATES/w620/Der-Pate-Teil-1.jpg http://www.musikexpress.de/movies/filmnews/article565852/tv-tipp-3sat-zeigt-ostern-alle-drei-teile-von-der-pate.html http://www.metal-hammer.de/incoming/article501825.ece/ALTERNATES/w620/Smokin+Grooves+Tour+2002+%28Tour+Opener%29.jpg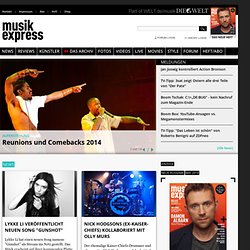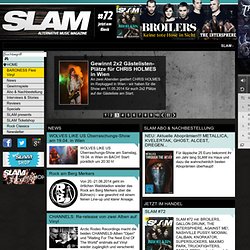 News WOLVES LIKE US Überraschungs-Show am Samstag, 19.04. in Wien im BACH! Start: pünktlich um 20:30 h! Von 20.-21.06.2014 geht im örtlichen Waldstadion wieder das Rock am Berg Merkers über die Bühne(n) - wie gewohnt mit einem feinen Line-up und klarer Ansage.
SLAM alternative music magazine - das Musikmagazin im Web
Listomania
Music News - PopCrush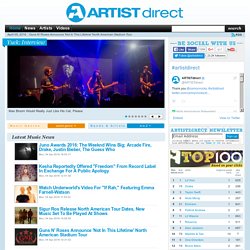 Interview: EstelleEstelle discusses "Make Her Say (Beat It Up)", new album, playlist, and so much more... Feature: Top 10 Puscifer SongsIn honor of April 17 being Maynard James Keenan's 50th birthday, we count down the "Top 10 Puscifer Songs"... Exclusive Lyric Video Premiere: WhitechapelWhitechapel and ARTISTdirect have partnered to premiere this lyric video for their new song "Our Endless War." Listen 2: Wiz KhalifaListen to Wiz Khalifa's new musical joint "We Dem Boyz".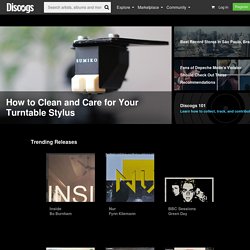 <div class="alert_message warning"><div class="set_to_page_width"><i class="icon icon-exclamation-triangle icon-large"></i><strong>Please enable Javascript to take full advantage of our site features.</strong></div></div> Discover new music. Track your collection and wantlist.
Raveline Magazin
Kategorie: Musikzeitschrift
Kategorie: Musikzeitschrift (Deutschland)
Kategorie: Musikfachzeitschrift (Deutschland)