OER
Resources Search | Open Education Europa
The History of Music Told in Seven Rapidly Illustrated Minutes
Your senses do deceive you, my friends. This is not the latest, greatest video from RSA Animate. No, this video comes to us via Pablo Morales de los Rios, a Spanish artist, who has artistically narrated the history of music — or the Historia de la Música – in a shade less than seven minutes. 6:59, to be precise. You don't need much Spanish under your belt to realize that the story starts 50,000 years ago, then moves quickly from the Ancient Greeks, Romans and Egyptians, to the troubadours of the Middle Ages. The video gives disproportionate attention to classical music during the following periods – Renacimiento, Barroco, Classicismo and Romanticismo.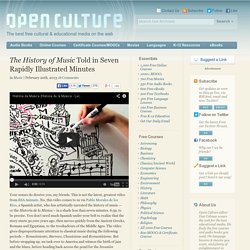 Report on 6 MOOCs turns up 10 surprises
Great report from the University of Edinburgh on their six 2013 Coursera MOOCs. The report has good data, tries to separate out active learners from window shoppers and not short on surprises. It's a rich resource and a follow up report is promised.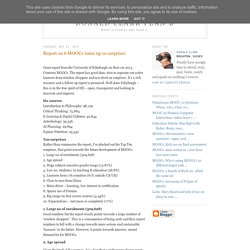 Webinar: What is a MOOC?
New Jorum Information and Digital Literacy Skills Collection launches! Today, Jorum launches its long-awaited Information and Digital Literacy Skills...... Read more > Love using OERs? Earn a reward! SCORE - The Open University
4 is here!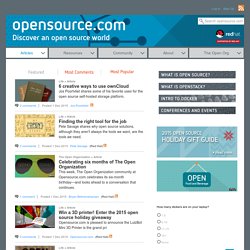 Article When I founded my first startup in 2008, I was a programming newbie. A degree in economics from Oberlin College hadn't prepared me for a career... Posted 17 Jan 2014
The Growing Adoption of Creative Commons Textbooks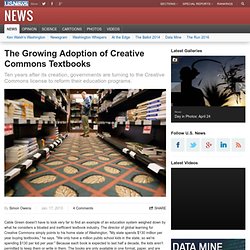 Cable Green doesn't have to look very far to find an example of an education system weighed down by what he considers a bloated and inefficient textbook industry. The director of global learning for Creative Commons simply points to his home state of Washington. "My state spends $130 million per year buying textbooks," he says. "We only have a million public school kids in the state, so we're spending $130 per kid per year."
Why Open Education Matters
Why Pay More Book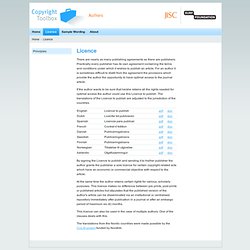 There are nearly as many publishing agreements as there are publishers. Practically every publisher has its own agreement containing the terms and conditions under which it wishes to publish an article. For an author it is sometimes difficult to distill from the agreement the provisions which provide the author the opportunity to have optimal access to the journal article.
Copyright Toolbox
Right to Research Coalition
Email: rory@athabascau.ca Professor Rory McGreal is s the UNESCO/Commonwealth of Learning Chairholder in Open Educational Resources. He is a professor in the Centre for Distance Education at Athabasca University– Canada's Open University based in Alberta, Canada. He is also the director of the Technology Enhanced Knowledge Research Institute (TEKRI). And, he is a co-Editor of the International Review of Research in Open and Distance Learning (IRRODL), and founder of the OER Knowledge Cloud. Formerly, he served as the Associate Vice President Research.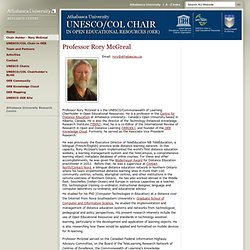 Dr. Rory McGreal | UNESCO/COL Chair Rory McGreal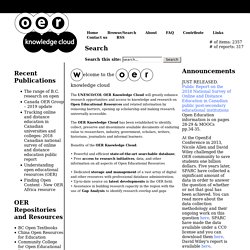 OER KnowledgeCloud |
elcome to the knowledge cloud The UNESCO/COL OER Knowledge Cloud will greatly enhance research opportunities and access to knowledge and research on Open Educational Resources and related information by removing barriers, opening up scholarship and making research universally accessible. The OER Knowledge Cloud has been established to identify, collect, preserve and disseminate available documents of enduring value to researchers, industry, government, scholars, writers, historians, journalists and informal learners. Benefits of the OER Knowledge Cloud: • Powerful and efficient state-of-the-art searchable database;• Free access to research initiatives, data, and other information on all aspects of Open Educational Resources
Global Education - SD73 Business Company
Campaign to Save Students $1 Billion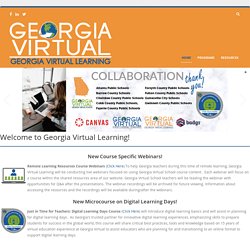 Georgia Virtual Learning > Home
Georgia Virtual Learning is your headquarters for online education from the Georgia Department of Education. Stay tuned as the program grows into your portal to various learning resources delivered by the GaDOE. Currently, you can find links to Georgia Virtual School, the online learning opportunity for 9-12 students, Georgia Credit Recovery, the teacher-less online location for students who need to recover credit from an unsuccessful course, and the GaDOE Express program which helps teachers and students with information related to the science and social studies Georgia High School Graduation Tests (GHSGTs).
Free and Open Students Are you a student looking to study mathematics on your own, and want to do exercises with immediate feedback as you work through a free and open textbook? Then read more about our self study courses. Instructors Are you an instructor who wants to adopt an open textbook, who feels online interactive homework is valuable, but doesn't want their students to have to pay an additional fee?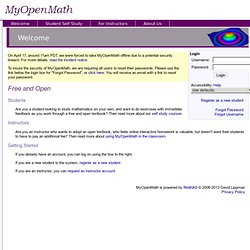 MyOpenMath
Image search results.
Open Education 2012: Schedule
The period of isolationism in the United States ended during World War II, but while political isolation is no more, educational isolation is still prevalent in public schools today. Many teachers go to school each day, teach their students and leave. If they're struggling with how to teach a lesson that will engage their students, they might ask for advice from the teacher down the hall, but a lot of times, they struggle alone. That's not the case for educators who have built a network of people who share resources, advice and techniques, whether they call it a personal learning network or something else. Here's why educators should start a personal learning network, or PLN. 1.
5 Reasons Why Educators Should Network
Webinars 2012 Archives « Community College Consortium for Open Educational Resources
Dashboard | EQUELLA
Make Textbooks Affordable | Student PIRGs
CREATIVE COMMONS--HOW TO MARK ITEMS
Finding OER
3 Major Publishers Sue Open-Education Textbook Start-Up - Wired Campus
OERs: the good, the bad and the ugly
The Team - SCORE - The Open University
Duncan Calls for Urgency in Lowering College Costs