Music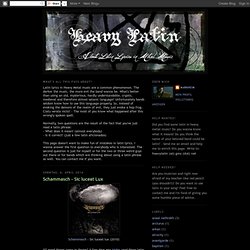 Fleshgod's music isn't metal for the masses. Their mix of classic orchestration and insane and complex death metal is quite demanding. So are their lyrics, the English as well as the Latin ones. They don't content themselves with screaming words like "sathanas". They dig deaper into ancient books. Some of the phrases are very well-known, some I didn't found in classical textes, so I guess that they wrote it by themselves.
Heavy Latin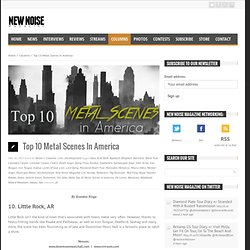 Top 10 Metal Scenes In America
By Brandon Ringo 10. Little Rock, AR Little Rock isn't the kind of town that's associated with heavy metal very often.
Grindcore - 85 Minutes of Brutal Heavy Metal (2003)
Heavy Metal News, Music Videos, Tour Dates | Metal Injection
AFROPUNK - ... the other Black experience
The Day After The Sabbath
Download from [mf] or [mg] unzip pass: tdats Welcome to the big 100! Here we have a comp of songs that appear in movies. There'll be more movie-related TDATS later with different themes, as it's a subject that interests me a lot and i've been on the look out for a long time now. You may think rock in the movies is not unusual or hard to come by, but in these examples the bands and the songs are lesser-known, good, heavy, and being seen played in the movie. Finding all these together is a harder task than I realised it would be when I started! A big thanks must go to the people who helped with some of the much-needed nuggets of information at the TDATS fb group, along with the amazing cameo lists at 60sgaragebands.com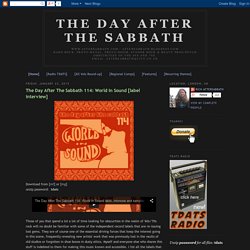 Tadeusz Woźniak is a prolific Polish songwriter and composer who spent much of his career behind the scenes, creating music for theatre, soundtracks, and songs for other artists. In five decades of career he released only five albums under his own name. Released in 1972, his debut album was launched by "Zegarmistrz światła", a wonderful hybrid of baroque pop, folk and jazz music.
Soviet Sam
Functional Rubbish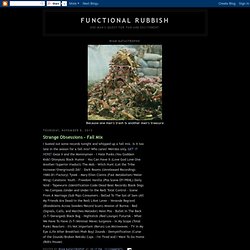 If you've ever had the chance to browse my blog here, you might easily think that my sole interest in this world is attending rowdy rock & roll shows. While you wouldn't be completely wrong, there are other things that I am passionate about. One of these things is old Hollywood. I am a massive fan of old movies, particularly those from the 1930's-1960's.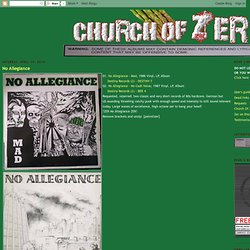 Ah, I almost forgot, AT got aware of the Th'Inbred drama from last year, here is their response. Some of you might be interested in reading what they have to say. I am not following suit to their offer of "working with AT", becoming an AT marketing entry point is not very high on my TODO list. Jesse/Alternative Tentacles February 19, 2014 at 7:29 PM Hi- Jesse Townley/Alternative Tentacles here. When we release authorized discographies and/or reissues of KBD bands like Th' Inbred, False Prophets, The Dicks, etc, we search out music blogs like yours and ask in the comments for the full downloads to be pulled down & replaced with a link to the reissue's page on our site. (With our most recent reissues of The Dicks LPs & 7"s, we started offering free promo tracks to music blogs so that there'll still be some tracks available for free)
Church of Zer
The KeggsTo Find Out (7") (1967, Unknown) (Re-issued by Orbit) "This is literally one of the greatest garage 45's of all-time. Seriously raucous and fuzzed out genius!
BUFFALO TONES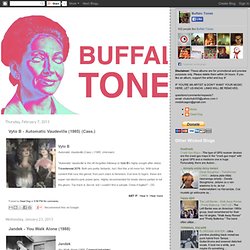 Video: Why Indonesian kids are crazy for punk
MUSIC_GNAR
Celebutards, Dystopian Landscapes and Pseudo-Scientific Morons....
Well another year has gone by, as usual there will be a ton of people saying,"It wasnt a good year for metal". In my opinion if you say that you either haven't been paying attention or simply have shitty taste. Ha!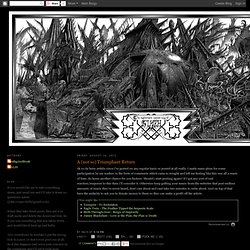 Bandcamp
Compatibility_Theme.mp3Fortune_Reading.mp3Fortune_Reading_1.mp3Fortune_Reading_2.mp3Fortune_Reading_3.mp3Gay_Match.mp3Good_Compatibility.mp3Lesbian_Match.mp3Love_Tester.mp3Menu_Theme.mp3Not_Very_Compatible.mp3Perfect_Compatibility.mp3Prologue_Scene.mp3Title_Theme.mp3Totally_Incompatible.mp3 Game_Over.mp3Level_Complete.mp3Stage_Intro.mp3Stage_Theme.mp3 Battleship_Destruction_Fail.mp3Boss_Battle_01.mp3Boss_Battle_02.mp3Boss_Battle_03.mp3Commencing_Attack_01.mp3Commencing_Attack_02.mp3Ending_Theme.mp3Game_Over.mp3Low_Energy.mp3Mission_Clear.mp3Mission_Theme_01.mp3Mission_Theme_02.mp3Mission_Theme_03.mp3Power_up_Plane.mp3Title_Theme.mp3 Bonus_Stage.mp3Boss_Stage.mp3Ending_Theme.mp3Game_Over.mp3Invincibility_Theme.mp3Life_Lost.mp3Stage_Clear.mp3Stage_Theme.mp3
Nes Snes Soundtracks
WE FUCKING LOVE MUSIC
Satan Stole My Teddybear music reviews
Welcome to Satan Stole My Teddybear, a large online archive for reviews on heavy metal, punk, industrial, electronic, ambient and other music floating both above and below the public radar. SSMT currently features over 3000 reviews of nearly 1500 artists. SSMT provides reviews of many current releases as well as an extensive look at many artists' back catalogues. You can also find links to official artist websites, fan pages and select discography. Moreover, you have the unprecedented opportunity to click on links to buy albums and merchandise from these artists! Holy cow!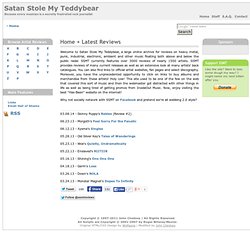 The Needle Drop | Home of the Internet's busiest music nerd.
On Being a Black Feminist Metalhead I'm not sure exactly when or how it happened, but at some point in my childhood I began to think I was a white guy trapped in the body of a black girl. And not just any white guy, either—a guitar player in a heavy-metal band. Ok, stop laughing.
Sister Outsider Headbanger
SoundCloud - Your Sound, At The Heart
Shuffler
Close Shuffler.fm Radio powered by the web's leading tastemaker music sites & blogs. Read more ›
Aurgasm | your favorite music you've never heard
Gnoosic - Discover new Music
Stereo Mood
Songza: The music search engine & internet jukebox. Listen for F
Give Me Tonight | DIGITAL EARGASM | Quality Over Quantity
Man Like Me's stream on SoundCloud