Music
Church of Zer
Death Wears White Socks: Accessorizing your antineutral suit
Los Saicos - ¡Demolición! The Complete Recordings (2010) (6x 7")
DIE or D.I.Y.?
MUSIC_GNAR
Celebutards, Dystopian Landscapes and Pseudo-Scientific Morons....
Kazem El Saher - Maysoor El Hal
Download Kathem Al Saher Al Aziz album | Ghaneli
Compatibility_Theme.mp3 Fortune_Reading.mp3 Fortune_Reading_1.mp3 Fortune_Reading_2.mp3 Fortune_Reading_3.mp3 Gay_Match.mp3 Good_Compatibility.mp3 Lesbian_Match.mp3 Love_Tester.mp3 Menu_Theme.mp3 Not_Very_Compatible.mp3 Perfect_Compatibility.mp3 Prologue_Scene.mp3 Title_Theme.mp3 Totally_Incompatible.mp3 Game_Over.mp3 Level_Complete.mp3 Stage_Intro.mp3 Stage_Theme.mp3 Battleship_Destruction_Fail.mp3 Boss_Battle_01.mp3 Boss_Battle_02.mp3 Boss_Battle_03.mp3 Boss_Battle_04.mp3 Commencing_Attack_01.mp3 Commencing_Attack_02.mp3 Ending_Theme.mp3 Game_Over.mp3 Mission_Clear.mp3 Mission_Theme_01.mp3 Mission_Theme_02.mp3 Mission_Theme_03.mp3 Power_up_Plane.mp3 Title_Theme.mp3 Bonus_Stage.mp3 Boss_Stage.mp3 Ending_Theme.mp3 Game_Over.mp3 Invincibility_Theme.mp3 Life_Lost.mp3 Stage_Clear.mp3 Stage_Theme.mp3
Nes Snes Soundtracks
Satan Stole My Teddybear music reviews
Video: Why Indonesian kids are crazy for punk
That DJ Music Blog - House, Fidget, Techno, Minimal, Dirty and F
Give Me Tonight | DIGITAL EARGASM | Quality Over Quantity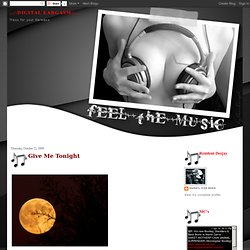 Some real good tracks today from all over and crossing most all genres. Enjoy. Tiësto - Knöck You Döwn (Scolin Remix) S.co delivers again on this one. Shännon vs Marïo Ochöa - Give Më Tönight 2008 (Dj Wöpe Private Remix) Reseached into the other day's tracks and found this one. Thanks Dodger.
"Solo Piano". The term has come to describe a genre of music which has become extremely popular over the past 20 years. It mingles elements of pop, jazz and classical music to form a style also been termed "new age". Artists such as Yanni, George Winston and Jim Brickman have helped define the genre and spread its popularity. Strong melodies, a tender touch and a soothing spirit are hallmarks of this music, which, despite the "solo" reference, may incorporate other simple instrumentation to frame the mood.
Free Solo Piano