Music Theory
Get flash to fully experience Pearltrees
Understanding how to read the circle of fifths will help you understand the relation between music's major keys and their relative minor keys. A major key and its relative minor use the same key signature , which means they use the same sharps (indicated as #) and flats (shown as b) in their scales . When you read the circle of fifths, you'll notice that the major keys are on outside of the circle.
The diatonic scales The diatonic scale is most familiar as the major scale or the "natural" minor scale (or aeolian mode). The diatonic scale is a very important scale. Out of all the possible seven note scales it has the highest number of consonant intervals, and the greatest number of major and minor triads. The diatonic scale has six major or minor triads, while all of the remaining prime scales (the harmonic minor, the harmonic major, the melodic and the double harmonic) have just four major or minor triads.
Home » Piano Theory » Music Modes The story of the musical modes starts in ancient Greece. The Greeks were the one to name the different modes after ancient Greek subgroups; the Locrians and the Dorians. Phrygia and Lydia were places with non Greek people close by. Later in the 9th century the church modes originated. Theorists took the Greek modes and applied them to their own concept.
C Major Scale (no sharps or flats) C D E F G A B C G Major Scale (1 sharp) G A B C D E F# G D Major Scale (2 sharps) D E F# G A B C# D A Major Scale (3 sharps) A B C# D E F# G# A E Major Scale (4 sharps) E F# G# A B C# D# E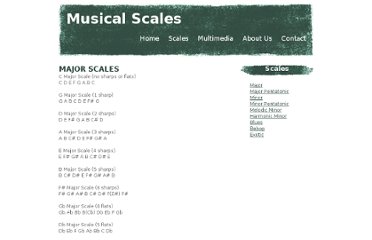 Kelvin, You actually caught a mistake on the roman numerals! Thanks, I'll have to fix that. The first and last chords of the progression are not 7th chords. Somehow I inadvertently typed "I7″ on the first chord of all the major keys. (Notice that I didn't do that for the minor keys.)
We carry two brands of Therapeutic Music- Sound Health -click here to go directly to our therapeutic music selections Hemi Sync Music for the mind Clearance pricing available Psychoacoustics There are at least three neuro-physical healing processes which may be triggered by music.