MOVIES
Top 10 Philosophical Movies Of All Time "I have to believe in a world outside my own mind. I have to believe that my actions still have meaning, even if I can't remember them. I have to believe that when my eyes are closed, the world's still there.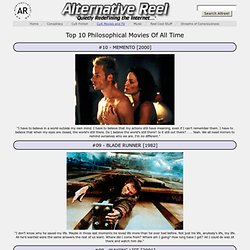 Top 10 Philosophical Movies Of All Time - Top 10 - - Top 10 List - Memento Quote - Blade Runner Quote - Waking Life Quote - Seconds Quote - La Dolce Vita Quote - Matrix Quote - Being There Quote - A Clockwork Orange Quote - My Dinner with Andre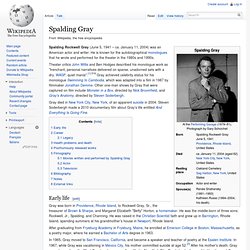 Spalding Rockwell Gray (June 5, 1941 – ca. January 11, 2004) was an American actor and writer. He is known for the autobiographical monologues that he wrote and performed for the theater in the 1980s and 1990s. Gray died in New York City, New York, of an apparent suicide in 2004. Steven Soderbergh made a 2010 documentary film about Gray's life entitled And Everything Is Going Fine. Early life[edit]
Spalding Gray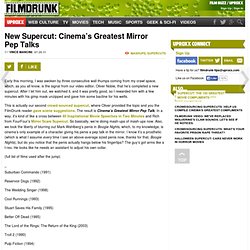 Early this morning, I was awoken by three consecutive wall thumps coming from my crawl space, which, as you all know, is the signal from our video editor, Oliver Noble, that he's completed a new supercut. After I let him out, we watched it, and it was pretty good, so I rewarded him with a few minutes with his gimp mask unzipped and gave him some bactine for his welts. This is actually our second crowd-sourced supercut, where Oliver provided the topic and you the FilmDrunk reader gave scene suggestions. The result is Cinema's Greatest Mirror Pep Talk.
Supercut: Cinema's Greatest Mirror Pep Talks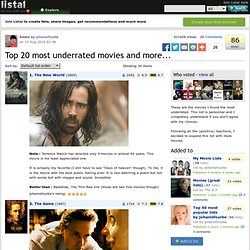 Top 20 most underrated movies and more... list
Note : This is one is one the last movie directed by Paul Verhoeven before getting kick out of Hollywood (the last one was "Hollow man"). Unfortunately, it wasn't a success and it didn't help saving the damages caused by "Showgirls". I think it is shame.
Film language: a semiotics of the cinema - Google Książki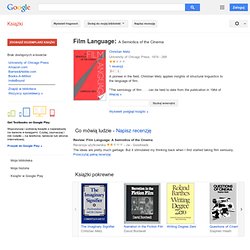 Christian MetzKeywords. Film Theory · Semiotics and Grammars · Theory. Copyright © 2000-2007 Isabel Pedersen. Christian Metz is a major theorist of the semiotic approach ...www.ryerson.ca/~ipederse/metz.htm Metz and semiotics reconsidered by Geoffrey Nowell-Smith... a couple of months after Oxford University Press had brought out another volume of Metz under the title Film Language: A Semiotics of the Cinema. ...www.ejumpcut.org/archive/onlinessays/jc12-13folder/metz.nsmith.html
In 1999 Image Entertainment released a DVD compilation of "Felix the Cat" cartoons, from the character's debut in 1919 to 1924. Inexplicably, Image never followed up with a second collection, and allowed Presenting Felix the Cat to go out of print. Naturally, used copies now fetch high prices. This leaves us with another, briefer collection from Slingshot Entertainment, also from 1999, to take up the slack.
366 Weird Movies - Celebrating the cinematically surreal, bizarre, cult, oddball, fantastique, psychotronic, and the just plain WEIRD!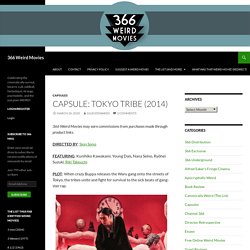 Cinemagora : Cinema Guide : Which Movie To Watch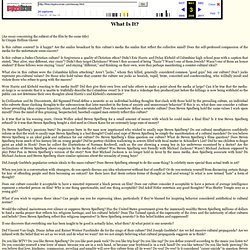 unnamed pearl
(An essay concerning the subtext of the film by the same title) by Crispin Hellion Glover Is this culture content? Is it happy? Are the smiles broadcast by this culture's media the smiles that reflect the collective mind? Does the self-professed compassion of the media for the unfortunate seem sincere? Is this culture a Judeo-Christian culture?
Genres
IndieFlix
Latest Posts 2014 SUNDANCE FILM FESTIVAL U.S. DOCUMENTARY COMPETITION SELECTION! While Ellis is an interesting guy, the film covers his entire career and the things that happen along the way overshadow his own story which, although the guy was an all-star, he didn't have a particularly great career… Posted on January 25, 2014 in Reviews by Don R.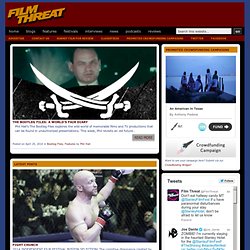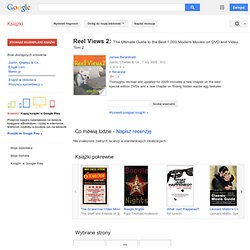 James Berardinelli is the creator of reviews.net and lives in Philadelphia. Roger Joseph Ebert was born on June 18, 1942 in Urbana, Illinois, and died on April 4, 2013. He received his undergraduate degree from the University of Illinois at Urbana-Champaign, where he was editor of the Daily Illini. He is best known for his film review column in the Chicago Sun Times since 1967 and for the television programs Sneak Previews, At the Movies with Gene Siskel and Roger Ebert and Siskel and Ebert and The Movies. After Gene Siskel's death in 1999, Roger Ebert teamed up with Ruchard Roeper for the television series Ebert and Roeper and The Movies which began airing in 2000. Ebert's movie reviews were in more than 200 newspapers in the U.S. and worldwide by Universal Press Syndicate.
Reel views 2: the ultimate guide to ...
Eye for Film : Hotel Splendide Movie Review (2000)
"British" and "film" are not always the greatest combination of words on the planet. In fact lately the rash of films trying to emulate the Englishness of Four Weddings And A Funeral, the gruesomeness of Shallow Grave or the plucky northerner spirit of the hugely successful The Full Monty (see There's Only One Jimmy Grimble or Billy Elliot for more examples) seem to have seriously put back the British film industry. In this state of mind I toddled along to Hotel Splendide, concerned it would fall somewhere between Fawlty Towers and Guesthouse Paradiso or, God forbid, worse. So it's with some relief that I can report that Splendide is in fact a great deal better than expected if rather less, er, splendid than it could be...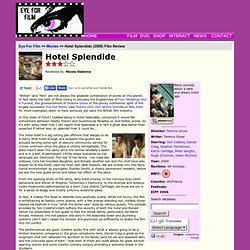 Films About Painters
Festivals & Awards Films, DVDs, Chickens and Eggs: How Screeners Affect Awards Season by Erik Childress The studios use screeners to help Academy voters and critics groups catch up on films they might have missed. So why are studios withholding certain films and pushing others?
The Century of the Self (TV mini-series 2002
Existential & Psychological Movie Recommendations
Film, as with many of the arts, often reflects many existential themes. This page, which was developed following several request for such a list, offers suggestions of movies which reflect existential and psychological themes. The information about the movies is brief to not give away anything which would impact the enjoyment of the movie. See also What is an Existential Movie? Other Movie Pages: Postmodernism & the Movies | Diversity Issues & the Movies | Psychology & the Movies Resources
Features 2004—2013: 31 Days of Horror in retrospect Despite its extent, 31 Days of Horror was never intended to be construed as anything resembling an authoritative inventory of the genre's undiscovered gems—although many of those have been included. Rather, it's a reflection of our idiosyncratic preferences.
notcoming.com | Not Coming to a Theater Near You