DOCUMENTARIES
Get flash to fully experience Pearltrees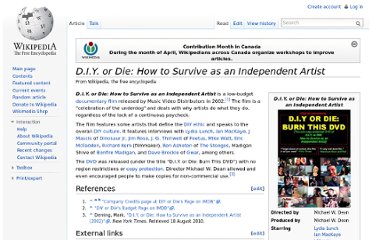 D.I.Y. or Die: How to Survive as an Independent Artist is a low-budget documentary film released by Music Video Distributors in 2002. [ 1 ] The film is a "celebration of the underdog" and deals with why artists do what they do, regardless of the lack of a continuous paycheck. The film features some artists that define the DIY ethic and speaks to the overall DIY culture . It features interviews with Lydia Lunch , Ian MacKaye , J Mascis of Dinosaur Jr , Jim Rose , J. G.
In real time, officials have explained and justified these military operations to the American people by withholding crucial information about the actual reasons and potential costs of military action again and again, choosing to present an easier version of war's reality; a steady and remarkably consistent storyline designed not to inform, but to generate and maintain support and enthusiasm for war. War Made Easy reaches into the Orwellian memory hole to expose a 50-year pattern of government deception and media spin that has dragged the United States into one war after another from Vietnam to Iraq. Narrated by actor and activist Sean Penn, the film exhumes remarkable archival footage of official distortion and exaggeration from LBJ to George W. Bush, revealing in stunning detail how the American news media have uncritically disseminated the pro-war messages of successive presidential administrations.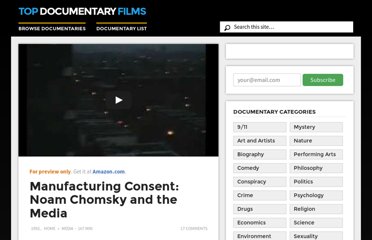 The Canadian documentary Manufacturing Consent: Noam Chomsky and the Media presents a lengthy, detailed look at the political beliefs of celebrated intellectual Noam Chomsky. Casting only passing glances at Chomsky's groundbreaking work in the field of linguistics and his eventful life, filmmakers Mark Achbar and Peter Witonick instead focus on his activities as a political dissident and media critic. Particular attention is paid to his contention that the American mass media serves as a form of thought control in a democratic society , with major news organizations systematically bending the truth to support the status quo.