Moteur de Recherches
Jawoco. Secure Search HTTPS. GOOGLE. Creative Commons. Live. Moteur de Recherches. Qwiki. Sweet Search. WebMii. Boardreader. Mycroft: Search Engine Plugins. FindFiles.net! PicfFindr. 2lingual.
Endeca. On October 18, 2011, Oracle announced it has entered into an agreement to acquire Endeca, a leading provider of unstructured data management, web commerce and business intelligence solutions.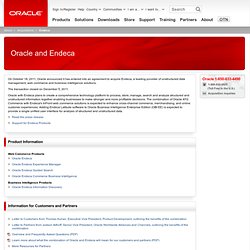 The transaction closed on December 5, 2011. Oracle with Endeca plans to create a comprehensive technology platform to process, store, manage, search and analyze structured and unstructured information together enabling businesses to make stronger and more profitable decisions. The combination of Oracle ATG Commerce with Endeca's InFront web commerce solutions is expected to enhance cross-channel commerce, merchandising, and online customer experiences. Quora. Autonomy. Thèses. Wherevent.com. Blekko / slashtag search. Yauba.
Exalead
---