Meditation
Scientific Community Puzzled After Meditating "Buddha Boy" Goes Without Food Or Water For Ten Months | Bleep
▶ The Boy With Divine Powers - Documentary on Buddha Boy
Les effets positifs de la pratique de la méditation en pleine conscience sur la santé ne font plus de doute. Et aujourd'hui, la France propose d'intégrer cette discipline au domaine de la santé avec l'introduction d'un nouveau diplôme universitaire. Pour la première fois en France, un diplôme universitaire « Médecine, méditation et neurosciences » s'est ouvert le 10 février dernier à Strasbourg. Une petite révolution au pays de Descartes où la séparation corps esprit est encore fortement ancrée dans les mentalités. A l'initiative du Dr Jean-Gérard Bloch, rhumatologue, instructeur MBSR, et directeur d'enseignement à la Faculté de médecine de Strasbourg, ce diplôme universitaire a pour objectifs de promouvoir une autre approche de la médecine avec une validation scientifique, et de susciter des recherches de biologistes ou de cliniciens.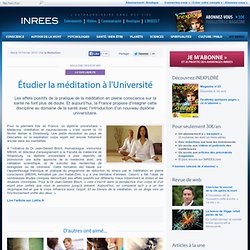 Étudier la méditation à l'Université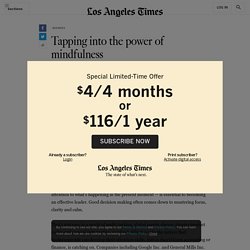 Tapping into the power of mindfulness
As business classes get underway at the Drucker School of Management at Claremont Graduate University, MBA students open their laptops and professors fire up PowerPoint presentations in many classrooms. In the Executive Mind class, however, professor Jeremy Hunter pulls out decidedly different tools: a brass singing bowl and leather-wrapped mallet. The chimes from three strikes on the bowl quiet the dozen or so students, who have put away smartphones and other devices.
La méditation assistée par ordinateur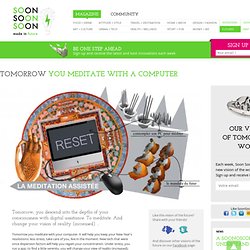 Demain, vous descendrez dans les tréfonds de votre conscience avec une assistance digitale. Pour méditer. Et changer votre vision de la réalité (augmentée)... Demain, vous méditerez grâce à votre ordi. Celui-ci vous aidera à tenir vos résolutions de nouvelle année : stresser moins, prendre soin de vous, vivre l'instant.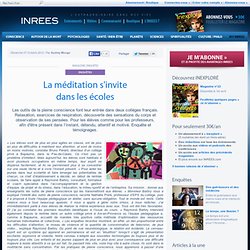 La méditation s'invite dans les écoles
Les outils de la pleine conscience font leur entrée dans deux collèges français. Relaxation, exercices de respiration, découverte des sensations du corps et observation de ses pensées. Pour les élèves comme pour les professeurs, afin d'être présent dans l'instant, détendu, attentif et motivé. Enquête et témoignages. « Les élèves sont de plus en plus agités en classe, ont de plus en plus de difficultés à maintenir leur attention, et sont de moins en moins motivés, constate Bruno Pérard, directeur d'un collège privé à Bapaume, dans le Pas-de-Calais.
NoZen
"Smile, breathe and go slowly." - Thich Nhat Hanh, Zen Buddhist monk Post written by Leo Babauta . Are you simply moving through your day, without fully living?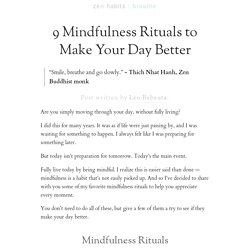 Post written by Leo Babauta . I confess to being as prone to the distractions of the Internet as anyone else: I will start reading about something that interests me and disappear down the rabbit hole for hours (even days) at a time. But my ability to focus on a single task has dramatically improved, and that one habit has changed my life.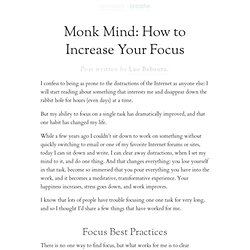 Post written by Leo Babauta . I'm in the best shape in my life. I'm incredibly happy to say that.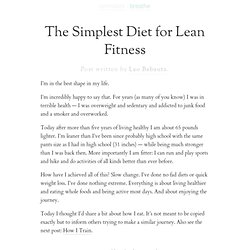 » The Simplest Diet for Lean Fitness
» wash your bowl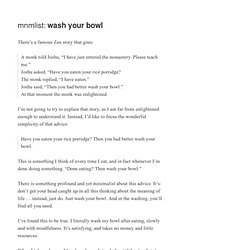 There's a famous Zen story that goes: A monk told Joshu, "I have just entered the monastery. Please teach me." Joshu asked, "Have you eaten your rice porridge? The monk replied, "I have eaten." Joshu said, "Then you had better wash your bowl."
[FR] méditation France
Here's what happened when I went to meditate the other day: The phone rang as I was about to start. I figured I hadn't even closed my eyes yet, so I answered. After finally extricating myself from the call, I had to search high and low for my lighter to get my candle glowing. Then I sat down and momentarily entered the stillness, only to be jarred by a honking car outside. Roughly five minutes in, I realized I had to go to the bathroom in the worst way. Alas, this was not an uncommon session -- and it was an occasion when I actually got around to putting butt to cushion, which I freely admit isn't every day.
Meryl Davids Landau: 6 Tips For When Meditation Gets Rocky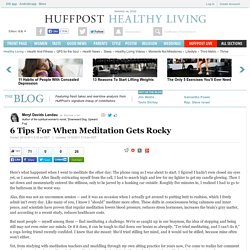 Matthieu Ricard et les habitudes du bonheur | Self education
Matthieu Ricard est moine bouddhiste. Il est l'interprète français du dalaïlama. Il est également l'auteur, entre autres, de Plaidoyer pour le bonheur , Le moine et le philosophe , avec son père , La citadelle des neiges , L'infini dans la paume de la main , avec l'astrophysicien Trinh Xuan Thuan , L'art de la méditation , Chemins spirituels .
Matthieu Ricard on the habits of happiness
Research is confirming the medicinal effects that advocates have long claimed for meditation. For thousands of years, Buddhist meditators have claimed that the simple act of sitting down and following their breath while letting go of intrusive thoughts can free one from the entanglements of neurotic suffering. Now, scientists are using cutting-edge scanning technology to watch the meditating mind at work.
Meditation May Reduce Stress and Improves Health by MedicineNet
Medical Author: Melissa Conrad Stöppler, MD Medical Editor: Barbara K. Hecht, PhD A simple technique practiced for as few as 10 minutes per day can help you control stress , decrease anxiety , improve cardiovascular health, and achieve a greater capacity for relaxation. The meditative technique called the "relaxation response" was pioneered in the U.S. by Harvard physician Herbert Benson in the 1970s.
Meditation makes people more rational decision-makers - Science Fair: Science and Space News - USATODAY.com
Updated 2011-04-20 12:23 PM Meditation, the ancient practice of mindfulness employed by all major religions, can actually reprogram the brain to be more rational and less emotional, researchers in Canada and the United States say. The researchers looked at a classic psychological test called the Ultimatum Game . In this test, researchers propose this scenario: A friend or relative has won some sum of money and then offers the test subject a small portion of it - will they accept the money? Surprisingly, despite the fact that it's a windfall, multiple tests over 30 years show that only about a quarter of people say yes.
What Is an "Out of Body" Experience?
You're floating above your own body; you can look back and see yourself lying there, motionless. What's going on? Possibly you're about to die unless the doctor can re-start your heart. Or possibly something far more mundane is the cause – you recently ingested a pill containing ketamine.
Scenes of Inner Taksang, temple hall, built just above the cave where Padmasambhava meditated Research on the processes and effects of meditation is a growing subfield of neurological research. [ 1 ] [ 2 ] [ 3 ] [ 4 ] [ 5 ] [ 6 ] Modern scientific techniques and instruments, such as fMRI and EEG , have been used to see what happens in the body of people when they meditate, and how their bodies and brain change after meditating regularly. [ 2 ] [ 7 ] [ 8 ] [ 9 ] [ 10 ] These studies have shown substantial bodily changes as a consequence of regular meditative practice. For instance, one study by Richard Davidson and Jon Kabat-Zinn showed that eight weeks of mindfulness-based meditation produced significant increases in left-sided anterior brain activity, which is associated with positive emotional states. [ 11 ] It seems that we are able to think of positive emotion as a skill which can be achieved with training similar to learning to ride a bike or play the piano. [ 12 ]
Research on meditation