Greek Mythology
Get flash to fully experience Pearltrees
Greek mythology is the body of myths and teachings that belong to the ancient Greeks , concerning their gods and heroes , the nature of the world , and the origins and significance of their own cult and ritual practices. It was a part of the religion in ancient Greece and is part of religion in modern Greece and around the world , known as Hellenismos .
The Iliad (sometimes referred to as the Song of Ilion or Song of Ilium ) is an ancient Greek epic poem in dactylic hexameters , traditionally attributed to Homer .
Zeus, in the form of a bull, brought Europe from the Phoenician seashore to Gortys in Crete where he made love with her under a plane tree (or on the plane tree after assuming the form of another sacred animal, the eagle), since then the plane tree was blessed to never lose its leaves (evergreen).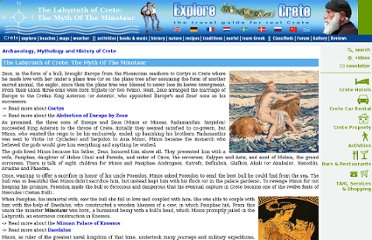 Greek text of the Odyssey' s opening passage
Roman mythology is the body of traditional stories pertaining to ancient Rome 's legendary origins and religious system , as represented in the literature and visual arts of the Romans .
In Greco-Roman mythology , Aeneas ( pron.: / ɪ ˈ n iː ə s / ; Greek : Αἰνείας , Aineías , derived from Greek Αἰνή meaning "to praise") was a Trojan hero , the son of the prince Anchises and the goddess Aphrodite . His father was the second cousin of King Priam of Troy, making Aeneas Priam's second cousin, once removed.
Capitoline Wolf .