medical gadgets
Get flash to fully experience Pearltrees
Description What should you do if your child develops a fever, cough, vomiting, rash, sore throat or head injury? When can your child return to school or child care after an illness?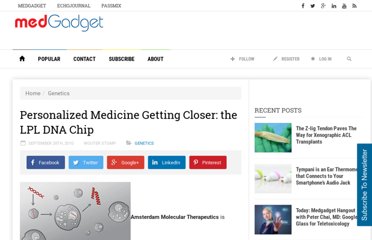 in Share is developing one of the first commercial genetic therapies, Glybera, for patients with lipoprotein lipase deficiency (LPLD). Glybera has been submitted to the European Medicines Agency and a decision on the approval is expected mid-2011. However, before therapy comes diagnosis. In collaboration with AMT, has developed the LPLchip which detects mutations in the LPL gene, and has now received CE approval.
in Share The Software Freedom Law Center, an open source advocacy legal group, has issues a paper claiming that the closed nature of the software running most implantable devices is a health risk. Unsurprisingly, they then claim that the best way to address this problem, in terms of safety and security, is by making the code open source, or at least auditable. From the abstract:
in Share Chris Seaton, PhD student in Computer Science at the University of Manchester and a former captain in the Royal Army Medical Corps, has developed an iPhone / iPad app to improve the immediate medical management in burn injuries. Having been in the field himself, he has seen some horrific burn injuries in fellow soldiers, and the former army man decided to build an app to improve treatment.
in Share We last mentioned Boston Sci's Spyglass system in 2007. In case you missed it, this is a single-operator cholangioscopy (SOC) device, allowing doctors to more easily navigate the labyrinth that is the pancreatico-biliary system. Previously, this procedure required a two-endoscopist team with a duodenoscope and cholangioscope to directly visualize and manipulate the bile ducts.
It's a device that can sniff out tuberculosis. A group of researchers from India and the US is developing the hand-held 'Electronic Nose', which has the potential to diagnose TB in symptomatic patients. Similar to the alcohol breath analyser used by police, the device will use sensors developed in California to track biomarkers - molecules in breath that can be used as an indicator of a particular disease state - that may identify TB. The development of the Electronic Nose is the result ofcollaboration between the International Centre for Genetic Engineering and Biotechnology (ICGEB) in New Delhi and Next Dimension Technologies in California. The researchers are being awarded a two-year, $950,000 grant from Grand Challenges Canada and the Bill & Melinda Gates Foundation to further develop and test this ground-breaking technology. "The first phase of the grant will be used for collecting biomarkers from people, including TB patients from Delhi, Mumbai, Chennai and Kolkata.
Cellnovo has received CE Mark approval for its mobile diabetes management system.
For its popular Medfusion 3500 syringe infusion pump, Smiths Medical (St.
A couple years ago, a team of researchers from the University of Utah managed to create a wireless network made from standard home automation devices to "see" through walls . Now, the engineers are using the same technology to monitor breathing in patients with sleep apnea, post surgery, and babies at risk for SIDS.
SonixGPS from Ultrasonix Medical Corporation is an interesting technology that might make peripheral nerve blocks quicker and easier. By providing procedural ultrasound guidance, the technology will supposedly revolutionize the ability to visualize smaller gauge needles within tissue by using positional tracking data and overlaying this on the ultrasound image.
Psychology and neuroscience professor Jack Gallant displays videos and brain images used in his research. Video produced by Roxanne Makasdjian, Media Relations. BERKELEY — Imagine tapping into the mind of a coma patient, or watching one's own dream on YouTube. With a cutting-edge blend of brain imaging and computer simulation, scientists at the University of California, Berkeley, are bringing these futuristic scenarios within reach. Using functional Magnetic Resonance Imaging (fMRI) and computational models, UC Berkeley researchers have succeeded in decoding and reconstructing people's dynamic visual experiences – in this case, watching Hollywood movie trailers. As yet, the technology can only reconstruct movie clips people have already viewed.