Typographies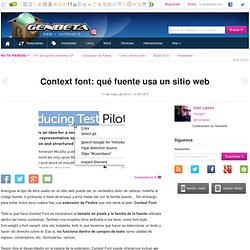 Averiguar el tipo de letra usado en un sitio web puede ser un verdadero dolor de cabeza: meterte al código fuente, ir probando a base de ensayo y error hasta dar con la familia exacta… Sin embargo, para evitar todos esos rodeos hay una extensión de Firefox que nos viene al pelo: Context Font. Todo lo que hace Context Font es mostrarnos el tamaño en pixels y la familia de la fuente utilizada dentro del menú contextual. También nos muestra otros atributos si los tiene, como font-style, font-weight y font-variant. Una vez instalada, todo lo que tenemos que hacer es seleccionar un texto y hacer clic derecho sobre él.
Context font: qué fuente usa un sitio web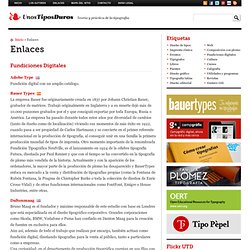 Fundiciones Digitales Adobe Type Fundición digital con un amplio catálogo. Bauer Types La empresa Bauer fue originariamente creada en 1837 por Johann Christian Bauer, grabador de matrices.
Enlaces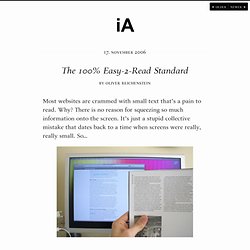 by Oliver Reichenstein Most websites are crammed with small text that's a pain to read. Why? There is no reason for squeezing so much information onto the screen. It's just a stupid collective mistake that dates back to a time when screens were really, really small.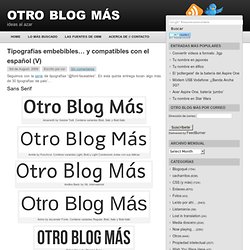 Tipografías embebibles… y compatibles con el español (V) | otro blog más
Seguimos con la serie de tipografías "@font-faceables". En esta quinta entrega tocan algo más de 30 tipografías 'de palo'… Sans Serif Amaranth by Gesine Todt. Contiene variantes Bold, Italic y Bold Italic Amble by Punchcut.
Home / CSS3 Previews / Web fonts with @font-face Not exactly a feature which is new to CSS3, @font-face was first proposed for CSS2 and has been implemented in Internet Explorer since version 5! However, their implementation relied on the proprietary Embedded Open Type (.eot) format, and no other browsers decided to use this format. With the release of Safari 3.1, however, website makers can use any licensed TrueType (.ttf) or OpenType (.otf) font in their pages. To use web fonts, each form of the font family must be declared using the @font-face rule; for example, to use both regular and italic forms of Jos Buivenga's Delicious font, you would put the following in your stylesheet: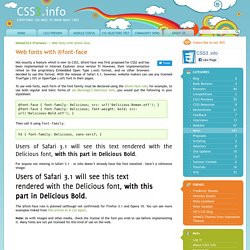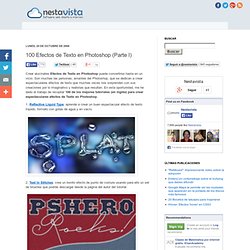 Crear alucinates Efectos de Texto en Photoshop puede convertirse hasta en un vicio. Son muchas las personas, amantes del Photoshop, que se dedican a crear espectaculares efectos de texto que muchas veces nos sorprenden con sus creaciones por lo imaginativo y realistas que resultan. En esta oportunidad, me he dado el trabajo de recopilar 100 de los mejores tutoriales (en inglés) para crear espectaculares efectos de Texto en Photoshop. 1.
100 Efectos de Texto en Photoshop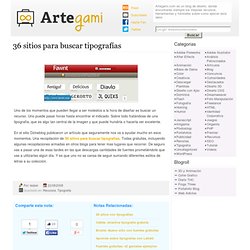 36 sitios para buscar tipografías
Uno de los momentos que pueden llegar a ser molestos a la hora de diseñar es buscar un recurso. Uno puede pasar horas hasta encontrar el indicado. Sobre todo tratándose de una tipografía, que es algo tan central de la imagen y que puede hundirla o hacerla ver excelente. En el sitio Dzineblog publicaron un artículo que seguramente nos va a ayudar mucho en esos momentos.
Los 28 mejores directorios para buscar tipografía gratuita
Una de las cosas más difíciles en el diseño es busca el tipo de letra perfecta, que tal vez la tengamos en la mente, pero que no podemos encontrar. Al final empleamos mucho tiempo tratando de encontrarla. Pero si encuentras frustrante esta labor en speckyboy, tienes un listado con los mejores lugares para encontrar tipografía, miles y miles de tipos de letras diferentes: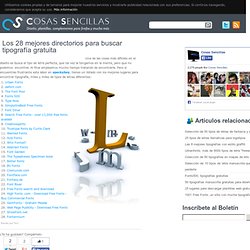 Advertisement Every now and again we take a look around, select "fresh" high-quality free fonts and present them to you in a brief overview. The choice is enormous, so the time you need to find them is usually the time you should be investing in your current projects.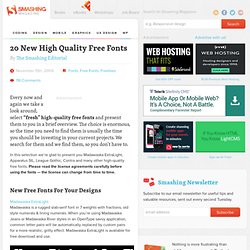 20 tipografías Sans Serif gratuitas para descargar
25 More Free Thin Sans Serif Fonts
Thin and Sans Serif fonts are very commonly used in web-designing and they look elegant as well as they are easy to read and understand. Today we are show-casing 25 High-Quality Thin Sans Serif Fonts which can help you in improving your skills in Typography. This sans serif fonts list include mostly rounded sans serif fonts, humanist sans serif fonts and classic sans serif fonts . Lets have a close look at them and use then in your next typography related project.
25 Free Elegant Thin Sans Serif Fonts
Lists of Great Fonts: 40+ Excellent Freefonts for Professional Design – Smashing Magazine 80 Beautiful Typefaces for Professional Design – Smashing Magazine 60 Brilliant Typefaces for Corporate Design – Smashing Magazine