Liberal Arts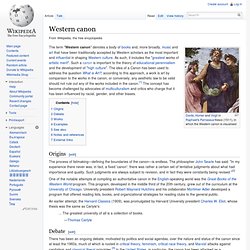 Western canon
The term Western canon denotes a body of books and, more broadly, music and art that have been the most important and influential in shaping Western culture . As such, it includes the " greatest works of artistic merit ." Such a canon is important to the theory of educational perennialism and the development of " high culture ".
ifdawn.com | The Tree of Life (The Original, since 1994)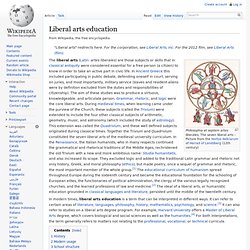 The liberal arts ( Latin : artes liberales ) are those subjects or skills that in classical antiquity were considered essential for a free person (a citizen) to know in order to take an active part in civic life. In Ancient Greece this included participating in public debate, defending oneself in court, serving on juries, and most importantly, military service (slaves and resident aliens were by definition excluded from the duties and responsibilities of citizenship). The aim of these studies was to produce a virtuous, knowledgeable, and articulate person.
Liberal arts
The Great Books (second edition)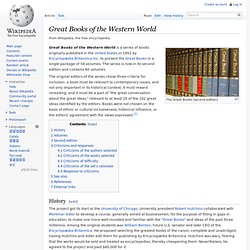 Great Books of the Western World
A fallacy is incorrect argument in logic and rhetoric resulting in a lack of validity , or more generally, a lack of soundness . Fallacies are either formal fallacies or informal fallacies . [ edit ] Formal fallacies A formal fallacy is an error in logic that can be seen in the argument's form . All formal fallacies are specific types of non sequiturs .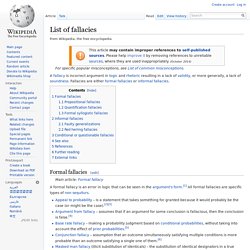 A List Of Fallacious Arguments
The human mind is a wonderful thing. Cognition, the act or process of thinking, enables us to process vast amounts of information quickly. For example, every time your eyes are open, you brain is constantly being bombarded with stimuli.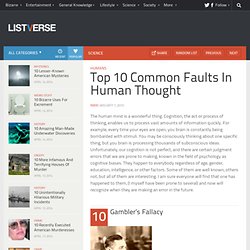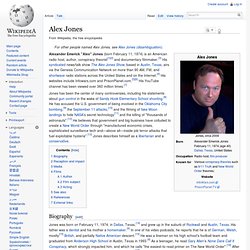 Alexander Emerick "Alex" Jones (born February 11, 1974) is an American radio host, author, and documentary filmmaker. [ 1 ] His syndicated news/talk show The Alex Jones Show , based in Austin, Texas , airs via the Genesis Communication Network on over 70 AM, FM, and shortwave radio stations across the United States [ 2 ] and on the Internet.
Alex Jones (radio host)
The SOPA Scandal