IN GENERAL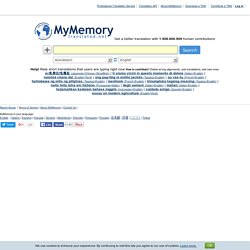 Get a better translation with 642.125.469 human contributions Help! Rate short translations that users are typing right now
Reverso - Multi language
The Common European Framework of Reference for Languages: Learning, Teaching, Assessment,[1] abbreviated as CEFR, is a guideline used to describe achievements of learners of foreign languages across Europe and, increasingly, in other countries (for example, Colombia and the Philippines). It was put together by the Council of Europe as the main part of the project "Language Learning for European Citizenship" between 1989 and 1996. Its main aim is to provide a method of learning, teaching and assessing which applies to all languages in Europe. In November 2001 a European Union Council Resolution recommended using the CEFR to set up systems of validation of language ability. The six reference levels (see below) are becoming widely accepted as the European standard for grading an individual's language proficiency. Development[edit]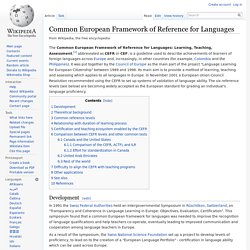 Visuwords™ online graphical dictionary — Look up words to find their meanings and associations with other words and concepts. Produce diagrams reminiscent of a neural net. Learn how words associate. Enter words into the search box to look them up or double-click a node to expand the tree. Click and drag the background to pan around and use the mouse wheel to zoom.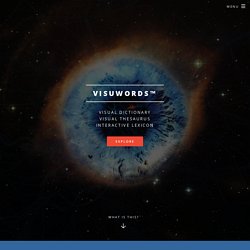 @import '/languages/includes/widgets/potd/css/potd.css'; @import '/languages/css/phase2/shared.css'; British Broadcasting Corporation Home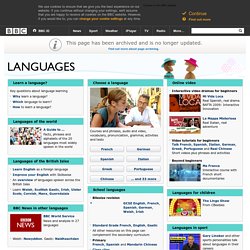 Find a Language Teacher, Tutor or School Learn a foreign language from a qualified teacher, tutor or language school. Read verified reviews from past learners. Try free sample online self-study lessons. Find language teachers, tutors or schools in the city of your choice. Alternatively, take live lessons online via email, text or voice chat or video conferencing.
Language Teachers, Tutors, Classes - Private Lessons, Home Tutor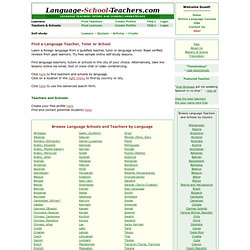 The world wide web can be a good place to start learning a foreign language. This is a compilation of language communities, tools, and other online resources that'll help you get started. Also don't forget these resources - 30+ Language Tools For Firefox and Dictionary Toolbox: 50+ Dictionary & Reference Sites Language Communities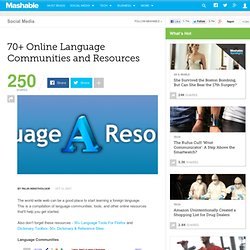 70+ Online Language Communities and Resources