Leadership
Who New CEOs Fire First - Sarah Green - Our Editors. By Sarah Green | 9:00 AM July 8, 2013 New research by RHR international shows which executives incoming CEOs are likely to replace, and highlights some differences between first-time CEOs and more seasoned chief executives.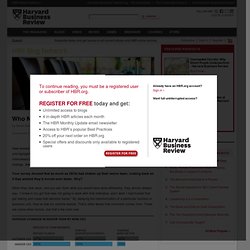 I interviewed Dr. David Astorino, Global Practice Leader for Senior Team Effectiveness, about the findings. Below is an edited version of our conversation. Your survey showed that as much as CEOs had shaken up their senior team, looking back on it they wished they'd moved even faster. Attributes of a high-performing team. How do you know you are building a good team?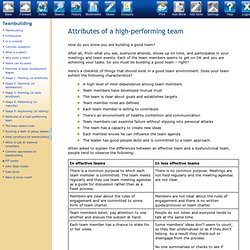 After all, from what you see, everyone attends, shows up on time, and participates in your meetings and team events. Each of the team members seems to get on OK and you are achieving your tasks. Why Innovators Love Constraints - Whitney Johnson. By Whitney Johnson | 12:00 PM February 4, 2013 While dreaming and disrupting has unfettered me in many ways, it has shackled me in others.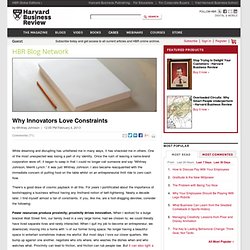 One of the most unexpected was losing a part of my identity. Once the rush of leaving a name-brand corporation wore off, it began to seep in that I could no longer call someone and say "Whitney Johnson, Merrill Lynch." It was just Whitney Johnson. How Managers Become Leaders. Artwork: Adam Ekberg, Country Road, 2005, ink-jet print Harald (not his real name) is a high-potential leader with 15 years of experience at a leading European chemical company.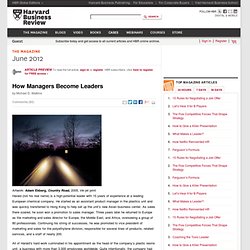 He started as an assistant product manager in the plastics unit and was quickly transferred to Hong Kong to help set up the unit's new Asian business center. As sales there soared, he soon won a promotion to sales manager. Three years later he returned to Europe as the marketing and sales director for Europe, the Middle East, and Africa, overseeing a group of 80 professionals. Is Your Leadership Showing? Most members of a team know when they're doing their work well.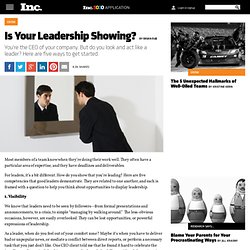 They often have a particular area of expertise, and they have deadlines and deliverables. For leaders, it's a bit different. How do you show that you're leading? A Note About Introverts and Teams. How to Get Feedback When You're the Boss - Amy Gallo - Best Practices. The higher up in the organization you get, the less likely you'll receive constructive feedback on your ideas, performance, or strategy.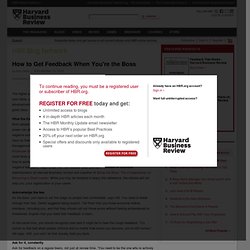 No one wants to offend the boss, right? But without input, your development will suffer, you may become isolated, and you're likely to miss out on hearing some great ideas. The Magic of Doing One Thing at a Time - Tony Schwartz. By Tony Schwartz | 8:53 AM March 14, 2012 Why is it that between 25% and 50% of people report feeling overwhelmed or burned out at work? It's not just the number of hours we're working, but also the fact that we spend too many continuous hours juggling too many things at the same time. What we've lost, above all, are stopping points, finish lines and boundaries. Technology has blurred them beyond recognition. If You Don't Prioritize Your Life, Someone Else Will - Greg McKeown. By Greg McKeown | 8:00 AM June 28, 2012 "A 'no' uttered from the deepest conviction is better than a 'yes' merely uttered to please, or worse, to avoid trouble."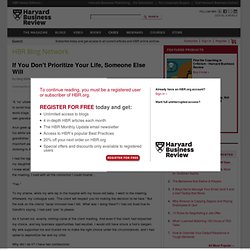 So said Mahatma Gandhi, and we all know how his conviction played out on the world stage. But what is less well known is how this same discipline played out privately with his own grandson, Arun Gandhi. Arun grew up in South Africa. When he was a young boy, he was beaten up twice: once for being too white and once for being too black. S Most Popular Blog Posts of 2011 - Katherine Bell. By Katherine Bell | 10:49 AM December 27, 2011 As 2011 comes to a close, the editors of HBR.org are taking a look back at the most popular blog posts of the year to find out what most preoccupied you, our readers.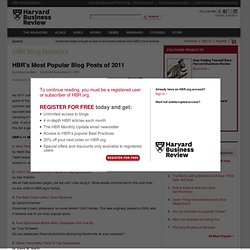 These 11 posts all hit a common nerve and went viral; it's no surprise that most of them contain advice about how to succeed and be happy at work. We can't resist including another 11 posts, a hard-to-agree-upon sampling of the ideas we were proudest to publish and discussions we most enjoyed hosting this year. How to Recognize a Great Boss, or Even Be One. An Offer You Can't Refuse: Leadership Lessons From "The Godfather"
What's Your Influencing Style? - Chris Musselwhite and Tammie Plouffe. By Chris Musselwhite and Tammie Plouffe | 2:45 PM January 13, 2012 Effective leadership today relies more than ever on influencing others — impacting their ideas, opinions, and actions.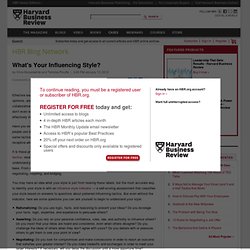 While influence has always been a valuable managerial skill, today's highly collaborative organizations make it essential. Consider how often you have to influence people who don't even report to you in order to accomplish your objectives. Success depends on your ability to effectively influence both your direct reports and the people over whom you have no direct authority. 6 Habits of True Strategic Thinkers. In the beginning, there was just you and your partners. You did every job. You coded, you met with investors, you emptied the trash and phoned in the midnight pizza. Now you have others to do all that and it's time for you to "be strategic. " Whatever that means. Why Peter Drucker Distrusted Facts - Stephen Wunker. By Stephen Wunker | 8:17 AM November 4, 2011 Management consulting is an industry built on facts.
A "fact-based decision" (a phrase that returns 1.8 million Google results) requires legions of analysts to gather and crunch data, and it so happens that consulting firms supply precisely such people. Facts appear to de-politicize decisions, imposing objectivity and facilitating difficult choices. Get the Mentoring Equation Right - Whitney Johnson. By Whitney Johnson | 5:01 PM October 25, 2011 This post was co-authored with Bob Moesta. While it's written from my perspective, he was central to the development of the idea. Bob is the Managing Partner of The Re-Wired Group in Detroit, an innovation incubator and consultancy specializing in demand-side innovation. An engineer, designer, serial entrepreneur, investor, and researcher, he has developed 1,000+ products/services and has collaborated with Clay Christensen at HBS for more than 15 years.
I used to be able to say "yes" to pretty much anyone who reached out to me for mentoring. Be Your Own Hero - Nilofer Merchant. By Nilofer Merchant | 7:18 AM November 4, 2011 When I was growing up, I looked for a savior in just about everyone. There were too many fruitless visits from child protective services. The George Costanza Approach to Fixing Fatal Flaws - Scott Edinger. By Scott Edinger | 11:23 AM October 25, 2011 In my work on leadership development, the first thing I usually advise is to look past your flaws to your strengths, since no one becomes an extraordinary leader by becoming flawless. You become a great leader, our research shows, by having strengths so profound people forgive, if not completely overlook, your faults. But about 20% of the time, I encounter a person whose flaws are so deep that no strengths can make up for them. I'm not talking about run-of-the-mill, we're-all-human, flaws. How To Successfully Build A New Habit.
---