Leadership
Why The Very Best Entrepreneurs Act Like Scientists and NOT Like Business Leaders. Why Give a Damn: Entrepreneurs usually think of themselves as businesspeople or missionaries (or in the case of most Unreasonable Fellows, both!).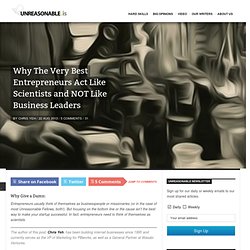 But focusing on the bottom line or the cause isn't the best way to make your startup successful. In fact, entrepreneurs need to think of themselves as scientists. The author of this post, Chris Yeh, has been building internet businesses since 1995 and currently serves as the VP of Marketing for PBworks, as well as a General Partner at Wasabi Ventures. Leaders. Le management de l'émotionnel : De l'intelligence protectrice à l'intelligence collective. Marketing Team. JWT Intelligence. Entreprise 2.0 et leadership. Il y a bien longtemps que je n'avais pas traité précisément du sujet du leadership , ce un petit détour par le monde anglo-saxon comme tous les vendredi avec cet article de Gary sur le social business et le leadership me permet d'y revenir.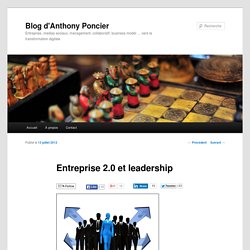 De nombreuses organisations souhaitent évoluer pour devenir plus ouvertes aux usages sociaux, mais cela se cristallise sur la façon dont les structures, les rôles et les relations doivent changer pour s'adapter à l'entreprise 2.0. C'est la direction elle-même qui doit être le point de départ pour ce changement organisationnel. Gary met en avant principalement 5 compétences, voyons ce qu'il en est. Le leader est au cœur de la transformation en entreprise 2.0 et à un rôle dans les changements à venir et à conduire.
Quels sont ces changements en lien avec l'entreprise 2.0 : Top Four Things That Paralyze A Leader | Perry Noble | Senior Pastor, NewSpring Church. Top Four Things That Paralyze A Leader Perry Noble #1 - Fear of Man - (See Proverbs 29:25) - It is IMPOSSIBLE to please everyone (Galatians 1:10!)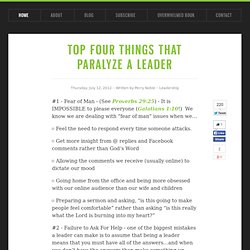 La Chine va représenter 40 % de la croissance de l'électricité verte. La Chine va représenter près de 40 % de la croissance mondiale de l'électricité renouvelable d'ici à 2017, soit cinq et sept fois plus que ses poursuivants américains et indiens, selon un rapport de l'Agence internationale de l'énergie (AIE) publié jeudi 5 juillet.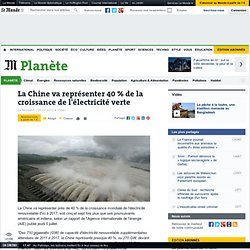 "Des 710 gigawatts (GW) de capacité d'électricité renouvelable supplémentaires attendues de 2011 à 2017, la Chine représente presque 40 %, ou 270 GW, devant les Etats-Unis (+56 GW), l'Inde (+39 GW), l'Allemagne et le Brésil (+32 GW chacun)", selon les prévisions de l'AIE, qui incluent l'hydroélectricité. La France devrait quant à elle voir ses capacités électriques renouvelables augmenter sur la période de 15 GW, pour atteindre un total de 52 GW en 2017, capacités tirées essentiellement par l'éolien sur terre et le solaire photovoltaïque, selon l'étude.
Transformational Leaders. Stanley McChrystal: Listen, learn ... then lead. ETech 09 Keynote: Work on Stuff that Matters. Mark Zuckerberg and Misery as Motivation - Rosabeth Moss Kanter. By Rosabeth Moss Kanter | 11:57 AM November 1, 2010 Did Mark Zuckerberg start Facebook friending because he was unable to make friends?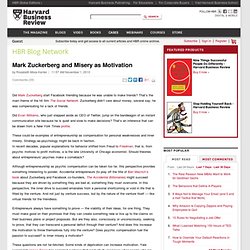 That's the main theme of the hit film The Social Network. Www.eduardoferrao.com.br/oppa/acervo/eventos/Michel.pdf. PRO : Professions, Réseaux, Organisations. Professeur, AGROPARISTECH Membre de l'équipe PRO du CMH.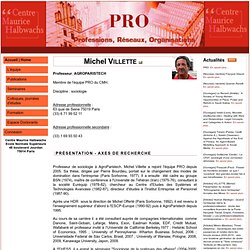 Discipline : sociologie Adresse professionnelle : 63 quai de Seine 75019 Paris(33) 6 71 99 52 11 Adresse professionnelle secondaire : Harvard business review interviews of CEO. Spiritual Intelligence and Transformational Leadership.
---