Haiti: Mappers, Aid Agencies, Media etc:
Haitian govt's official web site on the earthquake.
Best map. Tim Berners-Lee: The year open data went worldwide | Video on TE. Welcome to the USGS - U.S. Geological Survey. Ebwolf USGS Resesarch Geographer... Magnitude 7.0 - HAITI REGION. Earthquake Summary Earthquake Summary Poster 2/23/10-USGS Updates Assessment of Earthquake Hazard and Safety in Haiti and the Caribbean Felt Reports According to official estimates, 316,000 people killed, 300,000 injured, 1.3 million displaced, 97,294 houses destroyed and 188,383 damaged in the Port-au-Prince area and in much of southern Haiti.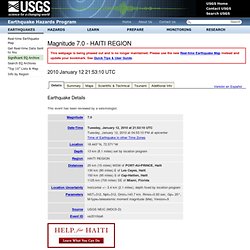 Other estimates suggest substantially lower numbers of casualties, perhaps as low as fewer than 100,000. Shakemap us2010rja6. Aftershock Hazards in Haiti. RESTON, Va.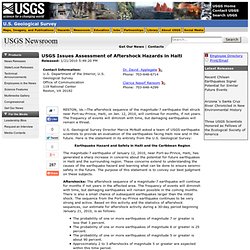 —The aftershock sequence of the magnitude-7 earthquake that struck near Port-au-Prince, Haiti, on Jan. 12, 2010, will continue for months, if not years. The frequency of events will diminish with time, but damaging earthquakes will remain a threat. U.S. Geological Survey Director Marcia McNutt asked a team of USGS earthquake scientists to provide an evaluation of the earthquakes facing Haiti now and in the future.
Here is the statement in its entirety from the U.S. Population and Shake Map, Haiti Quake Jan 2010 at GeoCommons Mak.
Telecom services Haiti
Digicel Mobiles Haiti. Twitter and Digicel Eliminate SMS Charges for Haiti. TelecomsWith out Borders. Multilink Haiti (InternetHaiti) BBCNews - SocialNetworks offer a lifeline. Inmarsat's chief executive Andrew Sukawaty explains to the BBC's Daniel Emery how his firm's satellite network is assisting in Haiti's rescue efforts The collapse of traditional channels of communication in Haiti has again highlighted the role of social media and the internet in disasters.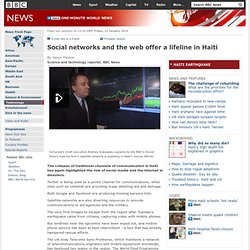 Twitter is being used as a prime channel for communications, while sites such as Ushahidi are providing maps detailing aid and damage. Both Google and Facebook are producing missing persons lists. @NetHope_org is bringing connectivity... Bringing Technology and Communication to Haiti. Words cannot begin to describe the shock in the wake of this week's tragic events in Haiti.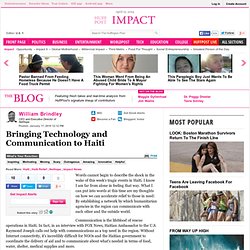 I know I am far from alone in feeling that way. What I can put into words at this time are my thoughts on how we can accelerate relief to those in need: By establishing a network by which humanitarian agencies in the region can communicate with each other and the outside world. Press Releases. For additional resources, please visit the Blackbaud Press Room .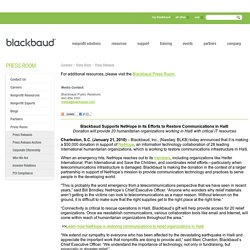 Blackbaud Supports NetHope in its Efforts to Restore Communications in Haiti Donation will provide 20 humanitarian organizations working in Haiti with critical IT resources Charleston, S.C. (January 21, 2010) – Blackbaud, Inc., (Nasdaq: BLKB) today announced that it is making a $50,000 donation in support of NetHope , an information technology collaboration of 28 leading international humanitarian organizations, which is working to restore communications infrastructure in Haiti. NetHope_org: RT @blackbaud: We are plea... Providing emergency communications for Haiti. « BLITZKRIEG BOPP. Last night while sitting on the couch I got one of my brainwaves; why not try to organise a volunteer effort to set up an outdoor wifi network for Haiti using wifi?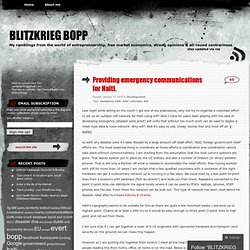 Now I have for years been playing with the idea of developing emergency (disaster zone proof) wifi units that without too much work can be used to deploy a mesh-type data & voice network. Why wifi? Fireside Int.: Addicted to electronic com... Samaritan's Purse: Please pray for our commun... How to Connect Port-au-Prince with a Wireless Network - Haiti Re. Inveneo's long-distance WiFi network in Port-au-Prince, Haiti As you can see from the network diagram above, Inveneo's long-distance WiFi links connecting NetHope member organizations is starting to be far-reaching.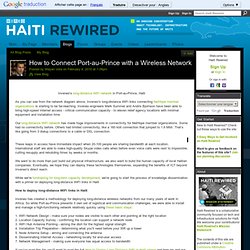 Inveneo engineers Mark Summer and Andris Bjornson have been able to bring high-speed Internet access - critical communication capacity - to eleven relief agency locations with minimal equipment and installation time Our long-distance WiFi network has made huge improvements in connectivity for NetHope member organizations. Some had no connectivity before. Others had limited connectivity, like a 160 kbit connection that jumped to 1.6 Mbit. Tracker collecting+ connecting links. HaitiLiveFeeds: #FF Individuals making a d...
Organisation Registry. We have we need. Haiti Volunteer Network | Let's Work Together to Save Lives. CNN_Internat haiti-aid list... SAR sectors map. Skip to main content Updates Your gateway to all content to date.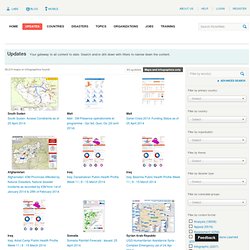 Search and/or drill down with filters to narrow down the content. 30,215 maps or infographics found Advanced Search. (WFP)distibutionHubsMap pdf 19jan2010. Map med facilities 21jan2010 Haiti. WaterDistribut ion Map (pdf) Hospital Statusus. Find Hospitals Click HEALTH MAP link for cholera outbreak information: Map Layers include Cholera Outbreak: for Additional information See Cholera Page Cholera has similar symptoms to other water borne diseases however rehydration is the key for sustainability and survivability.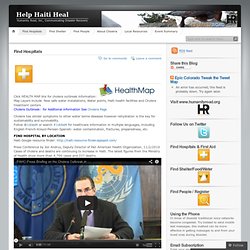 Follow @1staid4 or search #1stAid4 for healthcare information in multiple languages, including English-French-Kreyol-Persian-Spanish: water contamination, fractures, preparedness, etc. Field Hospitals. Map FieldHospitals IDPs Port-au -Prince. Haiti: Field Hospitals and IDPs in Port-au-Prince Date: 26 January 2010 Summary:Map shows: - Field hospitals in operation as on 25 Jan 2010. - Pre earthquake medical facilities as of 23 Jan 2010. - Locations of IDP camps as of 23 Jan 2010. - As of 25 Jan 2010 there are 500 known IDP Camps, some addresses are ambiguous.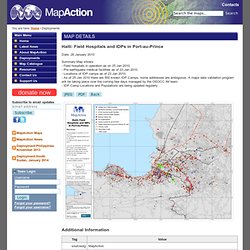 A major data validation program will be taking place over the coming few days managed by the OSOCC IM team. - IDP Camp Locations and Populations are being updated regularly. Additional Information. BaptistHaitiMission (BHMhaiti) Welcome to the Baptist Haiti Mission. Msh.org - Management Sciences for Health - Medicines Are Mak. The 's dedicated staff in Haiti is distributing kits of medicines and other medical supplies from existing stock in the project warehouse to 14 hospitals in Port-au-Prince. Our team is also focusing on preventing interruption in medications used for antiretroviral therapy (ART).The staff had helped treat the wounded immediately after the earthquake.
SCMS staff in Haiti and around the globe are determining other ways to contribute to the relief effort. SCMS Home. Haiti Aid Meeting Next Week Crucial to Recovery, Minister Says - ManyEyesWorld aid to Haiti. WorldEconomicForum live! Davos2010 Haiti briefing Wed Jan 27 2010. Davos 2010 - Haiti: First Responders back from the Front-Line We. Disaster Recovery Working Group. Disaster Recovery Working Group.
Hope For Haiti Jay-Z, Justin Timberlake, Bono To Headline MTV's. Justin Timberlake, Coldplay, Alicia Keys, Bruce Springsteen, Wyclef Jean, Bono, The Edge and Jay-Z will lead the all-star lineup of performers for Friday night's "Hope for Haiti Now: A Global Benefit for Earthquake Relief" telethon. More than 100 stars have signed on to help raise funds for the MTV Networks-sponsored show, which will benefit the victims of last week's devastating 7.0-magnitude earthquake on the impoverished island. Several one-of-a-kind collaborations will highlight the event, including a hookup between U2's Bono and The Edge with Jay-Z and Rihanna in London and a jam featuring Kid Rock, Keith Urban and Sheryl Crow in Los Angeles; like all the night's performances, the collabos will be available for download on iTunes for 99 cents the next day.
Also appearing in New York with Wyclef and Springsteen will be Jennifer Hudson, Mary J. Help Haiti Now Webcast Featuring Major Celebs Airs Friday Night. Hoping to raise money for the Haiti earthquake relief effort, Bono, Jay-Z, Justin Timberlake, Bruce Springsteen, Taylor Swift, Alicia Keys, and Coldplay and somewhere around 100 other stars will entertain viewers on both the web and traditional TV tomorrow night at 8 p.m. ET in a benefit called Hope For Haiti Now: A Global Benefit for Earthquake Relief. The telethon was organized by MTV Networks and George Clooney, and other networks taking part will include the websites of MySpace, YouTube, Hulu, AOL, Fancast, VH1, CBS, MSN, Bing, Yahoo, Rhapsody, TV.com, BET and CNN. The event will be streamed by mobile providers AT&T, Verizon and Sprint, too. There will be more than 30 networks involved once all's said and done. Gigya - Connecting content and consumers with the social web.
Telethon tries to raise 'Hope for Haiti' HopeForHaitiNow: A Map Of Global Conversation. Taking Stock in the Testimony of the Crowd - NYTimes.
Other pearltree users about haiti. Diaspora. Haiti quake Wikipedia. Tracker News: Health, Humanitarian and Tech Articles & Resources. Sahana Disaster Response Portal. Sahana collaboration and to-do lists. Help.
---
grimsel Feb 28 2010

@wrightskill hope is help enough

wrightskill Feb 28 2010

I,m also lost with pearl.Somebody can assist me?

grimsel Jan 20 2010

thanks, sorry for the late reply. Sometimes i get lost in all those interfaces. :-)
---