Haiti: Mappers, Aid Agencies, Media etc:
Haitian govt's official web site on the earthquake
Mappers:OSM,Ushahidi,CrisisComons,Go
best map
ebwolf USGS Resesarch Geographer
Magnitude 7.0 - HAITI REGION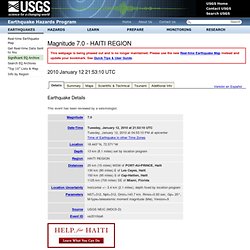 Earthquake Summary Earthquake Summary Poster
Shakemap us2010rja6
Magnitude 6.1 - HAITI REGION
Earthquake Details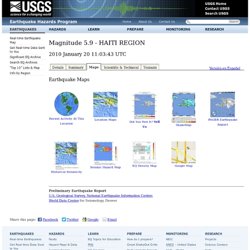 RESTON, Va.—The aftershock sequence of the magnitude-7 earthquake that struck near Port-au-Prince, Haiti, on Jan. 12, 2010, will continue for months, if not years.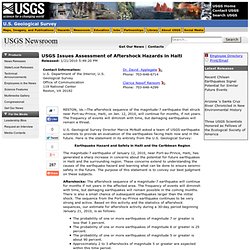 Aftershock Hazards in Haiti
Population and Shake Map, Haiti Quake Jan 2010 at GeoCommons Mak
Digicel Mobiles Haiti
Twitter and Digicel Eliminate SMS Charges for Haiti
TelecomsWith out Borders
Multilink Haiti (InternetHaiti) on Twitter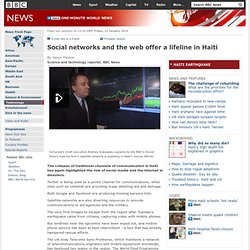 BBCNews - SocialNetworks offer a lifeline
Inmarsat's chief executive Andrew Sukawaty explains to the BBC's Daniel Emery how his firm's satellite network is assisting in Haiti's rescue efforts
@NetHope_org is bringing connectivity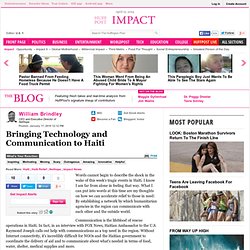 Words cannot begin to describe the shock in the wake of this week's tragic events in Haiti. I know I am far from alone in feeling that way. What I can put into words at this time are my thoughts on how we can accelerate relief to those in need: By establishing a network by which humanitarian agencies in the region can communicate with each other and the outside world.
Bringing Technology and Communication to Haiti
Press Releases
For additional resources, please visit the Blackbaud Press Room .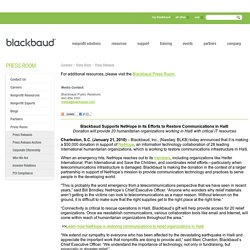 NetHope_org: RT @blackbaud: We are plea
Providing emergency communications for Haiti. « BLITZKRIEG BOPP
Last night while sitting on the couch I got one of my brainwaves; why not try to organise a volunteer effort to set up an outdoor wifi network for Haiti using wifi? Now I have for years been playing with the idea of developing emergency (disaster zone proof) wifi units that without too much work can be used to deploy a mesh-type data & voice network. Why wifi?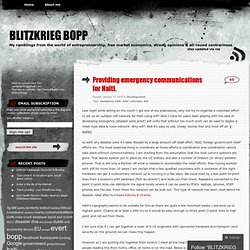 Fireside Int.: Addicted to electronic com
Samaritan's Purse: Please pray for our commun
How to Connect Port-au-Prince with a Wireless Network - Haiti Re
We are making some updates to the site. We'll be back soon, thanks for your patience.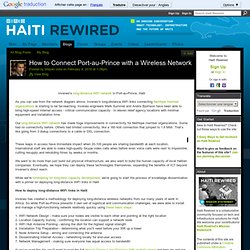 Tracker collecting+ connecting links.
HaitiLiveFeeds: #FF Individuals making a d
Organisation Registry
Haiti Volunteer Network | Let's Work Together to Save Lives
CNN_Internat haiti-aid list
SAR sectors map
(WFP)distibutionHubsMap pdf 19jan2010
Map med facilities 21jan2010 Haiti
waterDistribut ion Map (pdf)
Inventori Wiki Haiti Earthquake - January 2010
Find Hospitals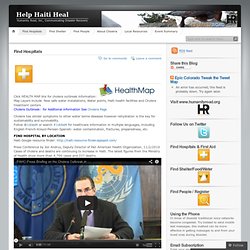 Hospital Statusus
Field Hospitals
Map FieldHospitals IDPs Port-au -Prince
Haiti: Field Hospitals and IDPs in Port-au-Prince Date: 26 January 2010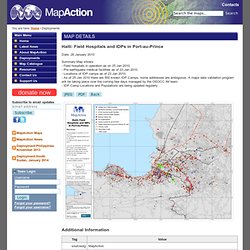 Map IDPcamp PAP to Leogane
BaptistHaitiMission (BHMhaiti) on Twitter
Welcome to the Baptist Haiti Mission
msh.org - Management Sciences for Health - Medicines Are Mak
About SCMS For people with HIV/AIDS in developing countries, cost-effective, reliable, secure and sustainable supply chains can save millions of lives. For more than six years, the Supply Chain Management System (SCMS) has been saving lives through stronger supply chains.
SCMS Home
Haiti Aid Meeting Next Week Crucial to Recovery, Minister Says -
ManyEyesWorld aid to Haiti
WorldEconomicForum live!
Davos2010 Haiti briefing Wed Jan 27 2010
Davos 2010 - Haiti: First Responders back from the Front-Line We
Disaster Recovery Working Group
Disaster Recovery Working Group
Unfortunately, the page you requested in not available.
About UN-SPIDER
SXSWater
Hope For Haiti Jay-Z, Justin Timberlake, Bono To Headline MTV's
Justin Timberlake, Coldplay, Alicia Keys, Bruce Springsteen, Wyclef Jean, Bono, The Edge and Jay-Z will lead the all-star lineup of performers for Friday night's "Hope for Haiti Now: A Global Benefit for Earthquake Relief" telethon.
TwitterSearch #HopeforHaiti
Help Haiti Now Webcast Featuring Major Celebs Airs Friday Night
Telethon tries to raise 'Hope for Haiti'
HopeForHaitiNow: A Map Of Global Conversation
Taking Stock in the Testimony of the Crowd - NYTimes.
other pearltree users about haiti
Haiti quake Wikipedia
Inventori Wiki Haiti Earthquake - January 2010
Tracker News: Health, Humanitarian and Tech Articles & Resources
Sahana Disaster Response Portal
sahana collaboration and to-do lists
Pearltrees teaser