Words
Create Instant Interactive Text Based Activities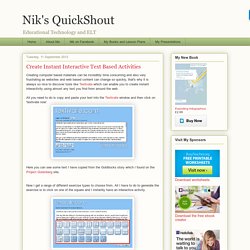 Creating computer based materials can be incredibly time consuming and also very frustrating as websites and web based content can change so quickly, that's why it is always so nice to discover tools like Textivate which can enable you to create instant interactivity using almost any text you find from around the web. All you need to do is copy and paste your text into the Textivate window and then click on 'textivate now'. Here you can see some text I have copied from the Goldilocks story which I found on the Project Gutenberg site. Now I get a range of different exercise types to choose from. All I have to do to generate the exercise is to click on one of the square and I instantly have an interactive activity. There are quite a few to choose from.
Spelling Bee the Game
Spellbee!
Crossword Puzzles, Word Search, Hangman | Free Online Word Games at Dictionary
Spelling Match Game
Vifinition.com - a video dictionary
Words of the World by The University of Nottingham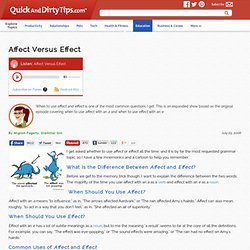 I get asked whether to use affect or effect all the time, and it is by far the most requested grammar topic, so I have a few mnemonics and a cartoon to help you remember. What Is the Difference Between Affect and Effect? Before we get to the memory trick though, I want to explain the difference between the two words: The majority of the time you use affect with an a as a verb and effect with an e as a noun. When Should You Use Affect? Affect with an a means "to influence," as in, "The arrows affected Aardvark," or "The rain affected Amy's hairdo." Affect can also mean, roughly, "to act in a way that you don't feel," as in, "She affected an air of superiority."
Turn-O-Phrase - Word Puzzles for Culture Buffs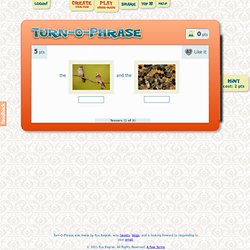 The site was developed to be bug-free and work properly. By playing Turn-O-Phrase you hereby acknowledge that the game was not designed to perform as part of mission critical systems such those employed by nuclear reactors, airplanes, and large financial institutions. Playing the game there is OK, though. The site is provided on an AS IS and AS AVAILABLE basis, without warranties or conditions of any kind, either express or implied including, but not limited to, implied warranties of merchantability, fitness for a particular purpose, and non-infringement.
Test Prep 100 SAT Words Beginning with "A" Find lists of SAT words organized by every letter of the alphabet here: A , B , C , D , E , F , G , H , I , J, K & L , M , N , O , P , Q , R , S , T , U , V , and W, X, Y & Z . abase, aberration, abhor, abject, abrasive, abstain, abstract, more...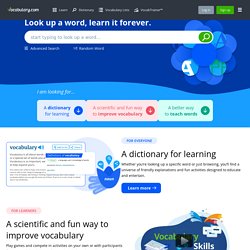 Spelling Connections
www.scholastic.com/kids/homework/flash/spelling.swf
Flash Hangman - High Frequency Words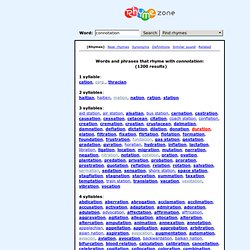 [Rhymes] Near rhymes Synonyms Definitions Similar sound Related Words and phrases that rhyme with connotation: (1200 results) 1 syllable:cation, corp., thracian 2 syllables:haitian, haitien, mation, nation, ration, station
connotation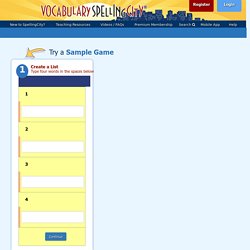 Expressing our Gratitude VocabularySpellingCity appreciates teachers and parents who recommend our site and mobile apps to colleagues and friends, share us on Facebook, follow us on Twitter, and other social media. Thanks to all teachers who have shared their best classroom practices using VocabularySpellingCity via written online reviews, speaking at conferences and posting on our forum. We especially appreciate the thoughtful input you give us to help guide our product development to better serve you and your students. The growth of VocabularySpellingCity through your use and support has helped our team develop Science4Us.com, a science curriculum for Kindergarten, first, and second grade.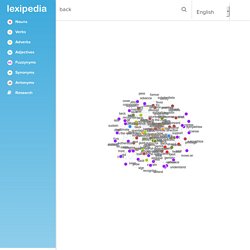 welcome n. the state of being welcome; "don't outstay your welcome" n. a greeting or reception; "the proposal got a warm welcome"