IT Blogs
Adventures with Technology | random ramblings and advice received for teaching, using technology, and foreign language acquisition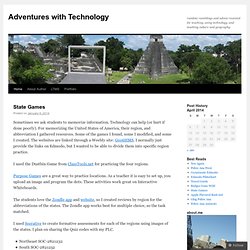 I have attended 3 years worth of EdCamps and Unconferences at 5 different venues. The memories and learning is hard to describe. But EdCamp is having 12 Days of Edcamp for people around the country to reflect and share. Follow the learning on Twitter.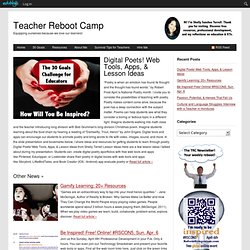 Teacher Reboot Camp
It is literally true that you can succeed best and quickest by helping others to succeed. —Napoleon Hill We believe in students learning from and with each other, but effective collaboration rarely takes place in most schools. Students rarely want to share their work and have peers critique it.
Ed Tech Ideas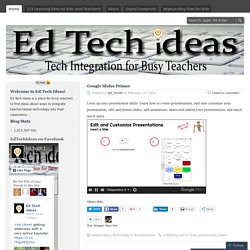 Here's a collection of holiday and winter sites for kids and teachers that should help make your last week of school festive and productive, and give kids some fun places to go on those cold, wintry days. 1. Snow-Line In this über-popular game from Mini-Clip, your mission is to help Santa Claus collect the presents and get them ready for delivery on Christmas Eve.
BYOT Network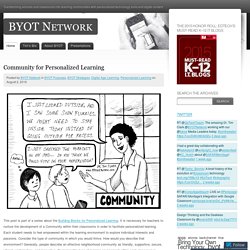 Sustainability is defined as the "capacity to endure" ("Sustainability," 2013). Most people agree that the natural environment has to be sustained so that we can long-lasting and renewable benefits from its resources. Similarly, we must develop sustainable practices that continue to support digital age learning within the learning environments of today's schools.
The Edublog Awards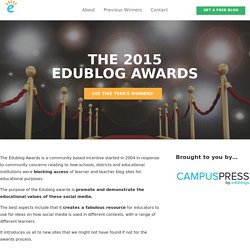 We've been asked to provide data about the Edublog Awards since it was started in 2004. So we've decided to share a walk through of the history of the Edublog Awards because it highlights: How educational technology use has changed.Why the nomination, short listing and voting have changed. Why the Edublog Awards? The Edublog Awards was set up in response to community concerns relating to how schools, districts and educational institutions were blocking access of learner and teacher sites for educational purposes.
Will Richardson
Suw Charman-Anderson commenting on a great post from David Weinberger: I wonder too if my lack of blog writing is related to a lack of blog reading. My RSS reader became so clogged that I feared it, wouldn't open it, and ultimately, abandoned it. And then Twitter and now Zite arrived to provide me with random rewards for clicking and swiping, showing me stuff that I had no idea I wanted to read.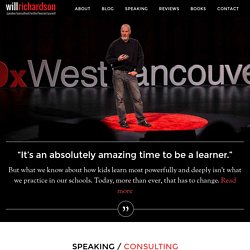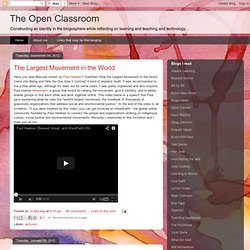 The Open Classroom
Scrible : allows you to mark up web pages in your browser and manage and collaborate on them online. Having set up an account - free- I started using it. You can highlight, color, bold, underline text, add sticky notes, categorise your annotations (this is a great idea, especially in collaborations) and export them, save and share, organise and search your findings from the internet. I found it easy to use (with a bookmarklet similar to diigo's and I have thought that I will try this alongside Diigo for a different set of tags.
Blogging About The Web 2.0 Connected Classroom
Back when I started this blog in February of 2009 I was trying to create a space to share resources with my teachers in my district. Web 2.0 tools were gaining in popularity so I wanted to capitalize on that, hence the name. The same with my Twitter account. I wanted the two places to be tied together. I wasn't thinking about branding. Fast forward 5 years and @web20classroom and this blog are who I am.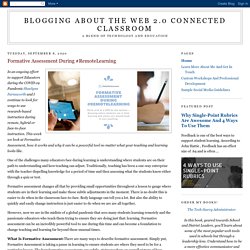 The Innovative Educator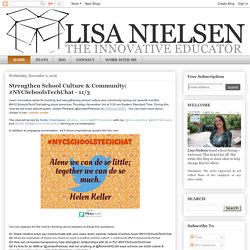 Editor's note: Chris Casal is a member of the NYC DOE Social Media Advisory Team. His insights have helped inspire and guide teachers in the effective use of social media in the classroom. Here's how he does it. I am often asked about how we use "social media" here at PS 10. It is a question that is both simple & easy to answer and one that is also complex and nuanced. Here is how we use it at PS 10Webpages and wikis - Teachers have class webpages and wikis to help foster the home-school connection.
"Systems can bully as much as individuals." Sharon Salzberg & Robert Thurman, Love Your Enemies: How to Break the Anger Habit & Be a Whole Lot Happier I began reading Love Your Enemies: How to Break the Anger Habit & Be a Whole Lot Happier by Sharon Salzberg and Robert Thurman today, and I stumbled on a section that focuses on bullying and dealing with those who bully. In that reading, Salzberg and Thurman mention that systems and social institutions can bully people as much as individuals. While I have understood and believed that the "culture" of a school can facilitate bullying and make it easier to happen, I had not ever fully made the leap to the idea of a school being a bully.
The 21st Century Principal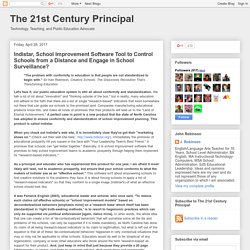 TED-Ed Clubs is a new idea/program that I heard about first from Sue Gorman on FB and then later in more detail from Larry Ferlazzo's great blog. Basically, this program helps ignite a student's creativity and share their ideas in a global way. This is a program designed for students 8-18 yrs old and must be facilitated by an educator. Here's more information from their site about this interesting program... "An educator — who gets materials and a hands-on orientation from the TED-Ed staff — leads the club through a series of 13 meetings, designed to get students to permanently wear their thinking caps.
Technology Tidbits: Thoughts of a Cyber Hero
Weblog of Wesley Fryer
Blog
Keeping the Curriculum Context in Connected Classrooms Primary teacher Kathy Cassidy shares a year's worth of ideas from her connected classroom about how to keep global learning activities in sync with curriculum goals and objectives. read more
mLearnopedia
In less than two weeks, mobile leaders worldwide will be gathering in Barcelona for the GSMA Mobile World Congress, the world's largest mobile exhibition. An important part of this conference is the 17th annual Global Mobile Awards. Last year there was a category for the Best Mobile Learning Innovation, which was won by Urban Planet Mobile and PT Telkomsel for Urban English, Mobile English Learning Initiative. Audio English lessons were sent via SMS as a ringtone to a large number of Indonesians (over 70,000 during the first 3 months.). The category for this year was expanded to Best Mobile Innovation for Education or Learning and drew further entries.
Big Ideas Culture Digital Tools Teaching Strategies What we as adults experienced in school, as educators and students, will bear little resemblance to what lies ahead. Here's a look at current trends, their implications, and changes to watch for.
Three Trends That Will Shape the Future of Curriculum
Learning It's a Geometric World! To date, we have 25 blog entries detailing the progress of our PBL project through student voice and pictures. The following links to a blog about Day 16 of our project. http://ksmithschool.wordpress.com/2014/03/17/geometric16/
Home
Friday Flash
Free Technology for Teachers
Edtech411 » EdTech Information
e-moderation station
Android 4 Schools
2¢ Worth