IT Blogs
Adventures with Technology | random ramblings and advice received for teaching, using technology, and foreign language acquisition. Teacher Reboot Camp. Ed Tech Ideas. BYOT Network. The Edublog Awards. Will Richardson. The Open Classroom. Blogging About The Web 2.0 Connected Classroom. The Innovative Educator. The 21st Century Principal. Technology Tidbits: Thoughts of a Cyber Hero. Weblog of Wesley Fryer. Blog. Keeping the Curriculum Context in Connected Classrooms Primary teacher Kathy Cassidy shares a year's worth of ideas from her connected classroom about how to keep global learning activities in sync with curriculum goals and objectives. read more.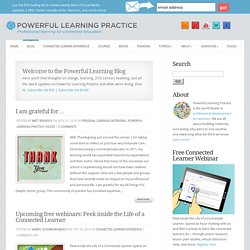 mLearnopedia. Three Trends That Will Shape the Future of Curriculum. Big Ideas Culture Digital Tools Teaching Strategies What we as adults experienced in school, as educators and students, will bear little resemblance to what lies ahead.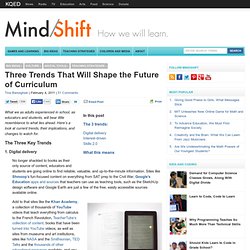 Here's a look at current trends, their implications, and changes to watch for. Home. Friday Flash. Choice and usage of multiple digital learning tools is growing in our district by all learners, educators and students.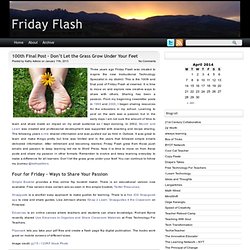 In a recent workshop on four of these tools, participants had the opportunity to select two sessions and grasp the potential of the tools for instructional design. Edmodo, Edublogs, Voicethread and Wikispaces were the tools for collaborative learning and choice was key in personal learning for the day. Free Technology for Teachers. Edtech411 » EdTech Information. E-moderation station. Android 4 Schools. 2¢ Worth. Listen A few weeks ago I worked and attended North Carolina's ISTE affiliate conference.
I opened the NCTIES conference with a breakfast keynote address and Marc Prensky closed it with a luncheon keynote the next day.
---