Io9
stuff from the awesome io9 dharanish Feb 5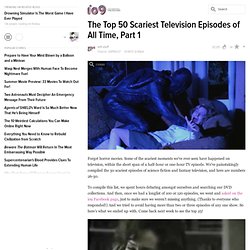 The Top 50 Scariest Television Episodes of All Time, Part 1
46) What made the Night Stalker Zombie episode frightening was the climax: Kolchak has to climb into the zombie's resting place (a hearse in a junkyard) and, in order to immobilise it, Kolchak had to fill its mouth with salt and sew its mouth shut. Terrified, Kolchak does indeed climb in, fill its mouth with salt, and with shaking fingers move the needle and thread up to its lips... Just as the zombie's eyes open up...
The year's best wildlife photography will make you roar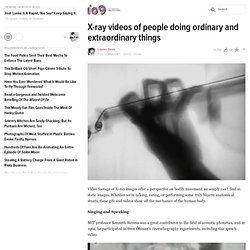 X-ray videos of people doing ordinary and extraordinary things
Actually, these are not traditional X-rays as most people understand them to be. This is not a series of still images being taken, but rather video fluoroscopy, which uses a continuous lower mA X-rays over a longer period of time with an amplifying receiver to create a visual image. Notice the inverted image... on typical X-rays, bones show up on the white end of the gray scale, not black. Depending on the length of time you're exposed, the actual absorbed dose is usually quite small. These are mostly used in upper GI examinations and Small Bowel Follow Throughs, imaging in the OR as guiding tools for localization of organs and instruments, and in angiography studies where they examine things like function of the arteries and veins feeding the heart. I've seen some angiography studies with fluoro times as long as 20 minutes, though not very often.
Where do you see a Zebra?At the oo! Dr. Hfuhruhurr I presume...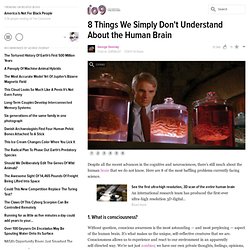 8 Things We Simply Don't Understand About the Human Brain
Absolutely mindblowing video shot from the Space Shuttle during launch
Unless I'm misreading the speedo, the word "transonic" is used somewhat inaccurately. If I'm not mistaken, the vehicle went transonic quite a bit before this point. The visible shockwaves only go on for a range of about 100mph, which seems too short for the passage from the initial transonic range to supersonic. What the producer seems to mean is that it is going supersonic (passing the sound barrier). Transonic means that there is both supersonic and subsonic flow somewhere on the vehicle. This starts quite a ways below the speed of sound, in most cases around Mach 0.75.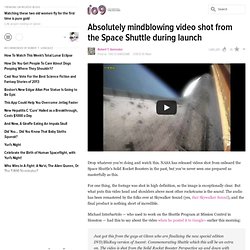 Corset-wearing superwomen from the Age of Steam
Mixed bag, honestly. Some are just odd, others are dead on as far as in-character goes. Harley is cute, Emma is actually wearing more than usual and probably has an outfit exactly like that stashed for formal occasions. And Catwoman, YES that's so much closer than the crap she wears now.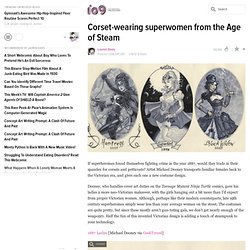 SExpand I'm surprised more people haven't been talking about King of the Unknown. It's on a little hiatus right now, but it started up last January and has been pretty sweet so far. The art is %$#@ing great, and it's just the right amount of insane. http://kingoftheunknown.com/archive/id-lose-my-head-without-you-2/ I absolutely adore Murata's comic, though...that was one of my absolute favorite things of this past year, webcomic or not.
The Best New and Short Webcomics of 2012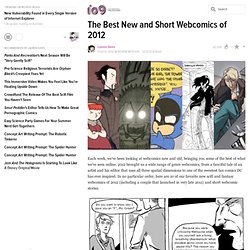 The battle of Shark vs. Octopus has a shocking ending
I think it's probably safe to say it's a precautionary measure. I, personally, would've stuck a "probably" or a "possibly" in front of all my "NSFW"'s. That said, yeah, our culture's odd double-standards when it comes to being massive prudes are kinda odd, but I highly doubt the way to change anything is to not warn people who may be browsing io9 on a coffee break "Tits Ahoy!" (which should totally replace NSFW, if you ask me...), but to start applying the label more judiciously (and also, more specifically. Another advantage of "Tits Ahoy!"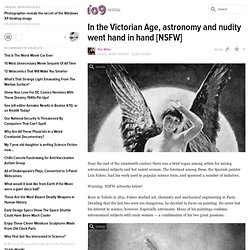 In the Victorian Age, astronomy and nudity went hand in hand [NSFW]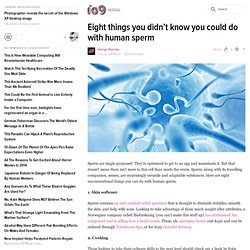 Eight things you didn't know you could do with human sperm
"Why would you need huge quantities of it?" This question assumes a couple of things that are by no means conclusively proven: 1) I am highly skeptical that human sperm has any beneficial cosmetic effects. Show me a few huge sample size, double blind FDA studies, and maybe, maybe, I'll change my mind.
The Philosophical Roots of Science Fiction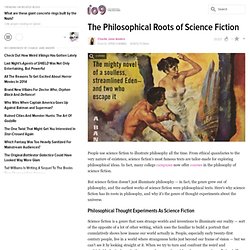 This is a wonderful article, and I think it provides a lot of great insight into what science fiction's role really is. Tangentially, I think it also explains why so many older sci-fi fans are mourning the loss of Golden Age, Big Idea science fiction. As it's gotten older, science fiction has morphed from expansive, overt idea-exploring into more character-driven stories set in the microcosm of people's lives. We're less Asimov and more late-stage Heinlein. It's still exploring these ideas, just in a smaller, more intimate way.
Very. I'd love to hear from someone more knowledgeable on the subject because that doesn't look right. The movement looks a little too perfect. Not enough variation. When one turns, it looks too smooth. You mean an aquatic creature that's been through millions of years of evolution is able to effortlessly swim and turn underwater?
This is perhaps the most beautiful footage of dolphins you've ever seen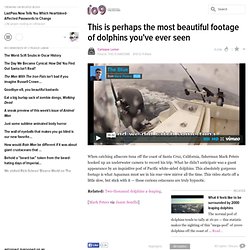 Holy crap wtf News, Videos, Reviews and Gossip - io9
Not that young. I'm 24 and my great-great-great grandparents were born in 1860's; they were still children in the 1870's when the main photo of this article was taken. It depends on the age at which each generation reproduces. Assuming a generation every 20 years, which is the standard base assumption, someone born in 1960 would be the correct generation to be the great-great-great-grandchild of someone who had his or her child in 1880. If you up it to 30 years per generation, which is a bit of a stretch but certainly not inconceivable, especially if we're not dealing strictly with first borns, for most of the period under discussion here, you hit three greats with someone born in 2000. So best answer to your question is anywhere between c. 12 and c. 52.
Daily 10 News, Videos, Reviews and Gossip - io9
A medieval monument to religious pluralism, hidden in the mountains of Afghanistan
SExpand One of the great wonders of the medieval world is a very tall, heavily ornamented minaret nestled in a green valley at the edge of the Jam river in what is now Afghanistan. Often called the Minaret of Jam, the monument was almost a millenium ago illuminated by a torch at its top, and surrounded by a thriving town with small industries and outlying farms. What's remarkable is that the writing on the minaret and archaeological remains nearby strongly suggest that the city harbored a population of Muslims, Christians and Jews.
High speed video reveals the bizarre physics of an ordinary water droplet
Lawrence Alma-Tadema
Sir Lawrence Alma-Tadema, OM, RA (/ˈælmə ˈtædɪmə/;[1] 8 January 1836 – 25 June 1912) was a Dutch painter of special British denizenship. Born in Dronrijp, the Netherlands, and trained at the Royal Academy of Antwerp, Belgium, he settled in England in 1870 and spent the rest of his life there. A classical-subject painter, he became famous for his depictions of the luxury and decadence of the Roman Empire, with languorous figures set in fabulous marbled interiors or against a backdrop of dazzling blue Mediterranean Sea and sky.
SExpand Science fiction and fantasy offer a rich legacy of great books — from Asimov to Pynchon, there are some fantastic, ambitious works of genre fiction out there. But they're also daunting.
Daily 10 News, Videos, Reviews and Gossip - io9
Secret history News, Videos, Reviews and Gossip - io9
Secret history News, Videos, Reviews and Gossip - io9
Secret history News, Videos, Reviews and Gossip - io9