Initiatives d'ouverture de données publiques
Qui dit ouverture des données publiques dit aussi travail en commun, rencontres, réseaux, communautés. Dans cette partie "Forum" de notre site nous vous proposons d'échanger, de questionner, de débattre de vos idées. Concrètes, poétiques, drôles, efficaces, utiles, les idées d'aujourd'hui seront les services de demain... Pas de débats techniques qui trouveront leur place dans l'espace développeur mais bien une place publique de l'imagination !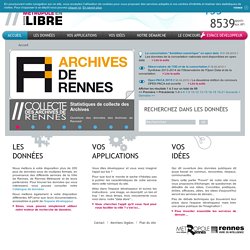 Dades obertes gencat. Generalitat de Catalunya.
Open Data Euskadi, el portal de Apertura de Datos Públicos del Gobierno Vasco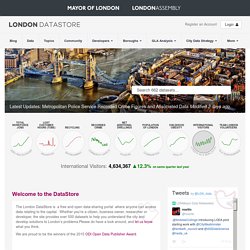 The London Datastore has been created by the Greater London Authority (GLA) as an innovation towards freeing London's data. We want citizens to be able access the data that the GLA and other public sector organisations hold, and to use that data however they see fit – free of charge. The GLA is committed to influencing and cajoling other public sector organisations into releasing their data here too.
StatCentral.ie - The Portal to Ireland's Official Statistics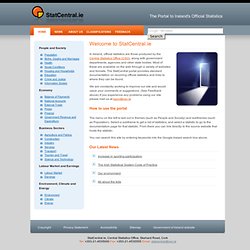 In Ireland, official statistics are those produced by the Central Statistics Office (CSO), along with government departments, agencies and other state bodies. Most of these are available on the web through a variety of websites and formats. The StatCentral portal provides standard documentation on recurring official statistics and links to where they can be found. We are constantly working to improve our site and would value your comments or suggestions. (See Feedback above) If you experience any problems using our site please mail us at egov@cso.ie.
РосГосЗатраты