Infographycs
Beautiful data visualizations of some very scary data! An anonymous hacker under the pseudonym of "Carna Botnet" has posted a comprehensive Internet Census 2012 report of over 460 million internet connected devices that responded to PING requests or were found to have open ports. He was able to create a botnet using over 30,000 Internet devices that had remote administration available using the Telenet and still had the factory installed standard passwords.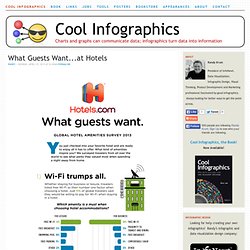 Cool Infographics - Cool Infographics
Contest: Create an Infographic About Haiti
United Nations Environment Programme environment for development Environmental Data Explorer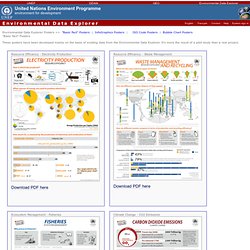 GEO Data Portal - The Environmental Database (search | map | gra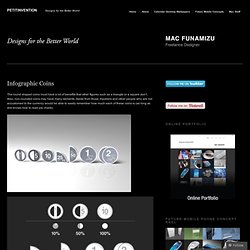 The round shaped coins must have a lot of benefits that other figures such as a triangle or a square don't. Also, non-rounded coins may have many demerits. Aside from those, travelers and other people who are not accustomed to the currency would be able to easily remember how much each of these coins is (as long as she knows how to read pie charts). This work is licensed under aCreative Commons Attribution 3.0 Unported License. Like this: Like Loading...
Infographic Coins « petitinvention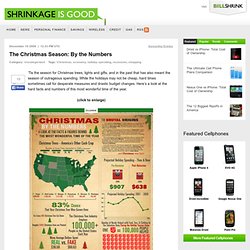 'Tis the season for Christmas trees, lights and gifts, and in the past that has also meant the season of outrageous spending. While the holidays may not be cheap, hard times sometimes call for desperate measures and drastic budget changes. Here's a look at the hard facts and numbers of this most wonderful time of the year. (click to enlarge)
The Christmas Season: By the Numbers
Digital Podge 2009 - Measurable Fun | 17th December 2009
Platform: Windows XP, Vista, 2008, 7, 8 (32/64 bit) Edraw Max is a versatile diagramming program, with features that make it perfect not only for professional-looking flow diagrams, organizational charts, business diagrams and charts, but also network diagrams, building plans, mind maps, workflows, fashion designs, UML diagrams, electrical engineering diagrams, science illustration... and that is just the beginning! With more than 6000 built-in vector symbols, drawing could not be easier! Create a wide variety of business charts and presentations based on free examples and templates while working in an intuitive and familiar Microsoft Office-style environment.