Slavery footprint
Europe's Modest Proposal To End Unemployment: Slavery. Having spent weeks talking amongst themselves about the chronic and dangerous rise of youth unemployment in Europe (as we warned here), the Center of planning and Economic Research in Greece has proposed a controversial measure.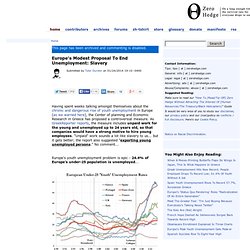 As GreekReporter reports, the measure includes unpaid work for the young and unemployed up to 24 years old, so that companies would have a strong motive to hire young employees. "Unpaid" work sounds a lot like slavery to us... but it gets better; the report also suggested "exporting young unemployed persons. " Il y a des esclaves dans votre chocolat, votre téléphone ou votre sushi. Avec moins de 9.000 esclaves recensés, la France n'est pas dans le haut de la liste des pays ayant le plus recours au travail forcé.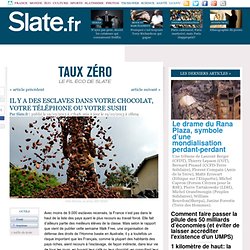 Elle fait d'ailleurs partie des meilleurs élèves de la classe. Mais selon le rapport que vient de publier cette semaine Walk Free, une organisation de défense des droits de l'Homme basée en Australie, il y a toutefois un risque important que les Français, comme la plupart des habitants des pays riches, aient recours à l'esclavage, de façon indirecte, dans leur vie de tous les jours, en buvant leur café ou leur chocolat, en consultant leur smartphone etc… publicité Le pays avec le plus grand nombre d'esclaves est l'Inde —entre 13,3 et 14,7 millions de personnes. Combien d'esclaves travaillent pour vous ? Vous aimez le soja et les kiwis, collectionnez jeans et bijoux et vous plaisez à surfer sur votre Ipad, la tête vissée entre deux écouteurs.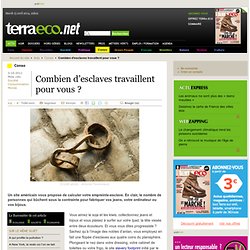 Et vous vous dites progressiste ? Sachez qu'à l'image des nobles d'antan, vous employez en fait une flopée d'esclaves aux quatre coins du planisphère. Plongeant le nez dans votre dressing, votre cabinet de toilettes ou votre frigo, le site slavery footprint initié par le Fair Trade Fund, une organisation catholique américaine, et le ministère des Affaires étrangères du même pays vous propose de calculer votre empreinte-esclave. En clair, le nombre de personnes qui œuvrent pour vous de manière contrainte, en étant pas ou très mal payées. Slavery Footprint - Made In A Free World. Slavery Footprint - methodology.
How did you come up with the total number of slaves working for me?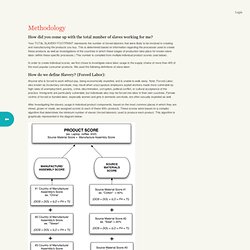 Your TOTAL SLAVERY FOOTPRINT represents the number of forced laborers that were likely to be involved in creating and manufacturing the products you buy. This is determined based on information regarding the processes used to create these products as well as investigations of the countries in which these stages of production take place for known slave labor (within these specific processes.) This number is compiled from multiple individual product scores (see below).
---