Ilustração | Illustration | blogs designers
hi...my names is silvio...please insert your best sites about illustration..our pearl have a best quality of information...
thank you very much..bro ("better quality than quantity" silvio braz) criativos_by_silviobraz Aug 1
www.ciadefoto.com.br
Caricaturas do caricaturista Nelson Santos
New Yorker Cartoon and Cover Prints, Gifts and More at The Cartoon Bank
elias ilustração & design - UOL Blog
Revista MAD 31 Como se não bastasse a televisão, os jornais, a internet e até mesmo os ascensoristas de elevador, a MAD 31 também só dar seus pitacos sobre as eleições! Arte de capa: Elias Silveira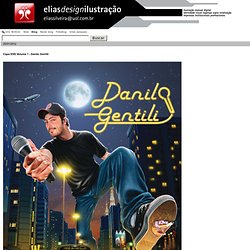 New York Comic Con - 2013 New York, aqui vamos nós. Mais uma vez participarei da New York Comic Con, junto com o meu grande amigo Rafael Albuquerque. Estaremos na mesa F9 no Artist Alley.
Blog do Gustavo Duarte - UOL Blog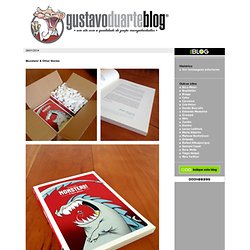 William Medeiros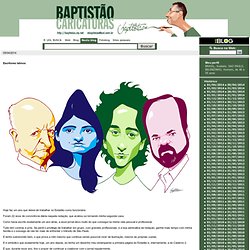 Seleção do ano - 2013 / Aniversário do blog Seleçao do ano publicada no Estadão no último domingo, apurada em pesquisa entre profissionais da imprensa esportiva. Ilustrei essa seleção no jornal praticamente em todos os últimos anos.
Baptistão - Caricaturas - UOL Blog
Sketchbook-2 Juntei nesse post alguns estudos de cor, distorção, concepts, rafs de caricas e otras cocitas más que fui reencontrando em meu hd... Quero aproveitar para falar dos três novos links que adicionei aqui no blog, Dálcio, Paffaro e Quinho. São três mestres das caricas e grandes influências para mim, além disso são figuras gente boa demais, na verdade o Quinho eu não conheço, mas suponho que também seja rsrs
HOISEL - UOL Blog
Peter Jaworowski's Portfolio
graphic design |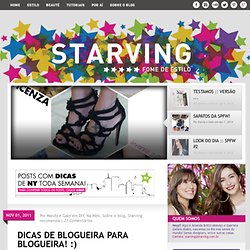 Volta e meia recebemos e-mails de meninas perguntando como fazemos as montagens aqui do blog, se é algum software ou site. Pensando nisso, resolvemos fazer um post com algumas dicas que podem ser úteis. Afinal, grande parte das leitoras de blogs tem blogs, certo?
Galeria de Leonardo Matos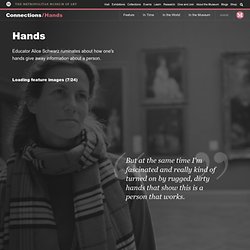 "Hands" by Alice Schwarz1280852 The Hand of God | modeled ca. 1896, this marble executed ca. 1907 | Auguste Rodin (French) | Marble | Gift of Edward D. Adams, 1908 (08.210)8951024 Ernesta (Child with Nurse) | 1894 | Cecilia Beaux (American) | Oil on canvas | Maria DeWitt Jesup Fund, 1965 (65.49)7691024 Lady Elizabeth Hamilton (1753–1797), Countess of Derby | 1776–78 | George Romney (British) | Oil on canvas | The Jules Bache Collection, 1949 (49.7.57)8171024 Lady Elizabeth Hamilton (1753–1797), Countess of Derby | 1776–78 | George Romney (British) | Oil on canvas | The Jules Bache Collection, 1949 (49.7.57)1044973 A Royal Hand | New Kingdom, Dynasty 18, reign of Akhenaten, ca. 1349–1336 b.c. | Egyptian | Limestone, traces of paint | Gift of Norbert Schimmel, 1985 (1985.328.1)12781024 Hand Hacha | 4th–7th century | Mexico, Veracruz | Stone | The Michael C. Rockefeller Memorial Collection, Bequest of Nelson A.
Hands | Connections | The Metropolitan Museum of Art
Carla Pernambuco
Agenda Cultural Art Hits Art in Travel ART&BOOKS Museus Save the Date Sem categoria Talento Vitrine Tag Archives: GRAPHIC DESIGN 24 de outubro de 2013 / Talento
GRAPHIC DESIGN | Art Scoop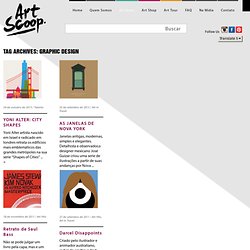 Graphic Design « LOGOBR LOGOBR
Design Edge Canada, News, jobs and events for Canada's graphic design industry
TORONTO—The Advertising & Design Club of Canada hosted its 63rd annual awards show Directions, and 405 awards were given out for exceptional work in advertising, graphic design, editorial design, and interactive media during the event in Koerner Hall at the TELUS Centre for Performance and Learning. The Scarlet Letter Awards are The ADCC's highest honours, presented to Agency of the Year, Design Studio of the Year, Interactive Agency of the Year, and Production Company of the Year. Whereas the Directions awards celebrate individual achievements, the Scarlet Letter recognizes a company's overall excellence as a collective. The awards waiting to be handed out at start of show
Articles from current and past issues of The New Yorker
The Official Tim Burton Website
KRÜGER NEWS & EVENTS
Brian Ashmore Illustration
c a i o c a c a u . c o m
vtishimura on deviantART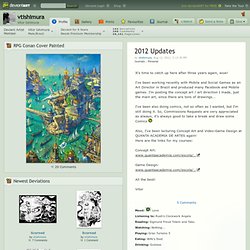 It's time to catch up here after three years again, wow! I've been working recently with Mobile and Social Games as an Art Director in Brazil and produced many Facebook and Mobile games. I'm posting the concept art / art direction I made, just the main art, since there are tons of drawings... I've been also doing comics, not so often as I wanted, but I'm still doing it. So, Commissions Requests are very appreciated as always, it's always good to take a break and draw some Comics Also, I've been lecturing Concept Art and Video-Game Design at QUANTA ACADEMIA DE ARTES again!
BrianBolland.com
D Λ V I D  Y Λ R D I N
The Official Alan Davis Website
Just Say AH! :: The Official Adam Hughes Website
Glass House Graphics
AdamWarren on deviantART
Comic Art Gallery Home - Original Comic Art
Edmund Dulac Art Prints
Storyboards Inc.
Studio61 Design & Publicidade
Dream Big by Peter Fecteau
Recentes - ARTEMIO FILHO
Pristina.org | Everything Design por Felipe Tofani
Graphic Design: Now In Production
Brian Ashmore Illustration
: MARLONTENORIO
site benicio ilustracao
Joshua Middleton Online
AlexGarner on deviantART
mikewieringo.com
Renato Alarcão
Ricardo Antunes
Samuel Casal
home
Untitled Document
中綴じ冊子/カタログ印刷 - products|印刷のネット通販ならWAVE−チラシ印刷・フライヤー印刷・名刺印刷・ポスター印刷−
デザイングラフィックライト
JAGDA Topics
株式会社エイチデザイン | グラフィック&Webデザイン制作会社
Alessandro Lima - Blog
Tipo Q?
OhPERA BLOG
Andrew Wyeth
Arthur de Pins Online
Design.Blog.br - Blog de design gráfico, web design e universo freelancer
Sebastiany Branding
FalaCultura
Main : Cosas mínimas
Agni.art
Thales Molina | Wordpress
deviantART: where ART meets application!
ShiShiDesign 
Illustration Served :: Gallery
Smelly Cat
coletivo NEGOBOM - godofredo
デザイン|グラフィックデザイン、パッケージデザイン、インテリアデザイン、WEBデザインのことなら株式会社ヘルメス
Tim Sale | Official Site
Behance Network :: Gallery
N.Design Studio | Design Blog & Portfolio
Carlos Ranna – Illustrations, paintings and sketches
MAM :: Museu de Arte Moderna de São Paulo
Lorenholyoke.com
The Museum of Modern Art
Gallerist | blog & shop
Foam International Photography Magazine
Home - Elephant Magazine
Conexão Cultural | Espaço de interação entre diversos centros culturais no mundo
Amilcar Pinna
Alexander Santos Ilustrador - Ilustração, desenho, cartum, HQs
Um pouco de tudo
Eddy Barrows
Greg Tocchini
Paffaro
Dalcio
George Ilustrador
How would you like your graphic design?
LEIBHOLZ BLOG- lucas leibholz
Le Petit Chouchou
carlos
Artemio Blog-Bang
Making of Minêu
QUINHO
Blog do Mario Alberto
Marcelo Rampazzo
CARICATURAS!!! Olegário Gouveia.
DESIGN FETISH
Davi Calil
The Eel Bog
ROGER CRUZ BLOG
Johnny Lapis, Tintas e Etc......
código e processo
...*
Big-and-LittleDreams
andré toma
Louvieira
*** Welcome to Alexandre Diegas | Official Blog ***
Luiz Castro - Arts
Aurore Damant
Brian Ashmore Illustration News...and Stuff
Celso DS
Lostmaruo
TNTema
XAMPU
Roger Olmos
iuma
Contos do Corvo
Edde Wagner
Jonas Trindade
NANQUILIZADOR
omargarciaart
Conspirações Artísticas
ABEL COSTA CARICATURAS
CARICRIATURA
Mario Cau - Blog 'n' Roll
Alexandre Schuck
Bruno e Priscila - Pintando o 7...
Diogo Nascimento
Arts Of my Life...
Fernanda Chiella
felipe. watanabe
Erik Malagrino
Nelson Cosentino
felipe massafera art
Design pédagogique / Instructional Design