Idocs anglophones
1 - Happy World
Inside Job | Watch Free Documentary Film Online
The Conflict Zone
National Geographic Emerging Explorer Aziz Abu Sarah is a cultural educator working to build relationships between Israelis and Palestinians in Jerusalem and throughout Israel.
The Aatsinki Season
The Hole Story - NFB/interactive - National Film Board of Canada
13 seconds in August: The 35W bridge collapse
BBC World Service - Click, High-rise's digital life
Klynt Player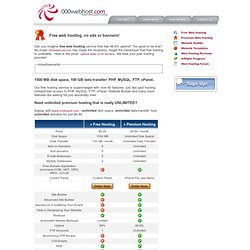 Can you imagine free web hosting service that has 99.9% uptime? Too good to be true? No more!
Klynt Player
Black Friday - Online documentary about 1939 Victorian bushfires
Sound Ecology - NFB/interactive - National Film Board of Canada
::The Jazz Loft Project:: HOME
Rough Ride - The Oil Patch Tour
Healing Histories
OFFSHORE: a creative space between serious games and i-docs
OFFSHORE has just launched their online preview! Try it for yourself… it is worth it… OFFSHORE is a web documentary created by Brenda Longfellow, Glenn Richards and Helios Design Labs that explores the dark waters of the global offshore oil industry in the wake of the 2010 Deepwater Horizon explosion. The storytelling takes place within the virtual world of a 3D, imagined oil rig that inhabits the same kind of space King Kong's Skull Island does: a fog-obscured menacing destination. From what I have seen OFFSHORE looks as a very well-crafted project.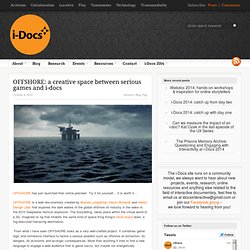 13 seconds in August: The 35W bridge collapse
The Goa Hippy Tribe project is about people who shared a common space and time on the shores of Goa, India during the 70's 'hippy revolution' and are now re-uniting after more than 30 years via Facebook. Along with throngs of other western baby boomers' offspring, Australian filmmaker Darius Devas travelled to Anjuna Beach in 2010. The boomers themselves had been there in the late sixties, when the infamous Goa hippie movement was founded in the Indian beach paradise.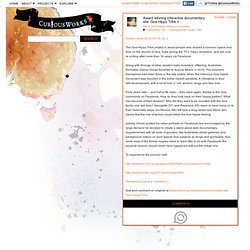 Award winning interactive documentary site: Goa Hippy Tribe | CuriousWorks
This Land: Interactive Documentary Reveals Canada's Harshest Terrain « All My Faves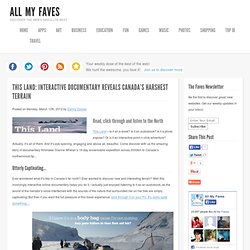 Posted on Monday, March 12th, 2012 by Danny Davies Read, click through and listen to the North This Land – Is it an e-book? Is it an audiobook? Is it a photo expose? Or is it an interactive point-n-click adventure?
Crisis Guide:Pakistan - OVERVIEW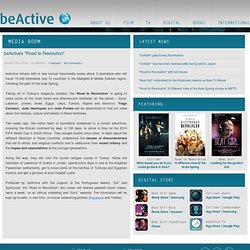 beActive returns with a new factual transmedia series about 3 journalists who will travel 15.000 kilometers and 10 countries in the Mahgreb & Middle Eastern region, following the path of the Arab Spring. Taking off in Turkey's megacity Istanbul, the "Road to Revolution" is going to cross some of the most tense and effervescent territories on the planet – Syria, Lebanon, Jordan, Israel, Egypt, Libya, Tunisia, Algeria and Morocco. Tiago Carrasco, João Henriques and João Fontes will be determined to find out more about the lifestyle, culture and beliefs in those territories. Two years ago, the same team of journalists embarked in a similar adventure, crossing the African continent by jeep, in 150 days, to arrive in time for the 2010 FIFA World Cup in South Africa.
beActive's "Road to Revolution" « beActive
Jamie Skye Bianco
#18DaysInEgypt
Filmmaker To Create Egypt Documentary Through Social Media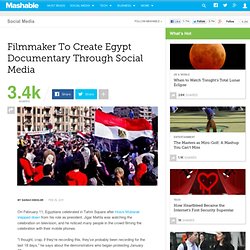 On February 11, Egyptians celebrated in Tahrir Square after Hosni Mubarak stepped down from his role as president. Jigar Mehta was watching the celebration on television, and he noticed many people in the crowd filming the celebration with their mobile phones. "I thought, crap, if they're recording this, they've probably been recording for the last 18 days," he says about the demonstrators who began protesting January 25. This was a particularly interesting to Mehta, who is a Knight Fellow at Stanford University and former New York Times video journalist currently working on ways to develop what he calls "participatory reporting."
The Latin Grantees Take Manhattan
Wasteland © 2009 - Produced by Bombay Flying Club - Poul Madsen - Brent Foster - Line Wolf Nielsen - Henrik Kastenskov
Flash - Iranian Stories
4M
THE EUROPEAN UNION AND THE UNTED STATES GLOBAL PARTNERS
350south
A voir (ou revoir) : le documentaire interactif Soul Patron  
"The Greak Work" is a documentary by two Swedish filmmakers, Oskar Östergren & Fredrik Oskarsson (details at the end) about 30-year-old Christer Böke from Malmö, Sweden. He has taken one year off from his well-paid job as an IT-salesman to become a full-time Alchemist. The film concerns mankind's eternal ambition of wealth and immortality and one mans dedicated struggle to solve "The secret of all secrets". This struggle is known at The Great Work.
Documentary + Game = Independent Transmedia Project called "THE GREAT WORK"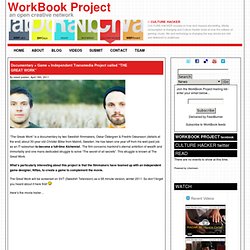 Disputed Waters » Disputed Waters
Now a neglected part of our city's landscape, the Los Angeles River once defined life in the area. Long before there was a California or even a United States, the Gabrieleño Indians had a community of over 45 villages dotting the San Fernando Valley and present day Glendale, and the River was their foundation, providing water and a diverse selection of food. In 1769, Spain's Gaspar de Portola "discovered" the river during his explorations, dubbing it El Río de Nuestra Señora La Reina de Los Ángeles de Porciúncula - the Porciuncula River. Later that would shortened to merely reflect the name of the city growing around it, the waterway that once defined the region becoming its subordinate.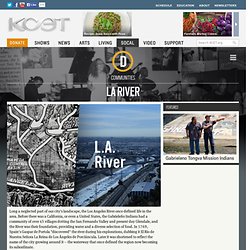 LA River | Departures
Congratulations to 'Civilian Alliance' (Nina Wells, Aasta Otnes and Ruth Barton), winners of the Project CONNECT Documentary Challenge. According to Civilian Alliance, the documentary, "shows the preparations and work of the Project CONNECT artists, as well as our own team's contribution to the exhibition. Using video and photography, the goal of our film is to inspire viewers by showing the enthusiasm that is achieved by creation and the energy felt by presence." Using multiple technology platforms, Project CONNECT is a collective transmedia story that engages with the theme of human CONNECTion through creativity, co-creation and public participation. Project CONNECT Documentary challenge participants were asked to creatively document the launch of Project CONNECT on 27 August 2011 in an original way, using any media and any style to highlight the theme of connection.
Project CONNECT Documentary Challenge – The Winners Announced | Transmedia NZ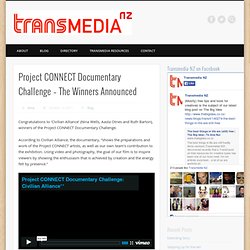 Project CONNECT Documentary Challenge: Civilian Alliance** on Vimeo
An ABC 3D documentary site about the WW1 ANZAC landing at Gallipoli, on 25 April 1915. Winner of the inaugural AFI Award for Innovation in Screen Content 2009. To experience Gallipoli: The First Day in 3D you'll need: ADSL2+ Internet connection 2GB RAM on your computer Speakers or headphones Minimum 1024x768 screen resolution Close other large applications Flash Player 10, download it here You have Flash Player 11 installed
The Interrupters | A Film by Steve James and Alex Kotlowitz
The Interrupters (TheInterrupters) sur Twitter
— Interactive by Zach Wise Las Vegas was first settled for its springs, springs that made it an oasis in the desert. Although those springs have decades since run dry, water is still the most import resource to Las Vegas and the dry Southwest.
The Waiting Room | A Film & Social Media Project About Health Care
The Prism GR 2010
GROUP: A Documentary Web Series by David Sutcliffe
"Twenty people travel to the mountains of Santa Barbara, California for a six-day group therapy retreat... But this is unlike any therapy you've ever seen." Group will take you inside renowned facilitator Ann Bradney's Radical Aliveness Workshop and forever change your ideas about the nature and practice of therapy. This is not a support group with people sitting in a circle finding comfort in sharing their painful stories.
American Urbex - A Little WebDocumentary About Urban Exploration
On the ground Reporter - Choose your language
North End Interactive on Vimeo
Long Journey : Young lives
To Be Heard | A Documentary
#18DaysInEgypt
Documentary + Game = Independent Transmedia Project called "THE GREAT WORK"
Civil War 150 — History.com Interactive Games, Maps and Timelines
Spent | WEBDOCU.fr, webdocumentaires et nouvelles formes de reportage
Grave 5, Row 21, Plot A - Omaha Beach, Normandy
Darfur Is Dying - Play mtvU's Darfur refugee game for change
Man With the Movie Camera
Mortified: Angst Written
Memoir - The Oral History
CANYONLANDS
Tiziano 360
City Sonic Toronto | Toronto Music Films | Location-Based Films
The Sack
Archive du blog » Cherry Blossoms – When war comes home
cherry blossoms
welcome to REHEARSING REALITY | an interactive docufragmentary
Blast Theory | Can You See Me Now?
and the Oil Spill Commission launch The Gulf Spill guide
..::BUCHAREST BELOW GROUND::.::A WEB DOCUMENTARY PRODUCED BY BOMBAY FLYING CLUB::. © 2008 ::.WWW.BOMBAYFC.COM.::_______________________________________________________________________________________________________________________________________________
The Iron Curtain Diaries - 1989 2009
Behind the Veil