Idocs anglophones
Atelier des médias 2 - Mondoblog : Rencontre avec la blogueuse Yatuu Raconter la dictature birmane avec humour, c'est le pari de Happy World. Un film clandestin et un webdocumentaire innovant mis en ligne gratuitement ce vendredi.
1 - Happy World
Inside Job | Watch Free Documentary Film Online
The Conflict Zone
National Geographic Emerging Explorer Aziz Abu Sarah is a cultural educator working to build relationships between Israelis and Palestinians in Jerusalem and throughout Israel. In this series of four eight-minute videos, Abu Sarah meets with people from both sides of the conflict in order to better understand and communicate how this international dispute impacts their everyday lives. Use these videos to give students a broader understanding of both the Israeli-Palestinian conflict and the concept of conflict resolution. Please watch these videos in order.
The Aatsinki Season
The Hole Story - NFB/interactive - National Film Board of Canada
13 seconds in August: The 35W bridge collapse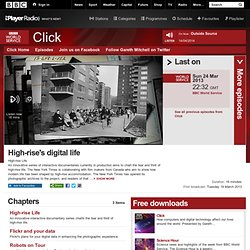 BBC World Service - Click, High-rise's digital life
High-rise Life An innovative series of interactive documentaries currently in production aims to chart the fear and thrill of high-rise life. The New York Times is collaborating with film makers from Canada who aim to show how modern life has been shaped by high-rise accommodation. The New York Times has opened its photographic archives to the project, and readers of that paper are also being encouraged to submit their personal photos. Click hears from the New York Times's Jason Spingarn-Koff and the director of the Highrise project, Katerina Cizek.
Klynt Player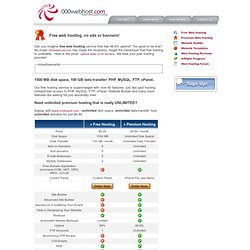 Can you imagine free web hosting service that has 99.9% uptime? Too good to be true? No more!
Klynt Player
Black Friday - Online documentary about 1939 Victorian bushfires
Sound Ecology - NFB/interactive - National Film Board of Canada
::The Jazz Loft Project:: HOME
Rough Ride - The Oil Patch Tour
Healing Histories
AMERICA HEALING is a strategy for racial healing and racial equity. No one bears the burdens of inequity more intensely than children of color - whether it is unequal resources in schools, harsher juvenile sentences in the courts or unequal exposure to environmental toxins. Yet many believe that America has moved beyond race - even in the face of sobering and persistent economic, health and educational inequities among opportunities for children. In 2010 the W.K. Kellogg Foundation launched America Healing to foster racial healing and racial equity and to change hearts, minds and the deeply held and often unconscious biases that cause these structural inequities.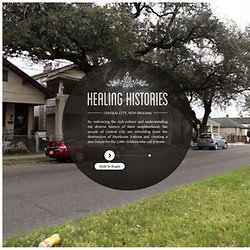 OFFSHORE: a creative space between serious games and i-docs
OFFSHORE has just launched their online preview! Try it for yourself… it is worth it… OFFSHORE is a web documentary created by Brenda Longfellow, Glenn Richards and Helios Design Labs that explores the dark waters of the global offshore oil industry in the wake of the 2010 Deepwater Horizon explosion. The storytelling takes place within the virtual world of a 3D, imagined oil rig that inhabits the same kind of space King Kong's Skull Island does: a fog-obscured menacing destination. From what I have seen OFFSHORE looks as a very well-crafted project.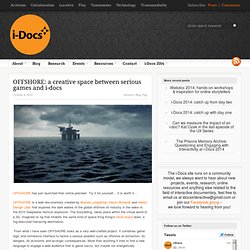 13 seconds in August: The 35W bridge collapse
An introduction to the history and crafting of early stone tools - Launch the PresentationExplore human lineage through time: discover your roots over a span of 7 million years - Launch the Interactive TimelineJourney through the story of human evolution in an interactive documentary experience - Launch the Documentary Becoming Human is an interactive documentary experience that tells the story of our origins. Journey through four million years of human evolution with your guide, Donald Johanson.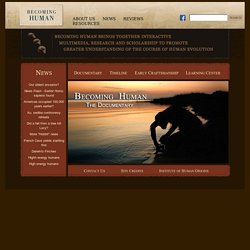 The Goa Hippy Tribe project is about people who shared a common space and time on the shores of Goa, India during the 70's 'hippy revolution' and are now re-uniting after more than 30 years via Facebook. Along with throngs of other western baby boomers' offspring, Australian filmmaker Darius Devas travelled to Anjuna Beach in 2010. The boomers themselves had been there in the late sixties, when the infamous Goa hippie movement was founded in the Indian beach paradise.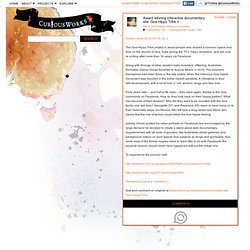 Award winning interactive documentary site: Goa Hippy Tribe | CuriousWorks
This Land: Interactive Documentary Reveals Canada's Harshest Terrain « All My Faves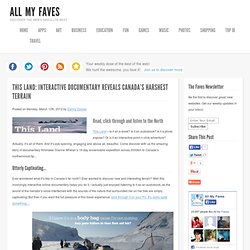 Posted on Monday, March 12th, 2012 by Danny Davies Read, click through and listen to the North This Land – Is it an e-book? Is it an audiobook? Is it a photo expose? Or is it an interactive point-n-click adventure?
Crisis Guide:Pakistan - OVERVIEW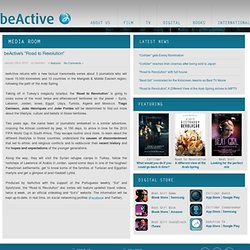 beActive returns with a new factual transmedia series about 3 journalists who will travel 15.000 kilometers and 10 countries in the Mahgreb & Middle Eastern region, following the path of the Arab Spring. Taking off in Turkey's megacity Istanbul, the "Road to Revolution" is going to cross some of the most tense and effervescent territories on the planet – Syria, Lebanon, Jordan, Israel, Egypt, Libya, Tunisia, Algeria and Morocco. Tiago Carrasco, João Henriques and João Fontes will be determined to find out more about the lifestyle, culture and beliefs in those territories. Two years ago, the same team of journalists embarked in a similar adventure, crossing the African continent by jeep, in 150 days, to arrive in time for the 2010 FIFA World Cup in South Africa.
beActive's "Road to Revolution" « beActive
Jamie Skye Bianco
october 4, 2013: presenter "how we think" - a roundtable celebration of N. katherine hayles slsa, notre dame, south bend, IN october 3, 2013: media intervention/performance/presentation: "#bottlesNbones: the intimate and the alien" object-oriented feminisms: queerly done slsa, notre dame, south bend, IN september 28, 2013:
#18DaysInEgypt
Filmmaker To Create Egypt Documentary Through Social Media
On February 11, Egyptians celebrated in Tahrir Square after Hosni Mubarak stepped down from his role as president. Jigar Mehta was watching the celebration on television, and he noticed many people in the crowd filming the celebration with their mobile phones. "I thought, crap, if they're recording this, they've probably been recording for the last 18 days," he says about the demonstrators who began protesting January 25. This was a particularly interesting to Mehta, who is a Knight Fellow at Stanford University and former New York Times video journalist currently working on ways to develop what he calls "participatory reporting."
The Latin Grantees Take Manhattan
Wasteland © 2009 - Produced by Bombay Flying Club - Poul Madsen - Brent Foster - Line Wolf Nielsen - Henrik Kastenskov
Flash - Iranian Stories
4M
THE EUROPEAN UNION AND THE UNTED STATES GLOBAL PARTNERS
350south
A voir (ou revoir) : le documentaire interactif Soul Patron  
"The Greak Work" is a documentary by two Swedish filmmakers, Oskar Östergren & Fredrik Oskarsson (details at the end) about 30-year-old Christer Böke from Malmö, Sweden. He has taken one year off from his well-paid job as an IT-salesman to become a full-time Alchemist. The film concerns mankind's eternal ambition of wealth and immortality and one mans dedicated struggle to solve "The secret of all secrets". This struggle is known at The Great Work.
Documentary + Game = Independent Transmedia Project called "THE GREAT WORK"
Disputed Waters » Disputed Waters
The Rhine River is one of Europes most important rivers. It is a major transportation artery for goods that enter the harbor of Rotterdam in the Netherlands. It comes to no surprise then, that the Central Commission for Navigation on the Rhine was the first European organization that, already during the rule of Napoleon, regulated the international management of the Rhine. This was the first European economic cooperation that culminated in the birth of the European Union. The Rhine is internationally seen as an example of how a river should me managed and this is also the way we approach the river.
LA River | Departures
Project CONNECT Documentary Challenge – The Winners Announced | Transmedia NZ
Project CONNECT Documentary Challenge: Civilian Alliance** on Vimeo
The Interrupters | A Film by Steve James and Alex Kotlowitz
The Interrupters (TheInterrupters) sur Twitter
The Waiting Room | A Film & Social Media Project About Health Care
The Prism GR 2010
GROUP: A Documentary Web Series by David Sutcliffe
American Urbex - A Little WebDocumentary About Urban Exploration
On the ground Reporter - Choose your language
North End Interactive on Vimeo
To Be Heard | A Documentary
#18DaysInEgypt
Documentary + Game = Independent Transmedia Project called "THE GREAT WORK"
Civil War 150 — History.com Interactive Games, Maps and Timelines
Spent | WEBDOCU.fr, webdocumentaires et nouvelles formes de reportage
Grave 5, Row 21, Plot A - Omaha Beach, Normandy
Darfur Is Dying - Play mtvU's Darfur refugee game for change
Man With the Movie Camera
Mortified: Angst Written
Memoir - The Oral History
CANYONLANDS
Tiziano 360
City Sonic Toronto | Toronto Music Films | Location-Based Films
The Sack
Archive du blog » Cherry Blossoms – When war comes home
cherry blossoms
welcome to REHEARSING REALITY | an interactive docufragmentary
Blast Theory | Can You See Me Now?
and the Oil Spill Commission launch The Gulf Spill guide
..::BUCHAREST BELOW GROUND::.::A WEB DOCUMENTARY PRODUCED BY BOMBAY FLYING CLUB::. © 2008 ::.WWW.BOMBAYFC.COM.::_______________________________________________________________________________________________________________________________________________
Where is Gary? Join the search, find the truth!
The Iron Curtain Diaries - 1989 2009
Behind the Veil