Hype and street art
Art Crimes - The Writing on the Wall - graffiti art worldwide
MEAR ONE
CREEPN'CRAWL'S ARTIST MATT FRENCH | WeBringJustice's Blog
Matt French is a mad prolific artist, dedicated to the skateboard art. He's a real skateboarder too. He has lived his childhood in the 80′s so we have the same skate graphic inspirations and references. For me it's a kinda fresh Jim Phillips with a creepy twist!
studiobib
idothings.tk
And by the way, welcome to pearltrees. I hoppe you'll enjoy it... by bil Sep 27
I find it quite enjoyable! Thanks for it... by bil Sep 27
dear bil.... new at peraltrees. What do you think about my personal stencil blog???? by u.mass2001 Sep 27
whatifind.tk
SPRAY BEAST
Stussy - Jon Naar on Vimeo
The Walrus
sad-blog
hustler of culture
TheBlogIsMine Dot Com
Upper Playground | Art, Apparel, T-Shirts, Contemporary Art, Hoodies, Graffiti, New Eras, News, Blog, Street Art, Grotesk, David Choe, Sam Flores, Jeremy Fish, Estevan Oriol, Pushead, Usugrow
All Entries | Arkitip Intel
BaseNow
LIMITEDHYPE
- AO Art Observed™
PBLKS | audiovisual engineering and cultural waste
Editors' Blog
Returning to the New York charity circuit less than a week after the New York collections have ended can feel a bit like returning to school's varsity sport after just barely surviving pre-season training. Are you ready for your first match? The New Yorkers for Children fall gala Tuesday night was the first in many games to be played this season and a large roster showed up at Cipriani 42nd Street for the event, sponsored by CIRCA and St. John.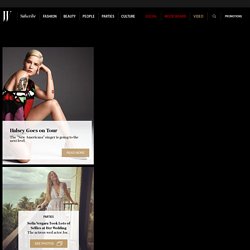 Ignored Prayers
FURNI — Home
Hint Fashion Magazine
Show &amp Tell Gallery