Hype and street art
Art Crimes - The Writing on the Wall - graffiti art worldwide
MEAR ONE
CREEPN'CRAWL'S ARTIST MATT FRENCH | WeBringJustice's Blog
Matt French is a mad prolific artist, dedicated to the skateboard art. He's a real skateboarder too. He has lived his childhood in the 80′s so we have the same skate graphic inspirations and references. For me it's a kinda fresh Jim Phillips with a creepy twist!
studiobib
idothings.tk
whatifind.tk
Following on from their vibrant site specific installation at the The Vestibule Gallery back in October, all girl collective Hysteria return with a new body of work for their upcoming exhibition of the same name at Soho's legendary patisserie Maison Bertaux. The UK collective of artists Shuby, Aida and Collagism will take over the patisserie's gallery space with a series of large scale joint panel works, collages and prints featuring each of the artists signature trademark images and icons brought together in the collaborative one-off artworks. We caught up with the collective at one of their studios in Hackney Wick earlier last month as they began the process of screen printing, cutting and painting all the images and elements which have been used to create the works. Wonky Cats, Wild Cats, Rainbow Iced Turbans, Bananas, Female Icons, animal prints and pink poodles were among some of the imagery we captured during our visit to the studio.
SPRAY BEAST
Stussy - Jon Naar on Vimeo
Weekend Watching: Chasing Ice (2012) Directed by Jeff Orlowski Follow National Geographic photographer James Balog across the Arctic as he deploys time-lapse cameras designed for one purpose: to capture a multi-year record of the world's changing glaciers. For The Armchair Tourist Google Street View: Angkor Remember when you had to look through encyclopedias to see what places looked like?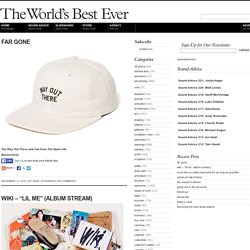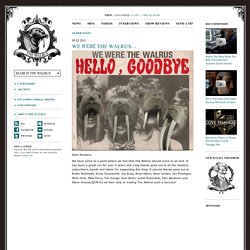 When I was in college back in the late '90s, my friends and I were obssessed with the legendary and unfinished Beach Boys SMiLE "album". Like many other SMiLE-enthusiasts we tried to re-construct what COULD HAVE BEEN the greatest pop album of all time. This growing phenomenon unintentionally turned it into what some may call the world's first "interactive album", an idea which makes perfect sense considering that Wilson originally recorded the music in a modular fashion. Culled from various bootlegs and box sets that we had, my friends and I would make our own "SMiLE mixes" (with CDs and cassettes!) – album length versions of how we imagined the legendary, unfinished album would have been sequenced. For us and the rest of the Beach Boys SMiLE community this became a ritual and an obsession that.
hustler of culture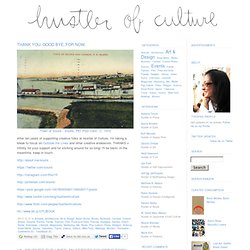 Join MOCA for the book launch of OUTSIDE THE LINES: An Artists Coloring Book for Giant Imaginations SATURDAY, SEPTEMBER 21, 3–6pm The MOCA Store at MOCA Grand AvenueFREE Join us for the book launch of OUTSIDE THE LINES: An Artists' Coloring Book for Giant Imaginations, a striking collection of illustrations from more than 100 creative masterminds, including animators, cartoonists, fine artists, graphic artists, illustrators, musicians, outsider artists, photographers, street artists, and video game artists, curated by Souris Hong-Porretta. Enjoy DJ sets by Shepard Fairey and JEGA as well as activity stations for drawing and coloring.
TheBlogIsMine Dot Com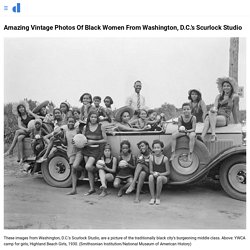 If you think Star Wars was fiction, then think again, because the characters are alive, right under our nose. This is exactly what Zahir Batin portraits in this photo series, he used his Star Wars figures and placed them in nature or recreated backgrounds to seem as if they have a life of their own. Continue reading "Minature Star Wars Adventures" » It's been just over a month since KTM took an outstanding 1-2 finish in the notorious Dakar rally and the Austrian manufacturer is excited to announce that the all-new KTM 450 Rally Replica machine will be available very soon for customers to purchase. Continue reading "KTM 450 Dakar Rally Replica Bike" » Lifta was designed with three goals in mind: lift your computer to the proper ergonomic height, offer a place to store peripherals, and keep your desk tidy.
All Entries | Arkitip Intel
Reported by Arkitip, Inc., 23 July 2013, 11:48 AM We are proud to announce our 59th printed issue edition around Jason Baffa's new surf film titled; Bella Vita. The film chronicles surfer, environmentalist and artist, Chris Del Moro on a pilgrimage back to his homeland of Italy along with friends and fellow surfers, revealing all the beauty of the country and of life that they encounter on the way. For the first time in our long publishing history, we are going to produce an issue edition to coincide with the release of a film. The Arkitip issue edition will celebrate the beauty of this film in print as well as revealing the back story of how it came about.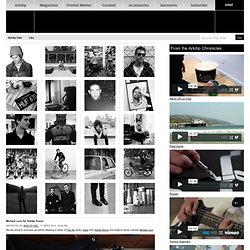 BaseNow
LIMITEDHYPE
- AO Art Observed™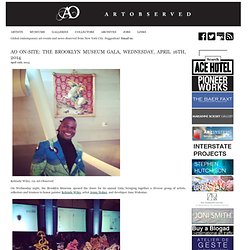 London – Yutaka Sone at David Zwirner Through January 25th, 2014 January 17th, 2014 Yutaka Sone (Installation View), via David Zwirner Yutaka Sone's marble scale-models of some of the world's most famous island cities are now on display at David Zwirner's London gallery. The show, entitled Sculpture, includes replica banana trees and three of Sone's city replicas: Hong Kong Island (Chinese) (1998), Little Manhattan (2007–2009), and Venezia (2013, brought together for the first time.
PBLKS | audiovisual engineering and cultural waste
Editors' Blog
Returning to the New York charity circuit less than a week after the New York collections have ended can feel a bit like returning to school's varsity sport after just barely surviving pre-season training. Are you ready for your first match? The New Yorkers for Children fall gala Tuesday night was the first in many games to be played this season and a large roster showed up at Cipriani 42nd Street for the event, sponsored by CIRCA and St. John.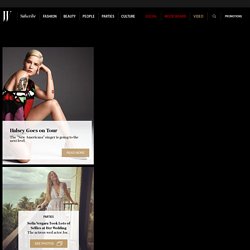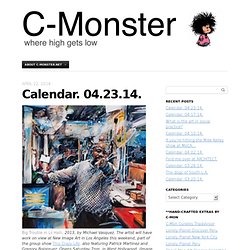 The Mike Kelley show at MOCA Geffen has a whole lot of everything going on: child nightmare videos, weird banners, scary stuffed animal sculptures, night-light installations of the fictional Kandor, and architectural models of every school Kelly ever went to. There's also his "Chinatown Wishing Well," above, his tribute, to a similarly garish fountain located in L.A.'s Chinatown. It's a lot to absorb. But while you're at it, don't forget to take a peek under and inside many of his pieces, since they often seem to contain little surprises. Under the architectural models, you'll find a mattress; a pink dresser hides books about sex and a packet of birth control pills; and inside the "Wishing Well" is a mattress, a box of Kleenex, some candles and tub of Vaseline.
Ignored Prayers
You know Frank —he's been writing about menswear, sales, television, new shops, the recession, Lisa Loeb , the Golden Girls and getting blasted for Racked for over two years. Well, we think it's time you got to know him and his quirky-irreverent views on life and fashion even better with his column: Love, Frank . Taking the form of an open letter and always signed with love, Frank will rant about whatever style-related conundrum he encounters in a given week.
FURNI — Home
Hint Fashion Magazine
1 http://www.hintmag.com/?open=feature-2011128 {*style:<a href='javascript:open_2011128();'>*}Wallflower Power Assert your right to blend in. Photos by Adam Leon + Max Hirschberger 1 http://www.hintmag.com/?open=feature-1955639 {*style:<a href='javascript:open_1955639();'>*}Before I Go to Sleep Inspired by the film of the same name, here's the story of a woman who lost her memory and reclaims her identity through her fashion choices. By Marco Hülsebus 0 http://www.hintmag.com/shoots/video/futureofflesh/futureofflesh.html VIDEO The Future of Flesh Jane Fonda narrates an eerie vision of the future, when our bodies are altered to fit the style of the season. Clothes by Prada. 1 http://www.hintmag.com/?
Show &amp Tell Gallery
Cooper Cole Vanessa Maltese April 10 - May 10, 2014