Hype and street art
Art Crimes - The Writing on the Wall - graffiti art worldwide. MEAR ONE. CREEPN'CRAWL'S ARTIST MATT FRENCH | WeBringJustice's Blog. Matt French is a mad prolific artist, dedicated to the skateboard art.
He's a real skateboarder too. He has lived his childhood in the 80′s so we have the same skate graphic inspirations and references. For me it's a kinda fresh Jim Phillips with a creepy twist! I Love Graffiti DE. Studiobib.
Geeky street art
Idothings.tk. Whatifind.tk. Hookedblog — UK Street Art. SPRAY BEAST. Stussy - Jon Naar. The World's Best Ever:design, fashion, art, music, photography. We make money not art. The Walrus. Hustler of culture. SubmarineChannel.com. TheBlogIsMine Dot Com. Design You Trust. All Entries | Arkitip Intel. BaseNow. LIMITEDHYPE.
- AO Art Observed™ PBLKS | audiovisual engineering and cultural waste. Editors' Blog. Returning to the New York charity circuit less than a week after the New York collections have ended can feel a bit like returning to school's varsity sport after just barely surviving pre-season training.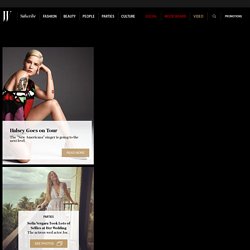 Are you ready for your first match? The New Yorkers for Children fall gala Tuesday night was the first in many games to be played this season and a large roster showed up at Cipriani 42nd Street for the event, sponsored by CIRCA and St. John. C-MONSTER.net. Ignored Prayers. BOOOOOOOM! - CREATE * INSPIRE * COMMUNITY * ART * DESIGN * MUSIC * FILM * PHOTO * PROJECTS. Stereogum - Indie Music News. Home | Juxtapoz Magazine. Racked National : The National Shopping, Stores, and Retail Scene Blog. FURNI — Home.
Hint Fashion Magazine. Show &amp Tell Gallery. Street_art. Streetfiles.org | Graffiti & Streetart Photo sharing. STREET ART.
---