Humantrafficking
HumanTrafficking.org. Human trafficking online, human rights policies, Human Trafficking Search. STOP THE TRAFFIK | People shouldn't be bought and sold. 10 Countries With The Most Slaves. 25 Painfully Disturbing Facts About Human Trafficking. Loose the Chains Blog. CARE welcomes the news that Peers from across all parties have voted to introduce child trafficking guardians this afternoon in an amendment to the Immigration Bill in the House of Lords.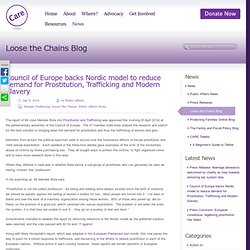 Following pressure from a coalition of charities including CARE, Peers have voted by 282 to 184 to give greater protection to trafficked children who, once rescued, often find themselves at risk of further abuse and the horror of being re-trafficked. Opposing the amendment, the Minister Lord Taylor of Holbeach focussed on advocate schemes which the Government will be trialling later this year. However, Peers were not convinced that those schemes would be sufficient and voted instead for child trafficking guardians with a legally recognised role, defeating the Government by nearly 100 votes.
More Than Rice – Human Trafficking Book by Pamala Kennedy Chestnut. Human trafficking. Human trafficking is the trade in humans, most commonly for the purpose of sexual slavery, forced labor or commercial sexual exploitation for the trafficker or others;[1][2] or for the extraction of organs or tissues,[3][4] including surrogacy and ova removal;[5] or for providing a spouse in the context of forced marriage.[6][7][8] Human trafficking can occur within a country or trans-nationally.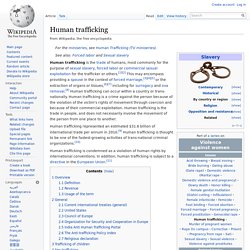 Human trafficking is a crime against the person because of the violation of the victim's rights of movement through coercion and because of their commercial exploitation. Human trafficking is the trade in people, and does not necessarily involve the movement of the person from one place to another. Human trafficking represents an estimated $31.6 billion of international trade per annum in 2010.[9] Overview[edit] Helping victims of trafficking access effective remedies. Millions of people around the world fall victim to human traffickers.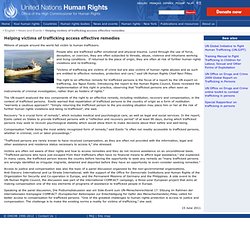 People who are trafficked suffer emotional and physical trauma. Lured through the use of force, deception, or coercion, they are often subjected to threats, abuse, violence and inhumane working and living conditions. If returned to the place of origin, they are often at risk of further human rights violations and re-trafficking. Hope For Every Girl (Anti-Slavery Day) Dir journal. Scientology is a religion created by L.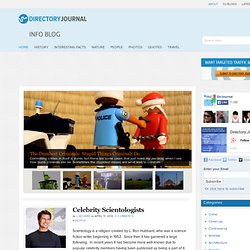 Ron Hubbard, who was a science fiction writer beginning in 1952. Since then it has garnered a large following. In recent years it has become more well-known due to popular celebrity members having been publicized as being a part of it. PEOPLE TRAFFICKING Interview w/ Steve Chalke of Stop The Traffick. The ugly truth of human trafficking. Human trafficking is a global problem where men, women and children are transported for the purposes of slavery, prostitution, forced labor and servitude.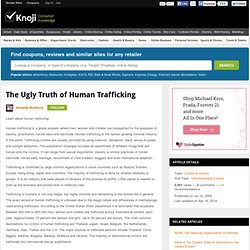 Human trafficking is the fastest growing criminal industry in the world. Trafficking victims are usually recruited by using coercion, deception, fraud, abuse of power and outright abduction. The exploitation of people includes an assortment of different things that are forced onto the victims. Ashraya Mission. The Human Trafficking Project. The Price of Tomatoes: Keeping Slavery Alive in Florida. Driving from Naples, Florida, the nation's second-wealthiest metropolitan area, to Immokalee takes less than an hour on a straight road.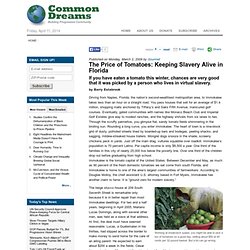 You pass houses that sell for an average of $1.4 million, shopping malls anchored by Tiffany's and Saks Fifth Avenue, manicured golf courses. Eventually, gated communities with names like Monaco Beach Club and Imperial Golf Estates give way to modest ranches, and the highway shrivels from six lanes to two. Through the scruffy palmettos, you glimpse flat, sandy tomato fields shimmering in the broiling sun. Rounding a long curve, you enter Immokalee. Coalition Against Trafficking in Women - Stop Human Trafficking. Handprint. Slavery and Human Trafficking - What you need to know. Forced to fish: Slavery on Thailand's trawlers. 23 January 2014Last updated at 18:11 ET By Becky Palmstrom BBC News, Thailand Human Rights Watch says the use of forced labour on the boats is "systematic" and "pervasive" Thailand is the third largest exporter of seafood in the world, supplying supermarkets in Europe and America, but it's accused of crewing fishing boats with Burmese and Cambodian men who've been sold and forced to work as slaves.
Military music is pumping out into the tropical sunshine. In front of us are some 100 police officers standing in rows, and two heavily armed SWAT teams standing at attention. WalkFree.org. The 21st-Century Slave Trade. Trafficking. Trafficking involves transporting people away from the communities in which they live and forcing them to work against their will using violence, deception or coercion.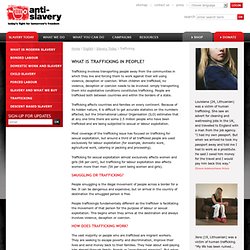 When children are trafficked, no violence, deception or coercion needs to be involved: simply transporting them into exploitative conditions constitutes trafficking. People are trafficked both between countries and within the borders of a state. The BetterWorld Project. Trade Justice Movement. Not For Sale: End Human Trafficking and Slavery. Olaudah Equiano. Olaudah Equiano (c. 1745 – 31 March 1797)[1] also known as Gustavus Vassa, was a prominent African involved in the British movement for the abolition of the slave trade.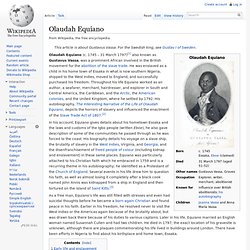 He was enslaved as a child in his home town of Essaka in what is now southern Nigeria, shipped to the West Indies, moved to England, and successfully purchased his freedom. Throughout his life Equiano worked as an author, a seafarer, merchant, hairdresser, and explorer in South and Central America, the Caribbean, and the Arctic, the American colonies, and the United Kingdom, where he settled by 1792. His autobiography, The Interesting Narrative of the Life of Olaudah Equiano, depicts the horrors of slavery and influenced the enactment of the Slave Trade Act of 1807.[2] Early life and enslavement[edit]
Anti slavery. Abolitionism is a movement to end slavery, whether formal or informal.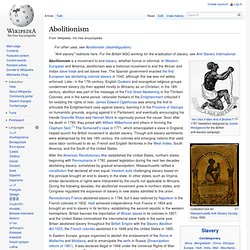 In Western European and America, abolitionism was a historical movement to end the African and Indian slave trade and set slaves free. The Spanish government enacted the first European law abolishing colonial slavery in 1542, although this law was not widely enforced. Later, in the 17th century, English Quakers and evangelical religious groups condemned slavery (by then applied mostly to Africans) as un-Christian; in the 18th century, abolition was part of the message of the First Great Awakening in the Thirteen Colonies; and in the same period, rationalist thinkers of the Enlightenment criticized it for violating the rights of man. Welcome to the A21 Campaign.
Salon.com. Hope for Justice : Hope for Justice. Christian Action. Tearfund. WFP | United Nations World Food Programme - Fighting Hunger Worldwide. The UN Refugee Agency. Amnesty International - working to protect human rights worldwide. STOP THE TRAFFIK blog spot.
---