Humantrafficking
Nicholas D. Kristof Meena Khatum, right, had to fight against brothel owners to be reunited with her son, Vivek. Anyone who thinks that the word "slavery" is hyperbole when used to describe human trafficking today should meet Meena Khatun. She not only endured the unbearable, but has also shown that a slave trader's greed sometimes is no match for a mother's love.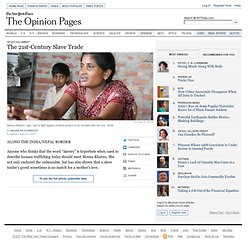 The 21st-Century Slave Trade
Trafficking involves transporting people away from the communities in which they live and forcing them to work against their will using violence, deception or coercion. When children are trafficked, no violence, deception or coercion needs to be involved: simply transporting them into exploitative conditions constitutes trafficking. People are trafficked both between countries and within the borders of a state.
Anti-Slavery - Trafficking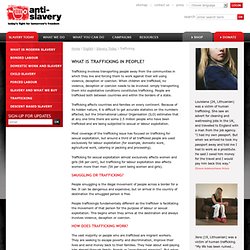 The BetterWorld Project
Trade Justice Movement
Olaudah Equiano (c. 1745 – 31 March 1797) [ 1 ] also known as Gustavus Vassa , was a prominent African involved in the British movement for the abolition of the slave trade . He was enslaved as a child, purchased his freedom, and worked as an author, merchant, and explorer in South America , the Caribbean , the Arctic , the American colonies , and the United Kingdom , where he settled by 1792. His autobiography, The Interesting Narrative of the Life of Olaudah Equiano , depicts the horrors of slavery and influenced the enactment of the Slave Trade Act of 1807 . [ 2 ] [ edit ] Early life and enslavement According to his own account, Olaudah Equiano was born in 1745 to the Igbo people in the region now known as Nigeria .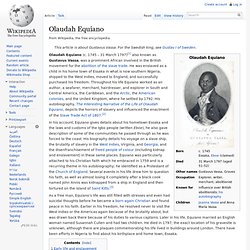 Olaudah Equiano
Anti slavery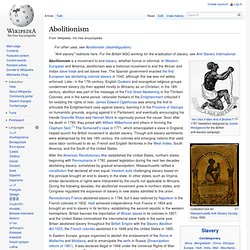 Abolitionism , used as a single word, was a movement to end slavery , whether formal or informal. The term has become adopted by those seeking the abolishment of any perceived injustice to a group of people. There are abolition movements to end human trafficking, the sex slave trafficking, abortion, children used in war, and many others. In Western Europe and the Americas, abolitionism was a historical movement to end the African slave trade and set slaves free. Although European colonists, beginning with the Spanish, initially enslaved natives, the Dominican priest Bartolomé de las Casas helped convince the Spanish government to enact the first European law abolishing colonial slavery in 1542; Spain weakened these laws by 1545.
Welcome to the A21 Campaign
Hope for Justice : Hope for Justice
Christian Action
Tearfund
The UN Refugee Agency
STOP THE TRAFFIK blog spot