North America
24 Disgustingly Delicious Photos Of The Heart Attack Grill
Yosemite HD on Vimeo
Mardi Gras in New Orleans
Las Vegas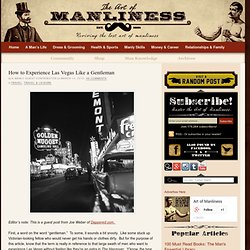 Editor's note: This is a guest post from Joe Weber of Dappered.com. First, a word on the word "gentleman." To some, it sounds a bit snooty. Like some stuck up Victorian-looking fellow who would never get his hands or clothes dirty.
How to Experience Las Vegas Like a Gentleman
Super Bowl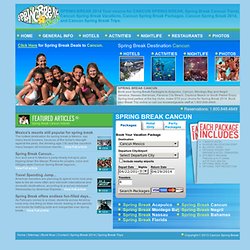 Spring Break Cancun
Mexico's resorts still popular for spring break The hottest destination for spring break is Mexico, say many travel bookers, because of the dollar's strength against the peso, the drinking age (18) and the country's many bargain all-inclusive resorts.... View Full article Spring Break Cancun... Sun and sand in Mexico's party-hearty hot-spot, plus tripping down the Mayan Riviera for jungles, ruins and Gilligan-style Cancun Spring Break lagoons...View Full article Travel Spending Jump...
2014 Art Theme: Caravansary For centuries, Silk Route travelers crossed paths in caravansaries, bustling caravan stops offering more than just shelter from the desert wilderness; they were vital centers of cultural exchange, bringing together traders, pilgrims, monks, nomads, traveling entertainers, and wild-eyed adventurers from all points of the compass to share their stories around a common fire. What Is Burning Man? Once a year, tens of thousands of participants gather in Nevada's Black Rock Desert to create Black Rock City, dedicated to community, art, self-expression, and self-reliance.
Burning Man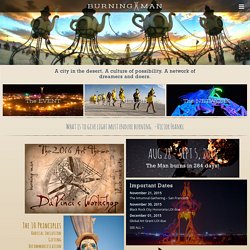 Burning Man 2011 - The Man Burns - Photo by Scott London