Surveys on mobile uses
Crawford_2010_MoveableTypes.pdf. Hold the Phone: A Big-Data Conundrum. Photo Economic View By SENDHIL MULLAINATHAN One advantage of being a professor is that you can ramble about your eccentric theories to a captive audience.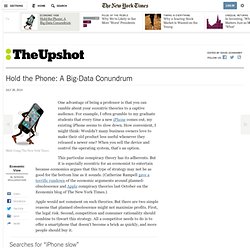 For example, I often grumble to my graduate students that every time a new comes out, my existing iPhone seems to slow down. Le logiciel de téléphonie mobile qui défie le contrôle des Etats. LE MONDE | • Mis à jour le | Par Yves Eudes Depuis quelques semaines, les propriétaires d'un téléphone mobile équipé du système Android peuvent télécharger gratuitement un logiciel baptisé Serval.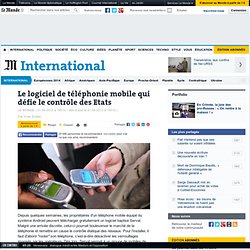 Malgré une arrivée discrète, celui-ci pourrait bouleverser le marché de la téléphonie et remettre en cause le contrôle étatique des réseaux. Pour l'installer, il faut d'abord "rooter" son téléphone, c'est-à-dire désactiver les verrouillages imposés par les opérateurs. Dès lors, Serval permet à un groupe de mobiles de se connecter directement, sans carte SIM ni antenne relais. Selfiecity. The Selfie: Making sense of the "Masturbation of Self-Image" and the "Virtual Mini-Me" Alise Tifentale, The Graduate Center, CUNY This essay reviews some of the most recent debates on the selfie phenomenon and places it into a broader context of photographic self-portraiture, investigating how the Instagrammed selfie differs from its precursors.
Newspapers are lagging behind in the mobile traffic boom. The Internet is becoming an increasingly mobile medium, but it appears that newspaper publishers are not only struggling to make the transition, they're falling behind.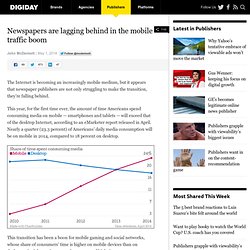 This year, for the first time ever, the amount of time Americans spend consuming media on mobile — smartphones and tablets — will exceed that of the desktop Internet, according to an eMarketer report released in April. Nearly a quarter (23.3 percent) of Americans' daily media consumption will be on mobile in 2014, compared to 18 percent on desktop. Mobile marketing statistics 2014. Statistics on mobile usage and adoption to inform your mobile marketing strategy "Mobile to overtake fixed Internet access by 2014" was the huge headline from the widely shared infographic at the end of this post summarising the bold prediction from 2008 by Mary Meeker, an analyst at Kleiner Perkins Caufield Byers who reviews technology trends annually in May (see latest KPCB technology trends).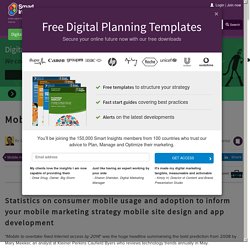 To help you keep up-to-date with the rise in consumer and company adoption of mobile and its impact on mobile marketing, Dave Chaffey, Rob Thurner and I will be keeping this post updated throughout 2014 as the new stats come through to support our New 120 page Expert members Ebook explaining how to create a mobile marketing strategy. We also have a free summary mobile briefing for Basic members. The mobile war is over and the app has won: 80% of mobile time spent in apps | VentureBeat | Mobile | by John Koetsier. Only 20 percent of American consumers' time on mobile devices is spent on the web.
A massive majority, 80 percent, is spent in apps: games, news, productivity, utility, and social networking apps. Turns out, it's an app world, after all. According to app analytics firm Flurry , which tracks app usage on a staggering 300,000 apps on over a billion active mobile devices, we spend an average of 158 minutes each and every day on our smartphones and tablets. Smartphones: The Silent Killer Of The Web As You Know It. The PC is dying, long live the PC!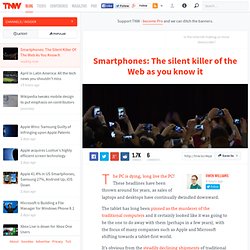 These headlines have been thrown around for years, as sales of laptops and desktops have continually dwindled downward. The tablet has long been pinned as the murderer of the traditional computers and it certainly looked like it was going to be the one to do away with them (perhaps in a few years), with the focus of many companies such as Apple and Microsoft shifting towards a tablet-first world.
It's obvious from the steadily declining shipments of traditional computers and companies exiting the PC market, that it's not looking good for PCs, with tablets regularly eating into computer shipments year on year. Microsoft Word - white_paper_c11-520862.docpdf - white_paper_c11-520862.pdf. "Synthetic Records" Make Cell-Phone Data Safe to Mine. Researchers at AT&T, Rutgers University, Princeton, and Loyola University have devised a way to mine cell-phone data without revealing your identity, potentially showing a route to avoiding privacy pitfalls that have so far confined global cell-phone data-mining work to research labs.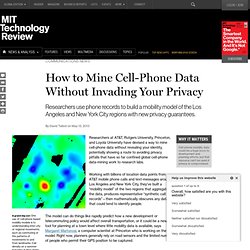 Working with billions of location data points from AT&T mobile phone calls and text-messages around Los Angeles and New York City, they've built a "mobility model" of the two regions that aggregates the data, produces representative "synthetic call records"—then mathematically obscures any data that could tend to identify people. The model can do things like rapidly predict how a new development or telecommuting policy would affect overall transportation, or it could be a new tool for planning at a town level where little mobility data is available, says Margaret Martonosi, a computer scientist at Princeton who is working on the model.
Unique in the Crowd: The privacy bounds of human mobility : Scientific Reports. Uniqueness of human mobility In 1930, Edmond Locard showed that 12 points are needed to uniquely identify a fingerprint30.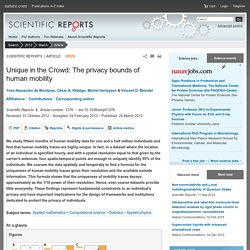 Our unicity test estimates the number of points p needed to uniquely identify the mobility trace of an individual. Peut-on fouiller les données des téléphones mobiles en respectant la vie privée. Par Hubert Guillaud le 25/06/13 | 5 commentaires | 2,766 lectures | Impression Les métadonnées de nos téléphones mobiles sont extrêmement parlantes.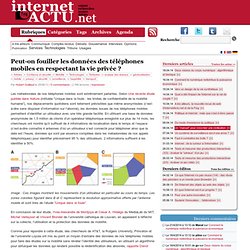 Selon Une récente étude publiée dans Nature (intitulée "Unique dans la foule : les limites de confidentialité de la mobilité humaine"), nos déplacements quotidiens sont tellement prévisibles que même anonymisées (c'est-à-dire sans disposer d'information sur l'abonné), les données issues de nos téléphones mobiles permettent d'identifier un utilisateur avec une très grande facilité. Sur la touche. LE MONDE | • Mis à jour le | Marlène Duretz Tu vas me lâcher ce smartphone ? Non, pas à table. Non, pas sous l'oreiller. Non, pas dans ton bain. PIP_CellActivities_11.25.pdf. PIP_TeensandTechnology2013.pdf. Mon cerveau d'avant Internet me manque de plus en plus. Je suis devenue une créature fébrile et frénétique, une zébulonne en surchauffe perpétuelle, incapable de ne faire qu'une chose à la fois.
Maintenant, quand j'ai envie de recommander un livre, au lieu de me fatiguer à synthétiser le propos de l'auteur, à le décortiquer et à le commenter, à le mettre en relation avec des lectures passées, je balance deux lignes sur Facebook ou sur Twitter : « Lisez ça, c'est super. » Une grande avancée pour la finesse de la pensée et la richesse du vocabulaire. Making of. Qu'est-ce que nos mobiles nous permettent de partager. Par Hubert Guillaud le 14/02/13 | 5 commentaires | 2,700 lectures | Impression Alors qu'ils servent de moins en moins à passer des coups de téléphone, à quoi servent donc nos téléphones mobiles… Comment débloquer leurs potentiels créatifs ?
Comment les utilisateurs et les designers les adaptent-ils à des fins inattendues ? Telle était l'interrogation qui servait de fil conducteur à cette session de la dernière édition de la conférence Lift. Besoin de tangible ? Communications using cellular phone. Cell Phones and Their Technosocial Sites of Engagement. Abstract This paper provides examination of the effects of widespread mobile telephony on the social and spatial relations of individuals in the postmodern state.
This is the realm of cyborg anthropology, which, according to co-developer Donna Haraway, "explores the production of humanness through machines" (Gray 1993:342). The widespread adoption of the cell phone has morphed five aspects that Zygmunt Bauman (2000) considered to be the basis of share human life: emancipation, individuality, time/space, community, and work. Changes to individuality and community can be described through an analysis of the constructions of public and private space. Amber Case : Nous sommes tous des cyborgs aujourd'hui. Oubliez l'iPhone : dites "je t'aime" "Ne dites pas iPod, mais je t'aime", titrait récemment le Globe & Mail : selon deux études, publiées dans le numéro de décembre du Journal of Consumer Research, le matérialisme des adolescents serait moins du à la pression sociale et au marketing qu'à leur mauvaise estime de soi. Vers 12-13 ans, ils auraient en effet tendance à penser qu'ils se sentiront mieux, et seront mieux acceptés par leurs pairs, en cumulant gadgets et produits de marques, alors qu'il suffirait, selon des expériences validées par les chercheurs impliqués, de les complimenter, de leur montrer qu'ils sont appréciés par les autres adolescents, ainsi que par leurs familles, pour faire baisser cette fringale consumériste.
Pire : les parents qui valideraient ce matérialisme en leur achetant ce qu'ils désirent contribueraient à rabaisser leur estime de soi en validant l'idée qu'ils ne sont que ce qu'ils possèdent. Cell/Smartphones and risk management-Camille Bonazzi. Mobile. New Digital Mobile Consumer Study, Global Mobile Trend September 2012 - TCS. Be-Bound : application pour se connecter au web à l'étranger grâce aux SMS ! Stick-n-find | Never lose your keys again! Jan Chipchase: The anthropology of mobile phones.
Dan Swinhoe (Global) - The App Revolution: How this Varies By Market. Les smartphones ont-ils tué l'ennui. Salle de presse • Communiqué de presse. 2,3 milliards d'internautes dans le monde. Our Mobile Society. Les smartphones ont-ils tué l'ennui. Have smartphones killed boredom (and is that good)? Intel - 2012 State of Mobile Etiquette and Digital Sharing Around the World. Se garer grâce au smartphone, la fausse bonne idée ? The IRL Fetish. Cutting the Digital Lifeline and Finding Serenity. Kathryn Cave (Global) - Workaholics Anonymous: Would You 'BlackBerry' From a Funeral? Le métro parisien, nouvel eldorado des accros au réseau. The Rise of Mobile - infographic. Global mobile statistics 2012 Part A: Mobile subscribers; handset market share; mobile operators.
Les terminaux mobiles ont effacé la frontière entre vie privée et travail - Mobilité. Featured Insights - The Rise of Multi-SIM Users.pdf (Objet application/pdf) This is Paris now. Beaucoup de comptes Twitter pour rien. (Presque) tous mobinautes. Le mobile et les pays émergents, les deux grands enjeux de Facebook. En Chine, l'Internet passe à l'heure du téléphone portable.
"Je suis rassuré de savoir que je peux survivre à 10 heures de coupure téléphonique" 2011_StephaneDauphinPierre.pdf (Objet application/pdf) Samsung TecTiles, des tags NFC programmables pour le Galaxy S3. 40 Percent of U.S. Mobile Users Own Smartphones; 40 Percent are Android.
[Infographic] How People Use iPhones and Androids in China. Angry Birds Addiction Infographic | AYTM Market Research. Report: The Rise of Smartphones, Apps and the Mobile Web. Survey: New U.S. Smartphone Growth by Age and Income. America's New Mobile Majority: a Look at Smartphone Owners in the U.S. Mobile Phones Dominate in South Africa. 40% of Tablet and Smartphone Owners Use Them While Watching TV. Case Studies. Gallery of Radar Graph. Mobile By The Numbers [INFOGRAPHIC] TNS - Mobile Life.
---