Optimisation sites
Joomla-SEO aims to provide you with a sample set-up to help you to optimize your Joomla website for Search Engines. SEO is a hot topic: if your site cannot be found in Google, Bing, Yahoo or other search engines, you have built your site for nothing, unless you have a specific audience that finds your sites without Google. We focus on: SEO for Joomla (on-site &off-site SEO) Your SEO checklist to fully optimize your site for Google.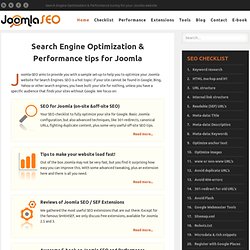 Joomla-SEO || Search Engine Optimization tips for Joomla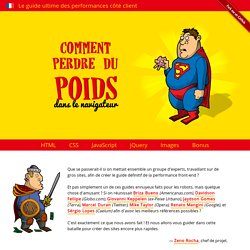 Que se passerait-il si on mettait ensemble un groupe d'experts, travaillant sur ​​de gros sites, afin de créer le guide définitif de la performance front-end ? Et pas simplement un de ces guides ennuyeux faits pour les robots, mais quelque chose d'amusant ? Si on réunissait Briza Bueno (Americanas.com), Davidson Fellipe (Globo.com), Giovanni Keppelen (ex-Peixe Urbano), Jaydson Gomes (Terra), Marcel Duran (Twitter), Mike Taylor (Opera), Renato Mangini (Google), et Sérgio Lopes (Caelum) afin d'avoir les meilleurs références possibles ? C'est exactement ce que nous avons fait !
Google vient d'annoncer sur un de ses blogs officiels une refonte de son moteur de recherche Google Images. La firme de Mountain View lancera d'ici quelques jours une toute nouvelle interface, plus claire, plus rapide et surtout plus efficace. Cette refonte est notamment inspirée des retours et critiques des utilisateurs et webmasters qui regrettaient la lenteur du service. Une recherche plus rapide, plus efficace, et plus ergonomique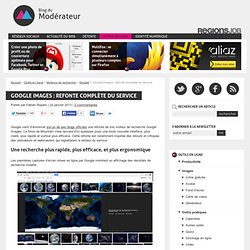 Google Images : refonte complète du service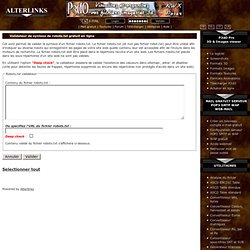 Cet outil permet de valider la syntaxe d'un fichier robots.txt. Le fichier robots.txt (et non pas fichier robot.txt) peut être utilisé afin d'indiquer au diverse robots qui enregistrent les pages de votre site web quelle contenu leur est accessible afin de l'inclure dans les moteurs de recherche. Le fichier robots.txt doit être placé dans le répertoire raccine d'un site web. Les fichiers robots.txt placés dans les sous-répertoires d'un site web ne sont pas valides. En utilisant l'option "Deep check", le validateur essaiera de valider l'existence des valueurs dans sitemap:, allow: et disallow: (utile pour detecter les fautes de frappes, répertoires supprimés ou encore des répertoires non protégés d'accès dans un site web)
Validateur de syntaxe de robots.txt gratuit en ligne
13.5.2.5 Syntaxe de OPTIMIZE TABLE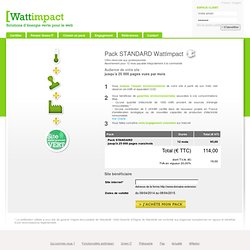 Pack green IT de base, certification green it - Calculer energie site web - Wattimpact
Offre réservée aux professionnels Abonnement pour 12 mois payable intégralement à la commande Audience de votre site : jusqu'à 25 000 pages vues par mois 1 Vous évaluez l'impact environnemental de votre site à partir de son trafic réel observé (en kWh et équivalent CO2) 2 Vous bénéficiez de garanties environnementales associées à vos consommations Web - Qu'une quantité d'électricité de 1000 kWh provient de sources d'énergie renouvelables * - Qu'une contribution de 3 c€/kWh certifié dans de nouveaux projets en France d'amélioration écologique ou de nouvelles capacités de production d'électricité renouvelable.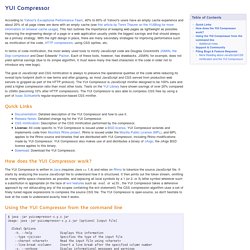 According to Yahoo!'s Exceptional Performance Team, 40% to 60% of Yahoo!'s users have an empty cache experience and about 20% of all page views are done with an empty cache (see this article by Tenni Theurer on the YUIBlog for more information on browser cache usage). This fact outlines the importance of keeping web pages as lightweight as possible. Improving the engineering design of a page or a web application usually yields the biggest savings and that should always be a primary strategy.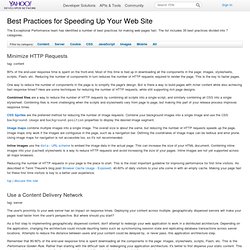 Best Practices for Speeding Up Your Web Site
The Exceptional Performance team has identified a number of best practices for making web pages fast. The list includes 35 best practices divided into 7 categories. Minimize HTTP Requests tag: content 80% of the end-user response time is spent on the front-end. Most of this time is tied up in downloading all the components in the page: images, stylesheets, scripts, Flash, etc.
HTTP Compression Test
Compressing your content saves bandwidth and improves render time, particular on devices with slow internet connections. But it also reduces load on your server. While it does take some amount of computer power to compress files on the fly, you save much more power by having your server doing fewer things at once.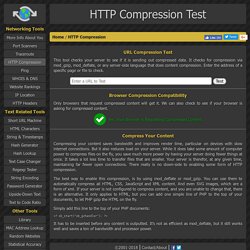 LocalMarketing GetListed Claim your local U.S. business listings on Google+ Local, Bing Local, Yelp, and other prominent local search engines. SocialAnalytics
WebTracer is an project based on the intention to visualise the structure of the web. There are many applications that analyse websites for structural integrity and diagnostic purposes, but few reveal the visual structure that web hypertext creates. Webtracer represents this structure as a three dimensional molecular diagram, with pages as nodes(atoms) and links as the strings(atomic forces) that connect those nodes together. Downloadwebtracer2.zip (PC) (approx 780k) UPDATE: I have changed the download file to include some .dll files that are needed to run the spider on some PCs.
[Nullpointer]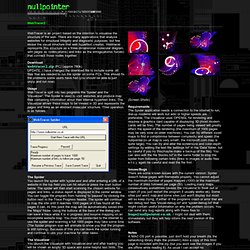 6 outils pour améliorer les performances d'un blog / site Web
Les internautes ne sont pas patients, c'est un fait ! Aussi, il est de notre devoir d'optimiser au maximum un site ou un blog afin de ne pas voir nos chers lecteurs partir comme des sauvages. Mais avant de l'optimiser, il faut déceler les problèmes. C'est justement l'idée de cet article, vous présenter 6 outils pour tester votre blog ou site Web afin d'en améliorer ses performances…
La prise de conscience sur le sujet des performances web évolue. Beaucoup d'équipes ont désormais appliqué quelques recettes de base, ou ont au moins un item dédié dans la liste des choses à faire. Il reste toutefois à passer une phase d'industrialisation. Lancer Yslow tous les mois à la main n'est pas toujours idéal. Cela implique de reporter des résultats manuellement et du coup de ne le faire que pour un nombre limité de pages. On se retrouve aussi à devoir trier les métriques pour y associer une priorité et ne pas se retrouver à devoir tout faire immédiatement.
Automatisation de Yslow | Performance web
The Exceptional Performance team has identified a number of best practices for making web pages fast. The list includes 35 best practices divided into 7 categories. Minimize HTTP Requests tag: content 80% of the end-user response time is spent on the front-end.