Green and Environment Stuff
Threats to Rainforests from Humankind. By Rhett Butler | Last updated July 27, 2012 The greatest cause of tropical rainforest destruction today comes from human activities, which, unlike natural damage, are unrelenting and thorough.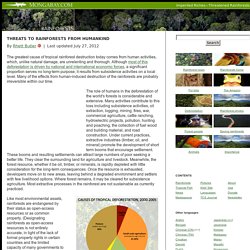 The Guerrilla Gardening Homepage. Recycle This - Creative ideas for reusing and recycling random stuff. Where recycling meets design. Category: Materials tires are to be found everywhere around the world, to discard them companies have to pay about so they are very willing to supply them. sources are bikes, scooters, cars, trucks, airplanes, agriculture Normally a tyre has a metal-mesh-wire lining in the thread to reinforce the surface off the tyre, and an eight mm metal wire along the bead to keep it on the wheel.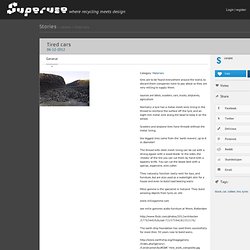 Green design will save the world | Inhabitat - Part 2. In a furniture lineup, few chairs are be as recognizable as the Eames Molded Fiberglass Chair.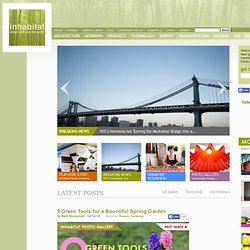 This design, by everyone's favorite Modernist design duo Charles and Ray Eames, has become one of the most exalted works of mid-century modernism, sought after by design enthusiasts everywhere. First released in 1950 by Herman Miller, the Eames chair shell was originally manufactured in fiberglass but the material was eventually abandoned in the 1990s due to concerns associated with fiberglass being, in Ray Eames' words, "detrimental to the environment". Though the chair has continued to be produced in 100% recyclable polypropylene, collectors' love for the original fiberglass iteration has stayed strong throughout the decades, prompting Herman Miller to see if they could come up with a more sustainable version of the original fiberglass shell.
Relaxshax's Blog. A Low Impact Woodland Home. RowdyKittens — social change through simple living. Froogles: The New Challenge to Rampant Consumerism. Last week Laura Cousins chose to make some soap.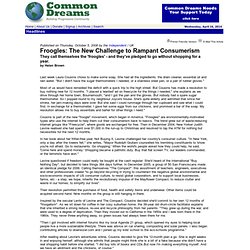 She had all the ingredients: the drain cleaner, essential oil and rain water. "But I didn't have the sugar thermometers I needed, or a stainless steel pan, or a pair of rubber gloves. " Most of us would have remedied the deficit with a quick trip to the high street. But Cousins has made a resolution to buy nothing new for 12 months. "I placed a 'wanted' ad on freecycle for the things I needed," she explains as we drive through her home town, Bournemouth, "and I got the pan and the gloves. No Impact Man. Dear friends, I don't say this often but I am scared.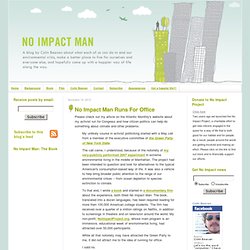 Not scared to the point of paralysis. Not scared enough to run away. The urban guide to being self sufficient'ish. Popular | Environmental Graffiti. Exploring the simple life, Clay and Judy Woods Homepage. Choose Simplicity Thoughts on Voluntary Simplicity Welcome to Clay and Judy Woods' homepage.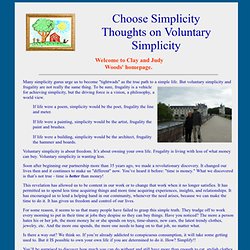 Many simplicity gurus urge us to become "tightwads" as the true path to a simple life. But voluntary simplicity and frugality are not really the same thing. To be sure, frugality is a vehicle for achieving simplicity, but the driving force is a vision, a philosophy, a world view. If life were a poem, simplicity would be the poet, frugality the line and meter. If life were a painting, simplicity would be the artist, frugality the paint and brushes. A Low Impact Woodland Home. Reuze.co.uk : new products made from recycled waste materials : reduce reuse recycle. Products made from recycled waste It's not just odd or unusual products that are made from recycled waste.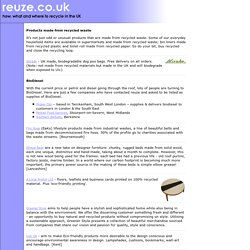 Some of our everyday household items are available in supermarkets and made from recycled waste; bin liners made from recycled plastic and toilet roll made from recycled paper. So do your bit, buy recycled and close the recycling loop. dGrade - UK made, biodegradable dog poo bags.
---