Photoshop
Photoshop Button Maker. In this simple tutorial, we're going to create a clever little way of making little buttons using a couple of layers and one interchangeable image layer.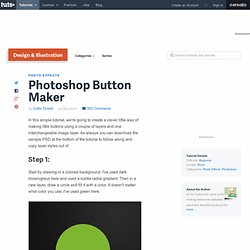 As always you can download the sample PSD at the bottom of the tutorial to follow along and copy layer styles out of. Step 1: Mastering Complex Selections in Photoshop. Having the ability to effectively extract an image from its background is an essential skill for any designer, photographer, or creative professional.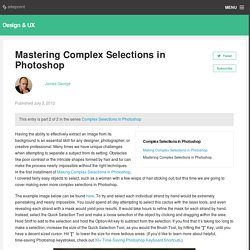 Many times we have unique challenges when attempting to separate a subject from its setting. Obstacles like poor contrast or the intricate shapes formed by hair and fur can make the process nearly impossible without the right techniques. In the first installment of Making Complex Selections in Photoshop, I covered fairly easy objects to select, such as a woman with a few wisps of hair sticking out, but this time we are going to cover making even more complex selections in Photoshop. The example image below can be found here.
Photoshop : For Windows. 10 Must-Have Photoshop Plugins That Are Free. I'm a professional landscape photographer living on the coast of Maine.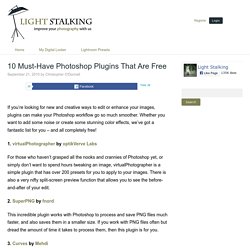 Through my work, I like to show a vantage point that is rarely seen in reality; a show of beauty, emotion, and serenity. Feel free to visit my website. By Christopher O'Donnell on in Photography Software. Using the Photoshop Curves Tool. The Photoshop curves tool is perhaps the most powerful and flexible image transformation, yet it may also be one of the most intimidating.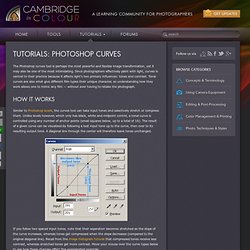 Since photographers effectively paint with light, curves is central to their practice because it affects light's two primary influences: tones and contrast. Tonal curves are also what give different film types their unique character, so understanding how they work allows one to mimic any film — without ever having to retake the photograph. Similar to Photoshop levels, the curves tool can take input tones and selectively stretch or compress them. Unlike levels however, which only has black, white and midpoint control, a tonal curve is controlled using any number of anchor points (small squares below, up to a total of 16). The result of a given curve can be visualized by following a test input tone up to the curve, then over to its resulting output tone. Image Posterization. Posterization occurs when an image's apparent bit depth has been decreased so much that it has a visual impact.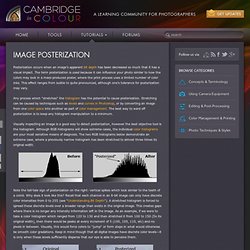 The term posterization is used because it can influence your photo similar to how the colors may look in a mass-produced poster, where the print process uses a limited number of color inks. This effect ranges from subtle to quite pronounced, although one's tolerance for posterization may vary. Any process which "stretches" the histogram has the potential to cause posterization. Alien Skin Software, LLC Photoshop Photo and Design Plugins. Photo collage creation with AKVIS Chameleon. For Win and Mac OS X. AKVIS Chameleon is an efficient tool for photo collage creation.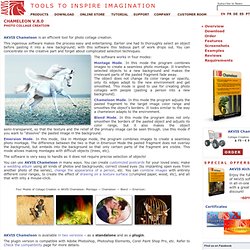 This ingenious software makes the process easy and entertaining. Earlier one had to thoroughly select an object before pasting it into a new background; with this software this tedious part of work drops out. Noise Ninja: The gold standard for image noise reduction. Pixel Bender release notes. Pixel Bender Toolkit Important note: Users who downloaded and installed Pixel Bender Toolkit 2.1 from the Pixel Bender Technology Center must follow the steps in the Pixel Bender Toolkit 2.1 Installer Fix Readme (PDF, 26 KB) before downloading and installing Pixel Bender Toolkit 2.5.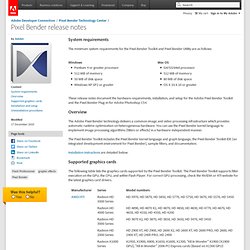 The following links are referred to in the above ReadMe PDF file: Users who received the Pixel Bender Toolkit 2.1 via the Adobe Application Manager, or who never installed Pixel Bender Toolkit 2.1, can proceed with the installation of Pixel Bender Toolkit 2.5, as described below. For any questions or problems related to these instructions, please visit the Pixel Bender forum. To install the Pixel Bender Toolkit in Windows: Free Photoshop Patterns. Advertisement Photoshop users can save themselves a great deal of time and end up with better results by taking advantage of readily available freebies, such as brushes, patterns and shapes.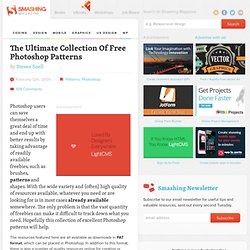 With the wide variety and (often) high quality of resources available, whatever you need or are looking for is in most cases already available somewhere. The only problem is that the vast quantity of freebies can make it difficult to track down what you need. Hopefully this collection of excellent Photoshop patterns will help. 51 High Quality Free Texture Packs To Download. Resources June 23, 2011 Use of texture in web design is extremely common.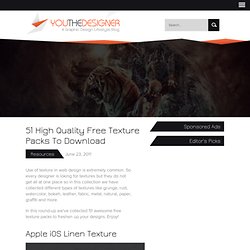 So every designer is loking for textures but they do not get all at one place so in this collection we have collected different types of textures like grunge, rust, watercolor, bokeh, leather, fabric, metal, natural, paper, graffiti and more. In this round-up we've collected 51 awesome free texture packs to freshen up your designs. Enjoy! Red Paw Media - Plugins and Filters for Adobe Photoshop. KillWhite | Mike's Extra. Kill White is a Photoshop Filter that actively removes white from an image (unlike the 'Multiply' blend mode), perfectly leaving the rest of the image, whether the image is black-and-white or color.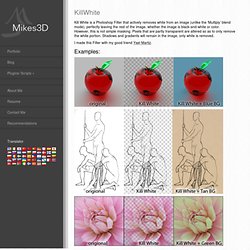 However, this is not simple masking. Pixels that are partly transparent are altered so as to only remove the white portion. Shadows and gradients will remain in the image, only white is removed. I made this Filter with my good friend Yael Martiz. Examples: Software. Video Conference Tool. Filters. Image Processing. Flaming Pear:Download. 8 Photoshop Tricks I Wish I Knew when I was a Student. Photoshop is one of the (if not THE) most well known software used in the design industry when it comes to manipulating images and pixels. As a web designer I had some Photoshop lessons at school but that was 2 years ago. Today the software has evolved, more options are available, and I also learn a few tricks while practicing.
---