Photoshop
Photo Retouching | Skin Retouching in Photoshop - StumbleUpon. This tutorial will help you learn how to speed up skin retouching and polish photos in Photoshop using basic techniques.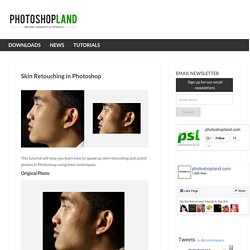 Original Photo Step 1 Duplicate the background image and rename it to Layer 1. Step 2 Go to Filter > Other > High Pass and set the Radius to around 4.5 pixels. 45 Useful Photoshop Tutorials From 2011. Featured Websites Created by Users. Custom Wallpaper Tutorial | Thoughtlab Blog. 27 Excellent Digital Photography Tutorials | Tutorials. To improve and modify digital photographs is very interesting and a fun part.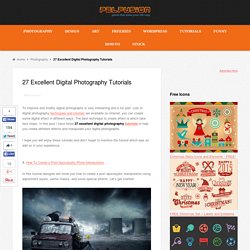 Lots of digital photography techniques and tutorials are available on internet, you can create same digital effect in different ways. The best technique to create effect is which take less steps. In this post i have listed 27 excellent digital photography tutorials to help you create different effects and manipulate your digital photographs. I hope you will enjoy these tutorials and don't forget to mention the tutorial which was an add on in your experience. Photoshop CS4: A Picture Worth a Thousand Words - Layers Magazine | Layers Magazine. I love Photoshop techniques that offer all kinds of possibilities for experimentation—and the following tutorial is a perfect example of one of those techniques.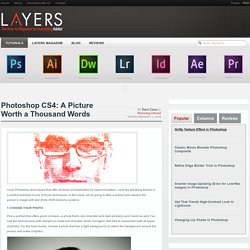 In this issue, we're going to take a portrait and replace the person's image with text (think 2009 Grammy posters). Pick a portrait that offers good contrast—a photo that's very dramatic and dark probably won't work as well. I've had the best success with straight-on head and shoulder shots, but again, feel free to experiment with all types of photos. For the best results, choose a photo that has a light background (or select the background around the person and make it lighter).
Create a new document (File>New) in a size that's smaller than your photo: the specifics don't really matter. The Making Of 'Lust' - Worth1000 Tutorials.
---