Google
- Google Drive is here! Free online file storage and syncing. 0 Comments April 26, 2012 By: David Andrade Apr 26 Written by: 4/26/2012 9:03 AM ShareThis.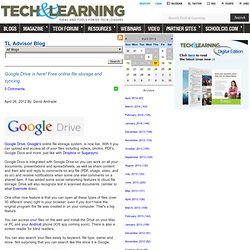 Search Education – Google. Lesson Plan Search – Google in Education. CS Unplugged RoxAnn H.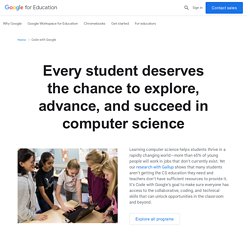 Stalvey at College of Charleston Computer Science Unplugged, CS Unplugged, is a collection of computer science activities that are designed to introduce students to computing concepts without using a computer. Most, if not all, of the activities involve student participation through kinetic learning experiences. Google Apps for Education and the New Google Drive. The long-awaited Google Drive is finally here.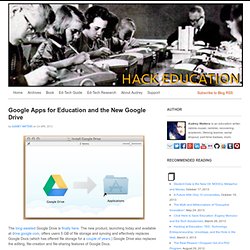 The new product, launching today and available at drive.google.com, offers users 5 GB of file storage and syncing and effectively replaces Google Docs (which has offered file storage for a couple of years.) Google Drive also replaces the editing, file-creation and file-sharing features of Google Docs. There's been plenty of ink spilled already on the news, and lots of coverage about how Google Docs stacks up against some of the other cloud storage options available. (See: Engadget for a feature and price comparison among Google Drive, Dropbox, Skydrive and iCloud). At the end of the day, which one you choose is probably dependent on how you work and who you're sharing with. EducationOnAir. This website contains all the information you need to find and take part in Education On Air sessions on Google+: Live Hangout Schedule- List of upcoming live sessions and detail about how to register and participatePast Recordings- Videos and information about past Hangouts On Air recorded in 2012Presenters- Names, websites & contact informationSocial Media- Conference and session hashtagsFAQs- Frequently asked questionsFeedback- Your feedback on the conference (coming after the events)All Hangouts will be live on the presenter's Google+ Page on the appointed date and time in the schedule.
Google Released Inclusive Booklet for Educators. Google has recently released a great resource for educators everywhere.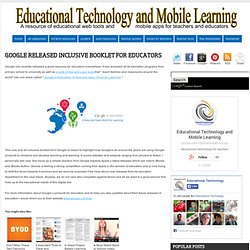 It has amassed all its education programs from primary school to university as well as a suite of free and open tools that " reach families and classrooms around the world" into one place called " Google in Education: A New and Open World for Learning ". This new and all inclusive booklet from Google is meant to highlight how Googlers all around the globe are using Google products to enhance and develop teaching and learning. Apps User Group. Google+ Preso - March '12. Security & Privacy – Google Apps for Education. GoogleApps's Channel. Upload Subscription preferences Loading... Working... Google Weekly: Episode 19 ~ Google Science Fair with Cristin Frondella of Google. Things to Learn With. FRONTLINE: digital nation: learning: schools: how google saved a school | PBS Video. ISTE 2011. MilanVillageSchool. Gpctips - ramimawas. This page is best viewed with Mozilla Firefox: In this section, you will learn how to enhance your website in a couple of minutes!!!
I had been using google page creator for more than 1 year. I went through the pain of learning by myself lots of interactive and attractive stuff to add to your webpage. I have listed the tips in a random manner which means you can add each one independently of the others. Google Transition. Our Firstclass to Google Transition is officially over (although we're constantly learning new things and incorporating new google features into our practice).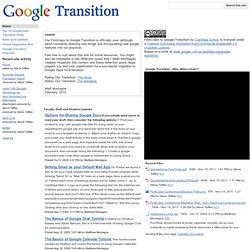 Feel free to surf about this site for some resources. You might also be interested in two reflection posts that I (Matt Montagne) created. Hopefully this content and these reflection posts helps prepare you and your organization for a successful migration to Google Apps for Education. Matt Montagne February, 2010. Gadgets For Your Webpage. Google Docs - Home. Lebanon School District Mail - Inbox (4) - amollica. Ten Reasons to Choose Apps – Google Apps for Education.
Get Apps – Google Apps for Education. Google Apps Education Training Center. K-12 – Google Apps for Education. Apps for Education | Official Website. Sign up for Google Apps. Google+ For Educators. 13 Gmail Plugins You Should Try Right Now - TNW Apps. There is no denying the power of Gmail.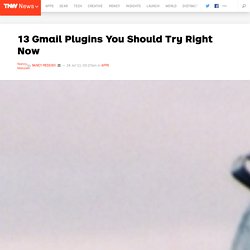 And armed with a handful of extensions and add-on services, you can really turn Gmail into the ultimate emailing powerhouse. From enhancing and tidying your contacts list, to implementing an elaborate productivity system in your inbox, almost anything's possible. You just need to know how. And because of Gmail's popularity, the list continues to grow, diversify, giving users countless new ways to make the service even more useful. Here's a look at some of the tools you can use to enhance your Gmail experience. Help Desk Software | Support Ticket System | Live Chat Support | GrooveHQ.com. Google 2Q results show company thriving under Page. SAN FRANCISCO (AP) — Google Inc.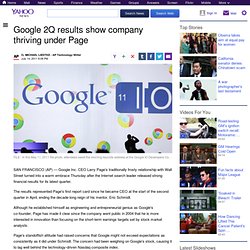 CEO Larry Page's traditionally frosty relationship with Wall Street turned into a warm embrace Thursday after the Internet search leader released strong financial results for its latest quarter. The results represented Page's first report card since he became CEO at the start of the second quarter in April, ending the decade-long reign of his mentor, Eric Schmidt. Google Docs Templates.
---