Google
0 Comments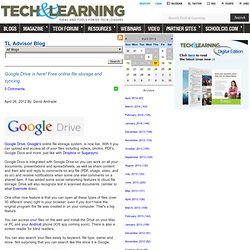 - Google Drive is here! Free online file storage and syncing.
CS Unplugged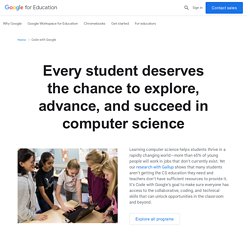 The long-awaited Google Drive is finally here. The new product, launching today and available at drive.google.com, offers users 5 GB of file storage and syncing and effectively replaces Google Docs (which has offered file storage for a couple of years.)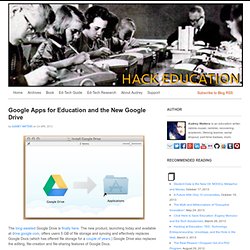 Google Apps for Education and the New Google Drive
This website contains all the information you need to find and take part in Education On Air sessions on Google+: Live Hangout Schedule- List of upcoming live sessions and detail about how to register and participatePast Recordings- Videos and information about past Hangouts On Air recorded in 2012Presenters- Names, websites & contact informationSocial Media- Conference and session hashtagsFAQs- Frequently asked questionsFeedback- Your feedback on the conference (coming after the events)All Hangouts will be live on the presenter's Google+ Page on the appointed date and time in the schedule.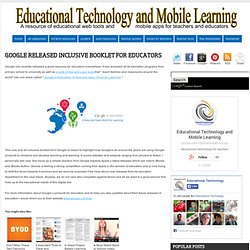 Google Released Inclusive Booklet for Educators
Google has recently released a great resource for educators everywhere. It has amassed all its education programs from primary school to university as well as a suite of free and open tools that " reach families and classrooms around the world" into one place called " Google in Education: A New and Open World for Learning ". This new and all inclusive booklet from Google is meant to highlight how Googlers all around the globe are using Google products to enhance and develop teaching and learning.
Google+ Preso - March '12 - Google Docs
Chromebooks for Education keynote at FETC
GoogleApps's Channel
Google Weekly: Episode 19 ~ Google Science Fair with Cristin Frondella of Google
Things to Learn With
FRONTLINE: digital nation: learning: schools: how google saved a school | PBS Video
ISTE 2011
MilanVillageSchool
This page is best viewed with Mozilla Firefox:
gpctips - ramimawas
Our Firstclass to Google Transition is officially over (although we're constantly learning new things and incorporating new google features into our practice). Feel free to surf about this site for some resources.
Google Transition
Gadgets For Your Webpage
Google Docs - Home
Lebanon School District Mail - Inbox (4) - amollica
Get Apps – Google Apps for Education
Apps for Education | Official Website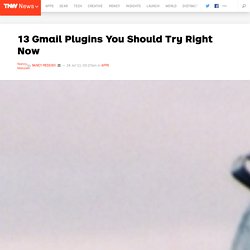 13 Gmail Plugins You Should Try Right Now - TNW Apps
There is no denying the power of Gmail. And armed with a handful of extensions and add-on services, you can really turn Gmail into the ultimate emailing powerhouse.
Help Desk Software | Support Ticket System | Live Chat Support | GrooveHQ.com
Google 2Q results show company thriving under Page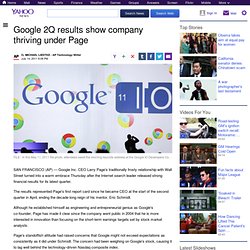 SAN FRANCISCO (AP) — Google Inc. CEO Larry Page's traditionally frosty relationship with Wall Street turned into a warm embrace Thursday after the Internet search leader released strong financial results for its latest quarter. The results represented Page's first report card since he became CEO at the start of the second quarter in April, ending the decade-long reign of his mentor, Eric Schmidt.
Benvenuto nella tua email per Lebanon School District, con il supporto di Google, dove la posta elettronica è più intuitiva, efficiente e funzionale. Tieni i messaggi indesiderati lontano dalla tua Posta in arrivo con l'innovativa tecnologia di Google per il blocco dello spam Conserva ogni messaggio che potrebbe rivelarsi necessario e trovalo velocemente con la ricerca Google Invia la posta, leggi nuovi messaggi ed esegui velocemente ricerche nei tuoi archivi dal tuo telefono
Google Docs Templates