Political Petitions
ET Bureau Sep 23, 2011, 02.31am IST NEW DELHI: The Centre has urged the Supreme Court to stop monitoring the 2G spectrum case, as a chargesheet had been filed and the trial court had taken cognisance of the offence. However, CBI contended that its investigations in the 2G case was on and it could be monitored by the Supreme Court. CBI counsel KK Venugopal told a bench comprising Justice GS Singhvi and Justice AK Ganguly that investigations into the Essar-Loop issue and former telecom minister Dayanidhi Maran's role in the Aircel-Maxis deal was underway. So there is no difficulty in the SC monitoring the 2G case on these two aspects, said Venugopal.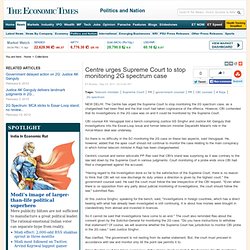 Centre urges Supreme Court to stop monitoring 2G spectrum case - The Economic Times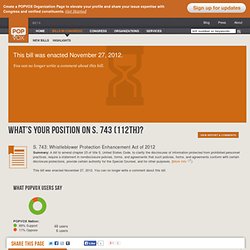 S. 743: Whistleblower Protection Enhancement Act of 2011
order determined by social media popularity Endorsing Organizations DisabledVeterans.org 1,952 Facebook fans 5,964 Twitter followers VA and DoD employees are best positioned to uncover wrongs done by the agencies that impact and harm veterans. Stronger legislation protecting whistleblowers is necessary giving the current trend to silence those who speak out. This bill will go a long way toward fixing problems in current retaliatory procedures and make sure taxpayer money is spent in the best ways possible.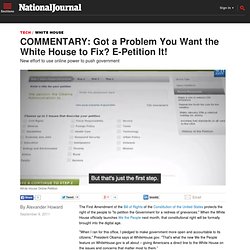 The First Amendment of the Bill of Rights of the Constitution of the United States protects the right of the people to "to petition the Government for a redress of grievances." When the White House officially launches We the People next month, that constitutional right will be formally brought into the digital age. "When I ran for this office, I pledged to make government more open and accountable to its citizens," President Obama says at WhiteHouse.gov.
COMMENTARY: Got a Problem You Want the White House to Fix? E-Petition It! - Saturday, September 10, 2011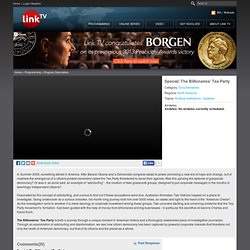 The Billionaires' Tea Party
In Summer 2009, something stirred in America. After Barack Obama and a Democratic congress swept to power promising a new era of hope and change, out of nowhere the emergence of a citizens protest movement called the Tea Party threatened to derail their agenda. Was this uprising the epitome of grassroots democracy?
Sen. Dick Durbin calls the recent rash of state voter suppression efforts, "a threat to our democracy." Yesterday he held a hearing on this disturbing trend at which the ACLU submitted a statement for the record.
Fundamental Injustice: Voter Suppression Threatens Democracy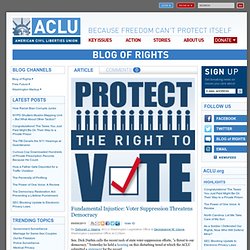 We the People Demand an Immediate End to the Wars in Afghanistan & Iraq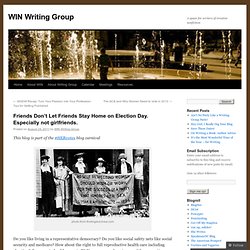 Friends Don't Let Friends Stay Home on Election Day. Especially not girlfriends. | WIN Writing Group
This blog is part of the #HERvotes blog carnival photo from findingdulcinea.com Do you like living in a representative democracy? Do you like social safety nets like social security and medicare? How about the right to full reproductive health care including abortion? Or access to health care at all?
Los Angeles City Council Calls for Constitutional Amendment to End Corporate Personhood
When you talk too much for Twitter
↑ Add Progressive to your front page. Progressive — A community to share stories related to the growing Modern Political and Social Progressive Movement. The Modern Progressive Movement advocates change and reform through directed governmental action. The Modern Progressive Movement stands in opposition of conservative or reactionary ideologies. Guidelines All submissions and comments should abide by the official reddiquette.Do not submit images with little to no substance.
Petition to Repeal the Patriot Act : progressive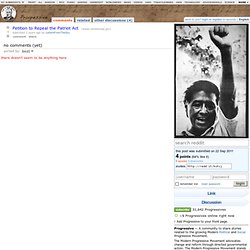 History of Corporations (United States)
When American colonists declared independence from England in 1776, they also freed themselves from control by English corporations that extracted their wealth and dominated trade. After fighting a revolution to end this exploitation, our country's founders retained a healthy fear of corporate power and wisely limited corporations exclusively to a business role. Corporations were forbidden from attempting to influence elections, public policy, and other realms of civic society. Initially, the privilege of incorporation was granted selectively to enable activities that benefited the public, such as construction of roads or canals. Enabling shareholders to profit was seen as a means to that end. The states also imposed conditions (some of which remain on the books, though unused) like these*: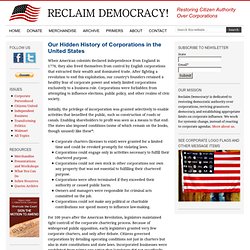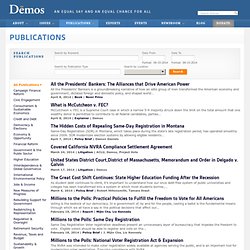 All the Presidents' Bankers is a groundbreaking narrative of how an elite group of men transformed the American economy and government, dictated foreign and domestic policy, and shaped world... April 8, 2014 | Book | McCutcheon v.
Ideas & Action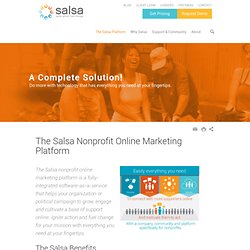 Services The Salsa Client Services team handles all new client set-ups as well as custom projects such as data clean-up, large-scale content and campaign migration, webpage customization and custom reporting. For more services including everything from strategic consulting to development, we have a community of partners ready to help too. Support The folks in support help you be successful in Salsa in a friendly, clear and efficient manner.
White House grapples with a flood of online petitions
Contents Introduction to Corporate Personhood Our Bill of Rights was the result of tremendous efforts to institutionalize and protect the rights of human beings. It strengthened the premise of our Constitution: that the people are the root of all power and authority for government. This vision has made our Constitution and government a model emulated in many nations.
Corporate Personhood-Demeaning Our Bill of Rights - Reclaim Democracy.org
Tell the SEC: Revoke Standard and Poor's Ratings Authority
personhood_timeline
Investigate and Enforce Ethics on the Supreme Court!
September 29, 2011 James C. Duff Secretary to the Judicial Conference of the United States Administrative Office of the United States Courts, Suite 2-301 One Columbus Circle, N.E. Washington, DC 20544 Dear Mr. Duff:
Contacting the Congress: A Citizen's Congressional Directory
Wealth for the Common Good
Urge Congress To Reject The PROTECT IP Act Disgusting. Check out this ad the Recording Industry Association, the Motion Picture Association, and others just took out as they try to push their Internet censorship legislation: They think their customers should be treated like criminal suspects. Under the Internet Blacklist Bill -- S.968, formally called the PROTECT IP Act -- the Department of Justice would force search engines, browsers, and service providers to block users' access to websites that have been accused of copyright infringement -- without even giving them a day in court. We need to rally more opposition to this bill -- please use the form at right to email your lawmakers, and use these links to share the video and petition with your friends:
Urge Congress To Reject The PROTECT IP Act
About the Patriotic Millionaires In Fall 2010, some of the country's most financially successful citizens came together to urge the President to let the Bush tax cuts expire for people making more than $1 million per year. Today, the Patriotic Millionaires are a thriving group of 225+ members with over 180 million media impressions, leading the public charge on raising taxes on wealthy Americans – including themselves. Over the last two years, the Patriotic Millionaires have stormed Washington, DC with their tax message, debated anti-tax guru Grover Norquist, slammed self-interested politicians on tax-policies harmful to the middle class, delivered a press conference with the President, and worked shoulder-to-shoulder with the White House to pass the 2012 American Taxpayer Relief Act. In 2013, the Patriotic Millionaires will continue to dominate major media markets and renew pressure on Congress to reform the current tax system for the economic well-being of regular Americans.
Patriotic Millionaires For Fiscal Strength
COMMENTARY: Got a Problem You Want the White House to Fix? E-Petition It! - Alexander Howard
Infographic: Executive Excess
Get Money Out
Ohioans Rise Up to Stop Voter Suppression Bill
Popvox connects advocacy groups, public to Congress
"Pass the bill" and put folks back to work!
Executive Order--Developing an Integrated Strategic Counterterrorism Communications Initiative
Beta
Investigate the Bush administration for war crimes. - Care2 News Network
106 millionaires say, Let tax cuts expire for millionaires
Contribute now to Elizabeth Warren (MA-Sen)
Jan Edwards and Molly Morgan: Abolish Corporate Personhood
COMMENTARY: Got a Problem You Want the White House to Fix? E-Petition It! - Alexander Howard
Ilya Sheyman — Progressive Leader
Home | Black Net Freedom
Senators Home
Take Action - Common Cause
2012 Election Protection Project - DSCC: Democratic Senatorial Campaign Committee