German language
Linguee – Dictionary for German, French, Spanish, Portuguese, English
deutsch_und_mehr
Karl-Franzens-Universität Graz - treffpunkt sprachen - Zentrum für Sprache, Plurilingualismus und Fachdidaktik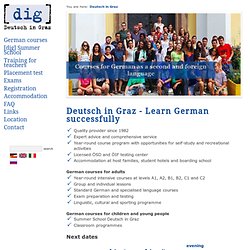 Deutsch in Graz [dig]
Quality provider since 1982Expert advice and comprehensive serviceYear-round course program with opportunities for self-study and recreational activitiesLicensed ÖSD and ÖIF testing centerAccommodation at host families, student hotels and boarding school German courses for adults Year-round intensive courses at levels A1, A2, B1, B2, C1 and C2 Group and individual lessons Standard German and specialised language courses Exam preparation and testing Linguistic, cultural and sporting programme German courses for children and young people Summer School Deutsch in GrazClassroom programmes Next dates
German For Beginners - A Free Online German Course
Berlitz - Today Berlitz - Tomorrow the world
ABA-Invest in Austria | ABA - INVEST IN AUSTRIA
Top Contributors What's this? This list shows the most active German-English contributors. If you want your name and link to appear here, please read the introduction, sign up and add or review translations, inflections or audio recordings.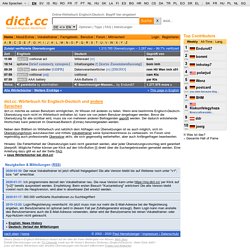 German-English dictionary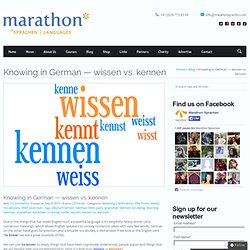 Knowing in German — wissen vs. kennen « Marathon Sprachen : Understanding German
One of the things that has made English such a powerful language is it's simplicity. Many words carry numerous meanings, which allows English speakers to convey numerous ideas with very few words. German on the other hand goes for precision and a broader vocabulary is demanded. If we look at the English verb "to know" we see a great example of this. We can use "to know" to imply things that have been cognitively understood, people places and things that we are familiar with and established facts. Here is a little quiz: wissen or kennen?
Learn German Online for Free at deutsch-lernen.com
Vokaboly - Vokabeltrainer Englisch
Die Maennerseiten - Wo ein Mann noch ein Mann sein darf!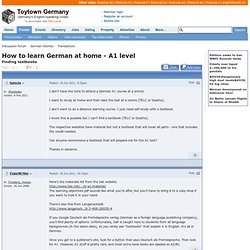 Well,my mother tongue is Chinese and English is my second language. I also recommend Schritte Plus till A2/2. For higher level, B1/1 or more, you may need someone to explain the grammar concept. Yes, there is no translation between English and German.
How to learn German at home - A1 level - Toytown Germany
Free online translation, dictionary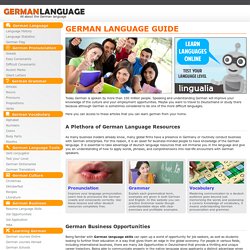 Today German is spoken by more than 100 million people. Speaking and understanding German will improve your knowledge of the culture and your employment opportunities. Maybe you want to travel to Deutschland or study there because although German is sometimes considered to be one of the more difficult languages. Here you can access to these articles that you can learn german from your home. A Plethora of German Language Resources As many business insiders already know, many global firms have a presence in Germany or routinely conduct business with German enterprises.
German Language
Why participate? You can join in the fun on bab.la and help us make the German-English dictionary the best and biggest online dictionary in the world. New ways of interpreting words in German or translating German phrases to English develop continually. Also, a German to English translation can vary depending on if it is a technical or scientific translation and which field it pertains to. This is why the dictionaries contain multiple translations. We need your help to add the latest German to English translations to the German dictionary.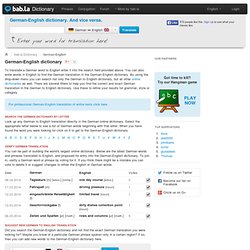 German-English dictionary - translation - bab.la
Learn German podcast: German phrases, slang words, sayings and idioms
English to French, Italian, German & Spanish Dictionary - WordReference.com
Spanish Dictionaries There are two free Spanish-English dictionaries: our very own dictionary and one from Collins. Each has its own strengths. Combined, they are unbeatable. French and Italian Dictionaries WordReference has two of its own dictionaries plus those of Collins.