Geocaching
Skip to Navigation Skip to Content Geocaching is the real-world treasure hunt that's happening right now, all around you. There are 2,368,962 active geocaches and over 6 million geocachers worldwide. Learn more about geocaching and how you can join the adventure. How to Go Geocaching: Search for Nearby Geocaches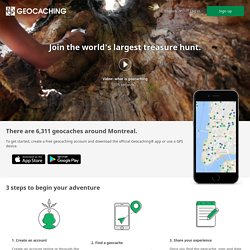 Geocaching Maps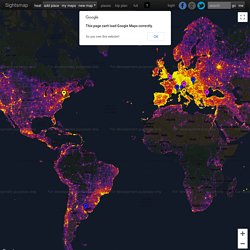 The heatmap shows the places people like, based on the number of panoramio photos at each place in the world. The dark areas have few photos, the red areas have more and the yellow areas have a large number of photos geotagged. The hottest places have markers linking photos, streetview, wikipedia, wikivoyage, foursquare and google plus articles about the site. The place names are selected by the wikipedia readership numbers and foursquare checkins. Area populations are based on the geonames database. Street level heatmaps are available for top 15000 places in the world, sorted by the number of photos in an area of a size of a few square kilometers around the place center.
Wherigo is a toolset for creating and playing GPS-enabled adventures in the real world. Use GPS technology to guide you to physical locations and interact with virtual objects and characters. Learn more...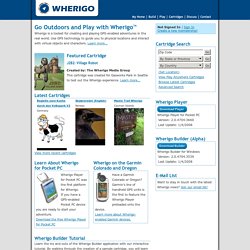 We're a collection of hikers, bikers, divers, techno geeks, treasure seekers, scouts, families and just plain nature lovers who embrace Geocaching and all it has to offer. Here you can learn about the game, find geocaches near you, and share where you have hidden your own geocaches. Come join us on this wonderful adventure. Free & open. No subscriptions.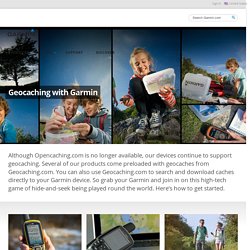 Price: $8 USDRequirements: Palm OS® 3.0 or later Versions for other platforms are also available. CacheMate™ is a database for tracking GPS cache hunts. You can store information about caches or benchmarks, decode hints, and transfer data between CacheMate and the MemoPad application. Registered users can import LOC and GPX formatted XML files, which are available from Geocaching.com. Features: Sony/HandEra/Palm hi-res supportPalm OS® 5/6 compatibilityScrollable color "overview" displayMultiple database supportEditable cache type listSupport for the Palm OS® Find systemImport/Export data with MemoPadGeocaching hint decoderRecord bookmarking"Nearest caches" search with GPS supportBluetooth GPS supportJog wheel supportImport/Export waypoints using GPX and LOC XML filesPlugin application supportWaypoint projectionMemory card support (see documentation for details)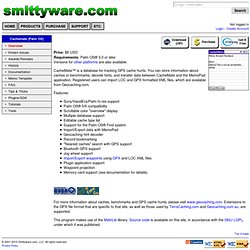 CacheMate
TerraCaching
Who we are. TerraCaching.com is a community of cachers and a listing of TerraCaches hidden all over the world with a little help from handheld Global Positioning System receivers and available exclusively to TerraCaching.com members. You can learn more about us at the Wiki. To become a member you'll need two existing members to sponsor you.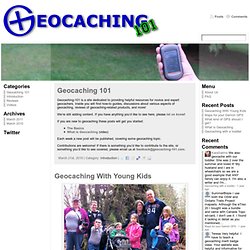 Geocaching 101
Geocaching-101 is a site dedicated to providing helpful resources for novice and expert geocachers. Inside you will find how-to guides, discussions about various aspects of geocaching, reviews of geocaching-related products, and more! We're still adding content. If you have anything you'd like to see here, please let us know! If you are new to geocaching these posts will get you started:
Your First Geocaching Hunt | Geocacher University - Minefield
I've divided the process of your first geocache hunt into seven steps. It may be that some of these steps are more basic than you need. If so, feel free to move on to the next page using the links provided at the top of each section.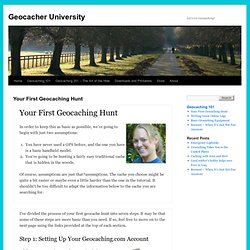 The Mad Cacher's GeoCaching Blog

Outdoor/Wandern mit GPS-PDA, digitale Karten, Wegpunkte, Tracks, Workshop, GPS-Geräte, Geocaching, Wherigo
Warnung !!! Vielleicht solltet Ihr lieber die Finger von diesem 'Metier' lassen: "Andrew Byrd aus Carrol County im US-Bundesstaat Georgia ist obdachlos. Das aber nicht etwa, weil er arbeits- und mittellos ist.