Geocaching
Geocaching Maps
Price: $8 USDRequirements: Palm OS® 3.0 or later Versions for other platforms are also available. CacheMate™ is a database for tracking GPS cache hunts. You can store information about caches or benchmarks, decode hints, and transfer data between CacheMate and the MemoPad application. Registered users can import LOC and GPX formatted XML files, which are available from Geocaching.com. Features: Sony/HandEra/Palm hi-res supportPalm OS® 5/6 compatibilityScrollable color "overview" displayMultiple database supportEditable cache type listSupport for the Palm OS® Find systemImport/Export data with MemoPadGeocaching hint decoderRecord bookmarking"Nearest caches" search with GPS supportBluetooth GPS supportJog wheel supportImport/Export waypoints using GPX and LOC XML filesPlugin application supportWaypoint projectionMemory card support (see documentation for details)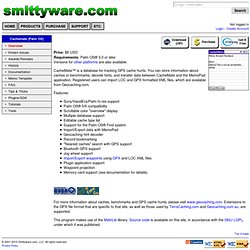 CacheMate
TerraCaching
Geocaching 101
Your First Geocaching Hunt | Geocacher University - Minefield
I've divided the process of your first geocache hunt into seven steps. It may be that some of these steps are more basic than you need. If so, feel free to move on to the next page using the links provided at the top of each section.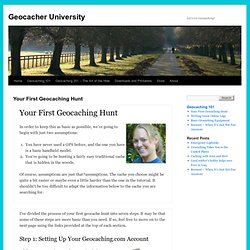 The Mad Cacher's GeoCaching Blog

Outdoor/Wandern mit GPS-PDA, digitale Karten, Wegpunkte, Tracks, Workshop, GPS-Geräte, Geocaching, Wherigo
Warnung !!!